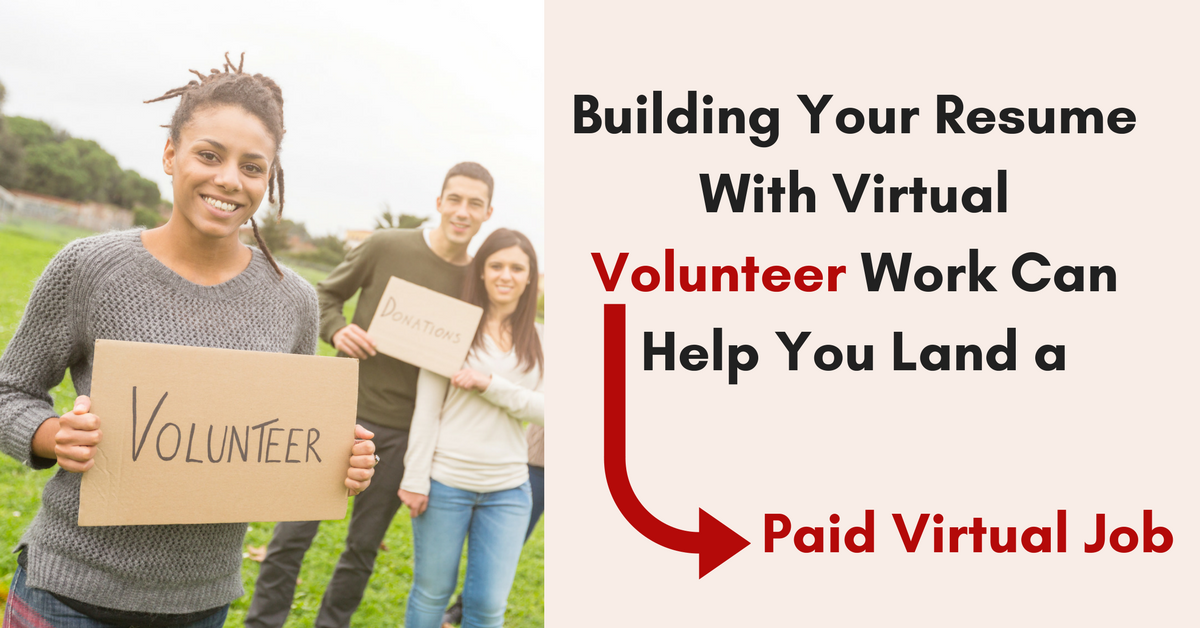 by Chris Durst Mar. 7, 2018
We often hear from people who have been out of the workforce for a while (or, as with recent graduates, may not have much work experience at all). It's not unusual for those folks to express that they're having difficulties landing a work from home job because experience is lacking or outdated.
For those who can forego income for a little while, working as a volunteer from home can be a great way to get two things that can help you land the job you really want – current work experience and proof that you can work from home effectively. (Not to mention the priceless "warm fuzzies" you get from helping others.)
With that in mind, there are two sites we use to find virtual volunteer opportunities, and we'll show you how to search them.
Currently, the VolunteerMatch site lists over 7,000 virtual volunteer opportunities!
To see them, click here to go to their home page > enter your city and state in the search field > and click the "Get Started" button.
On the next page, in the left column, check the box next to "Virtual (you can do it from a computer, your home or anywhere!)" and the column to the right will populate with virtual volunteer opportunities.
You can also use the "Cause Areas" to select those areas that interest you most.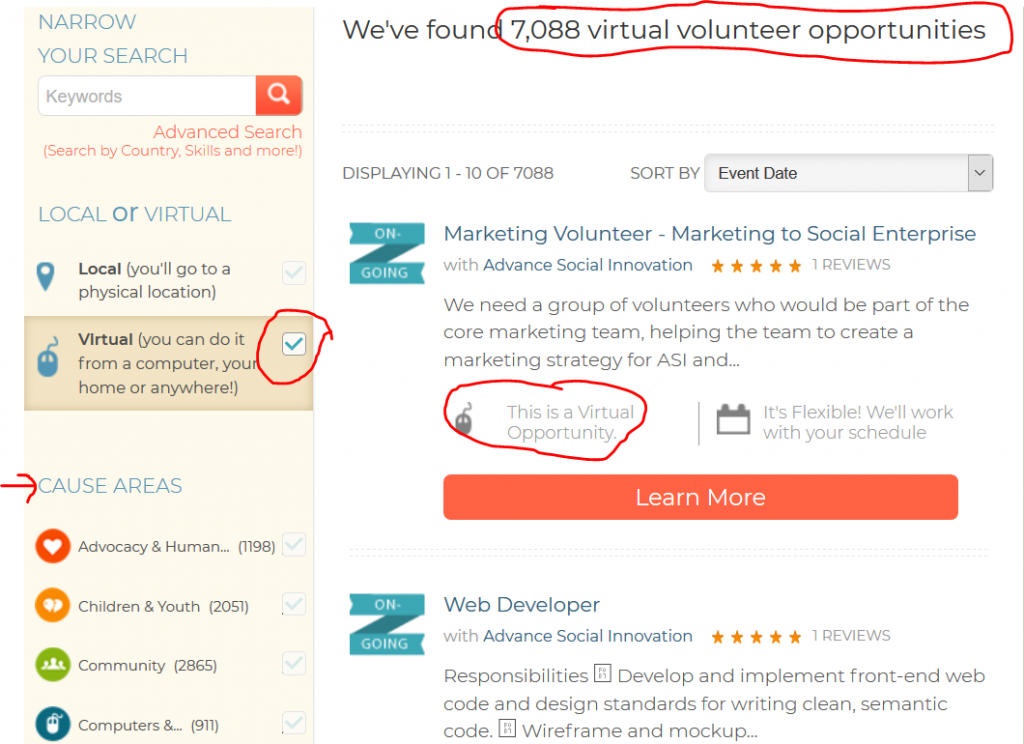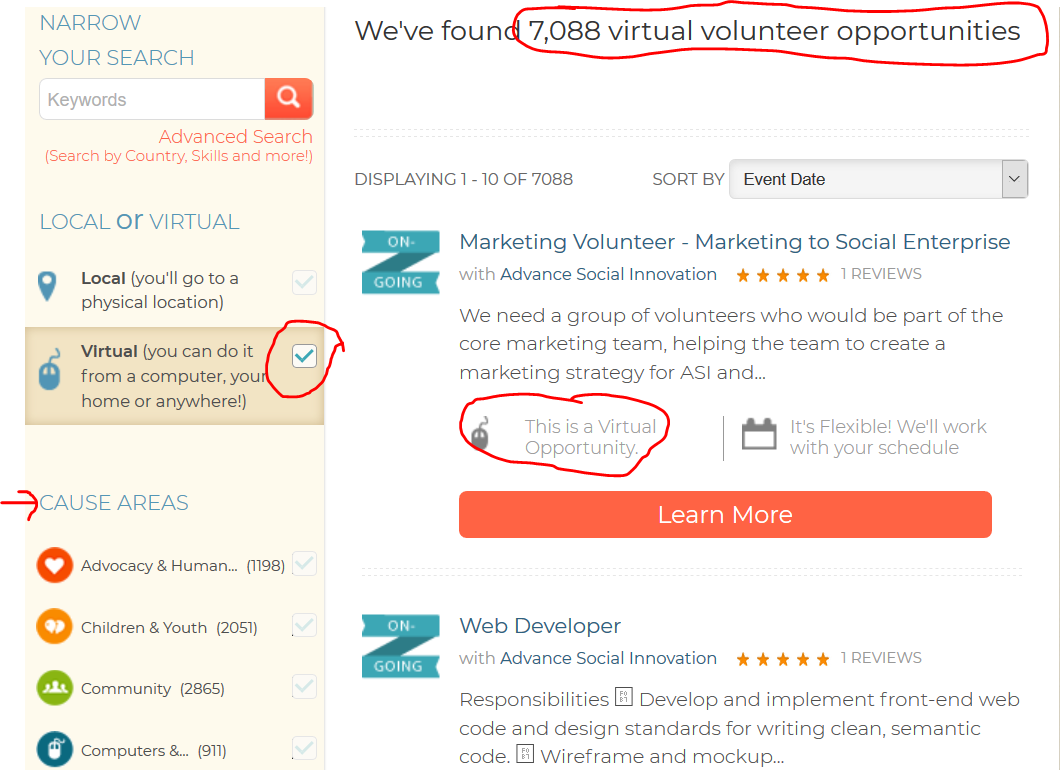 Click on the "Learn More" button below the opportunities you'd like to learn more about and possibly apply for.
---
Start on the Idealist.org home page by clicking here > click on the "Volunteer Opportunities" link (directly below the blue upper field) > remove any geographical details that may have auto-populated the location field > enter the word VIRTUAL in the "Search by keyword, skill, or interest" field.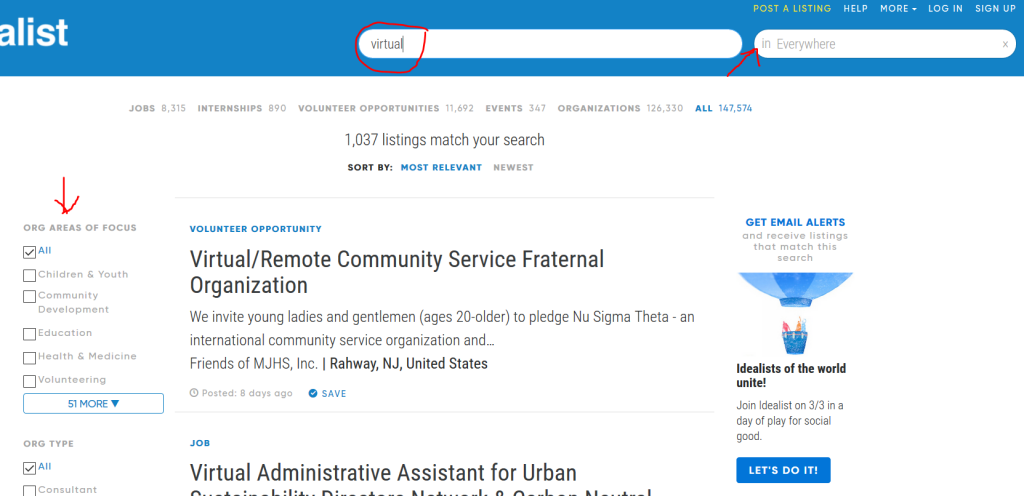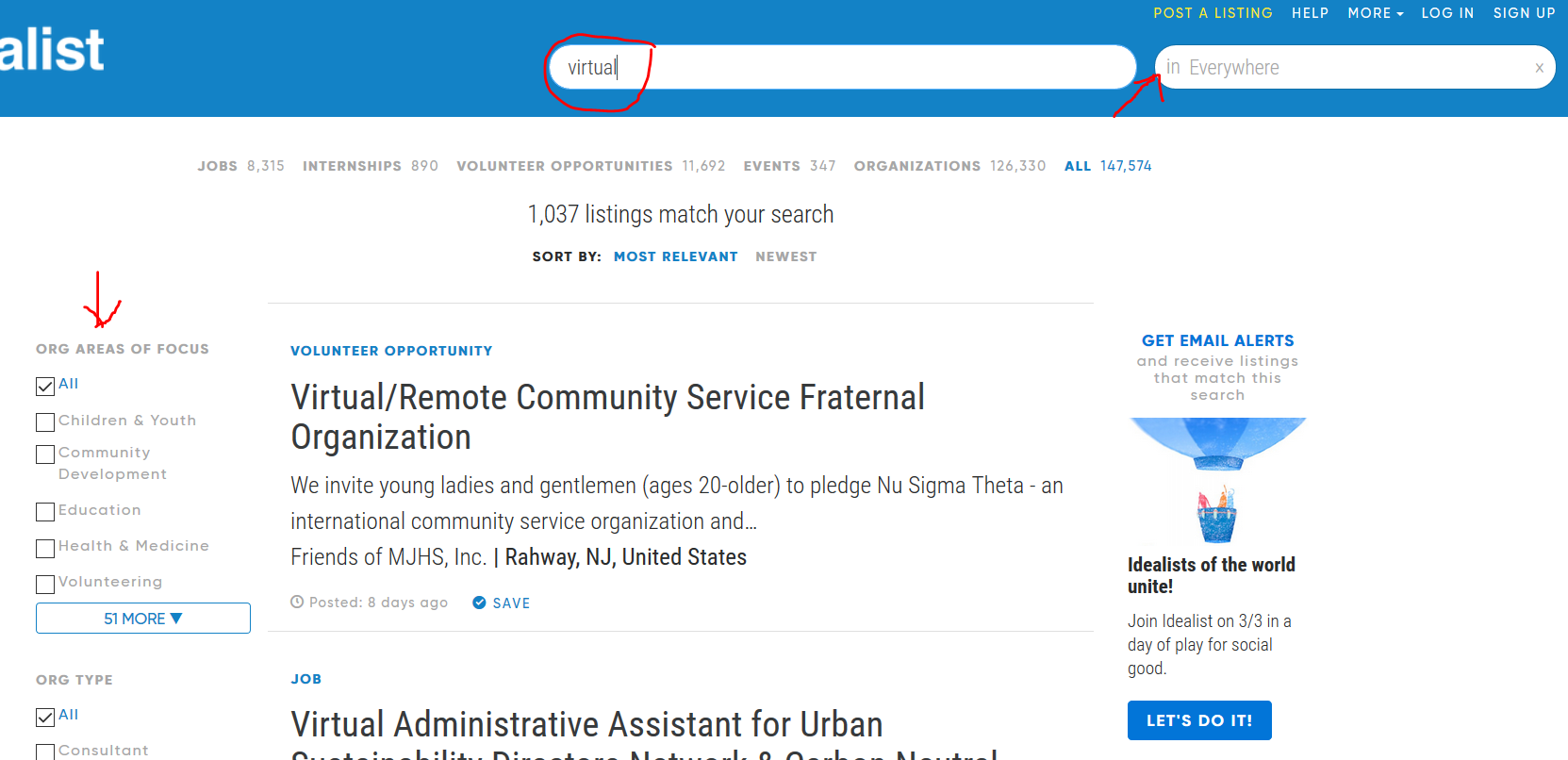 As with the VolunteerMatch site, you can use the options in the left column to fine-tune your search for areas that are of particular interest to you.
Listing Volunteer Work on Your Resume
It is absolutely acceptable to list volunteer work on your resume — especially when the skills used and experience gained through that work is an asset to your potential employer.
By the way, it's not only a great way to showcase your skills, it's also a terrific way to show employers your depth of character and sense of commitment.
Just add your volunteer experience to your resume as you would any other job. For example:
Volunteer, Habitat for Humanity, Any Town, CT
Jan. 2016 – Present
Collaborated with a team of fellow volunteers in the development of neighborhoods of at-risk families by improving existing homes and landscapes.
Managed work parties that constructed eight homes for families in need of low income housing.


---
For more jobs like these, see our Daily Jobs & Gigs page. To be the first to hear about jobs like these, like our Facebook page and check your feed for our posts. May you be working from home soon!
PLEASE SHARE this post – turn your friends into Rat Race Rebels!
[social_warfare]