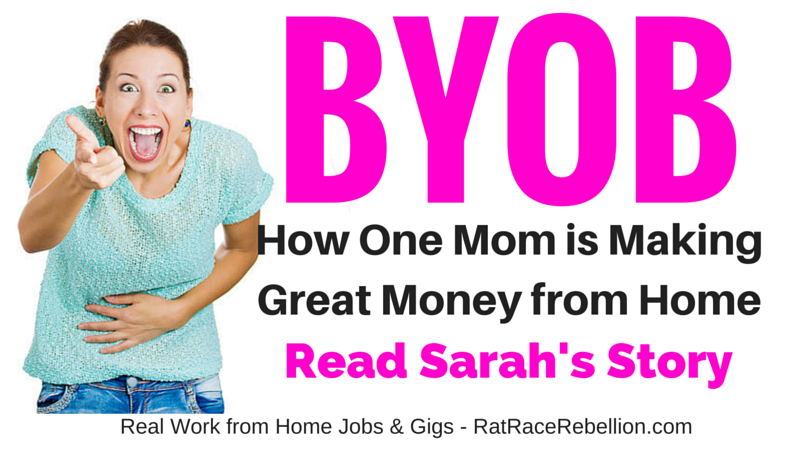 by Chris Durst       July 15, 2016
When it comes to FLEXIBILITY in the way you make money, more people are opting for "batches" of income opportunities rather than a single source of revenue.
Here at RatRaceRebellion.com, we refer to this as a BYOB – Bring Your Own Batch (of jobs) or "Job Batching". (We also call it a "job mosaic" and "job collage" depending on what strikes us at the moment. 🙂) We love BYOB because each person can decide what they want to include in their "batch."
Sarah is a BYOB worker – this is her story:
Sarah, a woman I met at a recent workshop makes a full-time income from 5 different sources. She chooses to "Batch" because she has three children under the age of ten and she likes the flexibility. She also admitted she is easily bored, so this approach to making money lets her switch things up throughout the day.
Here's what she has to say about the jobs in her batch…
"When I first heard of 'Turking,' I looked at the seemingly small amounts some of the tasks pay and thought there was no way to make real money doing it. I've since learned otherwise and I love this source of income for its flexibility. I make about $9 an hour with it and work as much or as little as I like.
When the house is quiet, I do transcription and video captioning HITS [Human Intelligence Tasks]. They pay well and I can whiz through them pretty quickly.
But I also Turk when I am watching my kids. I have three and they are super busy, so, when they are around, I choose tasks I can put down when someone needs a hug, a bandaid, or lunch, and pick back up easily when everyone's squared away."
---
"I grew up in a house with dogs and cats, but my youngest is allergic to pet dander, so it's a no-go here. I get my furry fix by pet sitting and dog walking through Rover.com. Most months, I make about $1,000 and, over holidays and vacation months, I make even more. I make my visits when the kids are at school or, when they are home, I go when before my husband leaves for work or after he gets home."
---
"Okay, so I love doing website reviews for Userlytics. I've been doing them for a while now and they must like my input because I get new sites to review regularly. It pays me $10 per test and it only takes me about 15 minutes for each review. Hey, that's equal to $40 an hour – I'll take that any day!"
---
"I started as a GoodStarter about a year ago and I find it so fulfilling. Basically, I contact people who are starting on a new medication and I review side effects, the routine for taking the med, and I also record their comments and concerns so they can be relayed back to the pharmaceutical company. It's great money, I am making about $15 an hour and I love it!"
---
"Swagbucks is my 'little extra money on the side" deal. I cash in my Swagbucks for gift cards that I use for Christmas and birthday gifts. My sister does this too and makes more than I do — it's definitely one of those things where you get out of it what you put into it."
---
WANNA BYOB?
If you've been having a hard time pinning down that ONE job that you would really love, consider this our formal invitation to join the batching movement! For some ideas about what you might include in your own batch, visit our Miscellaneous page, our Website Reviewers page, our Pay Per Task page and our Search Engine Evaluators page!
PLEASE SHARE this post – turn your friends into Rat Race Rebels!
BE SURE TO CHECK OUT OUR OTHER RECENT POSTS FOR MORE JOBS