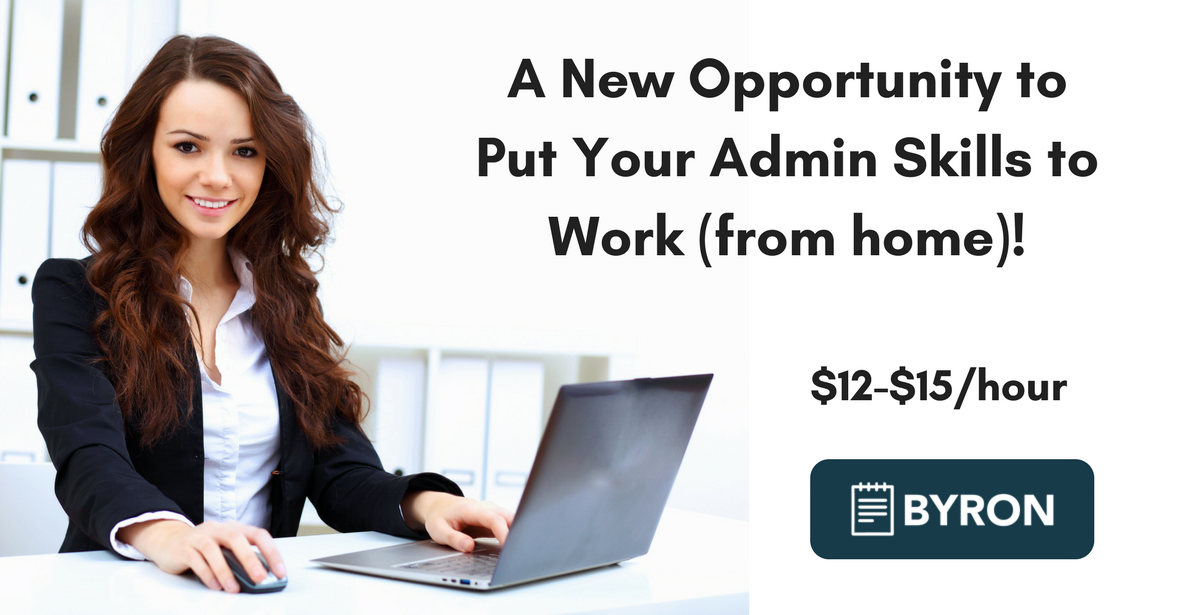 by Chris Durst      Feb. 2, 2018
I was recently contacted by Michael Benson, one of the founders of a newer virtual assistant platform called Byron.
The company hires new virtual assistants on a regular basis and they wanted to let our Rat Race Rebels know about their work from home opportunities for those who have great administrative support skills.
The clients their Virtual Assistants (VAs) work with are generally small and medium sized enterprises (SME) that are looking for both short- and long-term administrative support.
I asked Mr. Benson a few in-depth questions about the Byron VA opportunities, and here's what he had to say:
Skills Required:
"Our company covers a lot of virtual assistant tasks that you typically see in today's market. Our most popular tasks are research, scheduling and data entry, but we cover up to 16 categories. (See the image below for an overview of the types of skills they are looking for.) We vet and place all of our assistants by these categories.

The minimum requirements to apply are:
The candidate must live in the United States
Must have 3 years of assistant-like experience
From there we can typically place you in one of our categories! What's great about our platform/model is that, we only provide virtual assistants with categories that they want to work in.
For example, we have assistants who only want to write blog posts and they only get emails about blog posts opportunities/projects. Then on the flip-side we have assistants who want to work in all 16 categories and want to work as many hours as they can. Our platform uses technology to only send requests and opportunities that our assistants want to see so we don't flood their inbox with projects.
Furthermore, we fit pretty well into anyone's schedule as we offer short-term and long-term projects. We have assistants who want regular clients that have a regular schedule and we also have assistants who just want to work on the occasional project that might only last 1 hour. Our platform has features that remember past projects and also provides a snapshot of the client's background so it's easy to pick up and work on projects on the fly.
Is there a fee?
There is no fee to apply or work for our team. We make no money from applications or from our assistants – only from our clients. Our application process is fairly straight forward. Here's a quick breakdown of the steps we take to vet and onboard an applicant:
We review and approve your application
We ask you to take a quick 20-30 minute general competence test; this helps us determine what categories you would do well in.
We have a 20 minute video interview
We reach out to two of your references
We provide 1-2 hours of training to get you up to speed on how to use our platform and best practices as it relates to communicating directly with clients
Once on-boarded, you get new opportunities and projects from Byron clients the same day!
What rates do you pay to VAs, how, and how often?
Depending on the experience we pay our virtual assistants between $12-$15/hour*. We also provide the occasional bonus based on feedback or a providing a large commitment of hours to a particular client. All projects are worked and billed down to the minute so it's very fair for our assistants (we hate a tasked based pay model). If you work 47 minutes on a project you will get paid for the 47 minutes – our platform makes it super easy to log your time.
We pay every two weeks (15th and the 1st of every month) via PayPal.
*As a side note, we typically pay more for assistants who are skilled in Design/InDesign and InfusionSoft."
Click here for more details and to apply. For more jobs like these, check our Newest Jobs & Gigs page. To be the first to hear about WFH jobs like these, like our Facebook page. Good luck in your next steps toward working from home!
PLEASE SHARE this post – turn your friends into Rat Race Rebels!
[social_warfare]