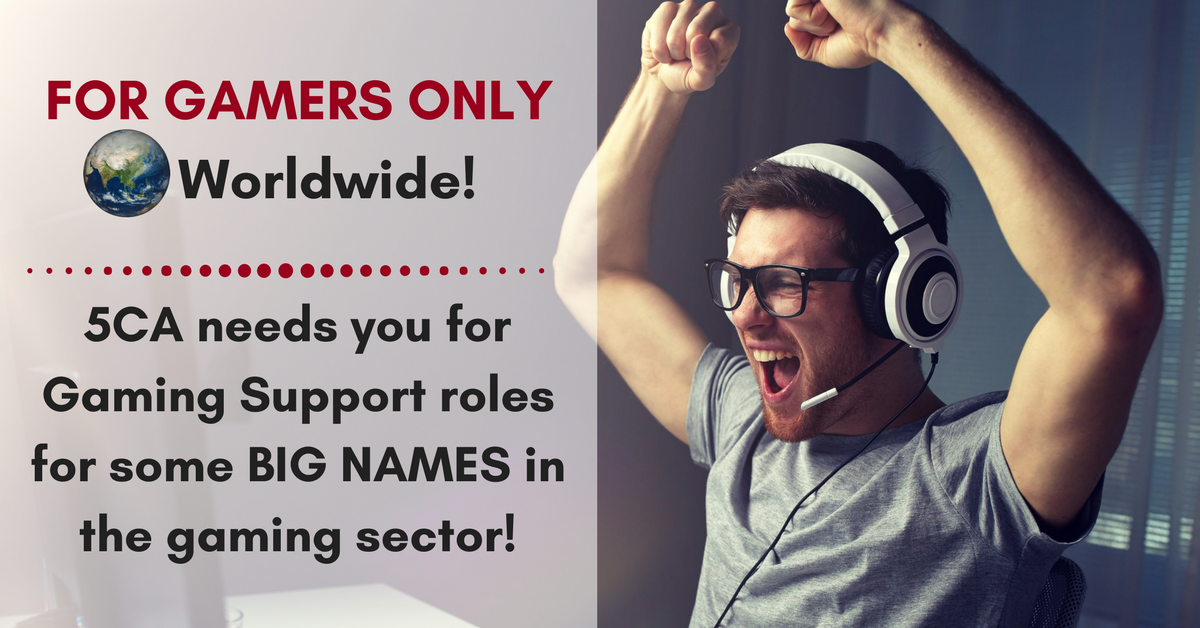 by Chris Durst       Apr. 2, 2018
NOTE: You'll need to be a Gamer to apply for these. Good luck!
5CA has remote openings for two kinds of Gamers – those who want to work from home and those who have "wanderlust" and want to work from… wherever, worldwide!
The company's clients include Bang & Olufsen, 505 Games, AMD, ActiVision, CCP, Epic Games, Vendo, Sennheiser, PDP, Razer, Wargaming Mobile, Psyonix, TrekStor, GigSky, Eminent, Philips and others.
Currently, the company has the following remote positions [Update 4/3/18 – The US-flagged Gaming Support in English and the UK-flagged Gaming Support in English positions have been removed. As of now, the others are still listed. Good luck!] —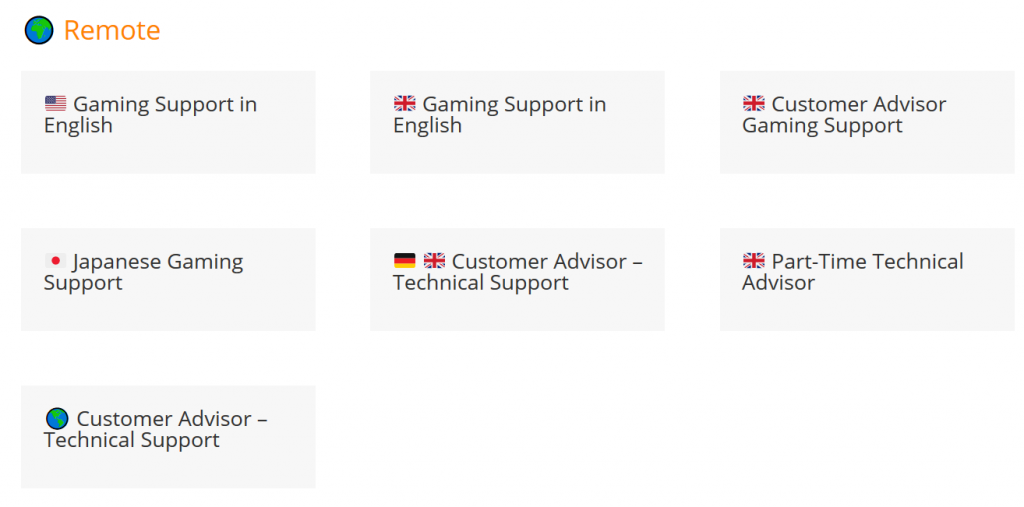 Here's what the company has to say about their Gaming Support role:
Live anywhere – Living on the top of a mountain in the smallest country in the world? No worries.
As long as you meet with our requirements you will be good to go. no matter where you live. We love having people all around the world.
In this position, you will get unique insights into one of the most influential companies currently in the Gaming industry. This job is not only about interacting with gamers who enjoy the same games as you do, it is also about understanding the whole gaming support system.
The scope of this position is simple. You will be providing player support for an immensely popular sandbox survival game: you will be contacted by gamers via chat and email in order to troubleshoot any problems they might have. Needless to say, you will receive a top-notch training to be able to respond to any question you may get from gamers.
This position is scheduled to start immediately.
Requirements
You speak English at a near-native level.
You are available to work full-time and on a fixed schedule.
You are available to work at least one day during the weekend.
You have an incredible knowledge about gaming and you love anything related to video games.
You own a PS4, Xbox One, or a modern gaming PC/laptop.
You are a fast learner, you take initiative and are awesome at troubleshooting.
Experience in a Customer Service environment or an international business setting is a plus!
PC requirements:
An internet speed minimum of 1 MB/0.5MB internationally.
A minimum of 8 GB RAM memory, with a 64-bit windows version or MacOS.
An I5 processor or better/ similar, max. 3 years old.
Salary – Our salary range varies depending on your experience and skills. Our Human Resources Lead will be able to specify the salary during the first interview.
International Environment – Over 40 nationalities working together in a professional and multicultural workspace.
Sweet Tools – Top-notch training and communication tools (you'll love it if you are addicted to GIFs)
Click here for full details and to apply. For more work from home jobs see our Newest Jobs & Gigs page. To be the first to hear about jobs we post, like our Facebook page. May you be working from home soon!
PLEASE SHARE this post – turn your friends into Rat Race Rebels!