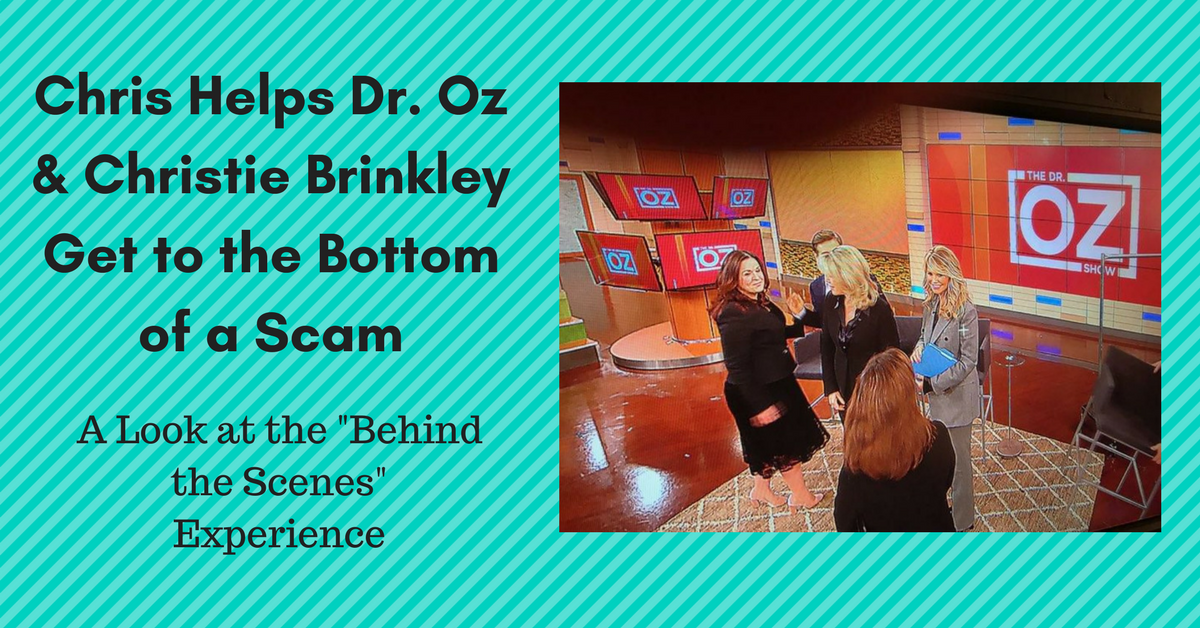 by Chris Durst Dec. 19, 2017
If you've been with us for a while, you probably know that we regularly assist in scam investigations. Well, sometimes, the results of those investigations are featured on television. I have appeared on such shows as ABC News 20/20, The Dr. Oz Show, Anderson, Tyra, The View, Good Morning America, ABC World News, CNN Newsroom, and many others.
Recently, I conducted a scam investigation for The Dr. Oz Show and today (12/19) I will reveal the outcome of that investigation on the show. (Click here to check the time and channel for the program in your area.)
Some of you have asked what it's like to be on The Dr. Oz Show, so I thought I would answer your questions here:
Firstly, yes, Dr. Oz is as nice as he seems on TV. He's smart as a whip, very well-organized and so kind and caring toward his guests. I've appeared on his show quite a few times now, and my opinion of him never waivers – he's a good guy.
The day we shoot the segment is always a whirlwind. This time, I arrived at the NYC-based studio at 8:30 in the morning, signed in with security, and was quickly whisked off to the Oz area of the building and guided to my assigned dressing room.
The dressing room is always where the ball gets rolling and staff members start to pop in to make sure all the ducks are in a row.
The producer for the segment stops in to chat a bit. (We have been in regular contact for weeks while the investigation was in progress, so now we have a chance to catch up in person.)
An assistant comes in to give me a waiver to sign – giving my permission to use my likeness on air, etc.
Another person comes in to give me a segment script – an overview of how the segment will flow, not a "here's exactly what you'll be saying" script.
Someone from wardrobe comes in to see what I will be wearing and to make any suggestions/changes that might be necessary.
Next, the audio folks come in to put a microphone on me. I always forget to wear something with pockets, so the mic pack usually ends up clipped to the back of my dress.
Then, it's off to hair and makeup. These are the miracle workers! There are a half-dozen chairs lined up in front of a long mirror, and the hair and makeup artists are working their magic on all of the guests who are scheduled to appear.
Then, back to the dressing room where I wait until someone comes to walk me up to the backstage area.
Backstage, I am waiting with Christie Brinkley and Deborah Norville – they will be in the same segment as me, so we wait together.
The assistants do a mic check ("can you count to 10 for me please"); makeup is touched up (a little lip gloss, some powder…); and then I watch the monitors to see what's happening on the set currently. There's a live studio audience, and it's great to hear their reactions from the other side of the curtain.
When it's my turn to appear, I am walked out onto the stage ("watch your step, watch the wires") and walked to my chair. In this case, I am seated next to Deborah Norville, next to her is Christie, and on the other end is Dr. Oz.
There's a count down, and we're off to the races!
Tune in to see the finished segment and to learn what I uncovered in my investigation of who is using Christie Brinkley's name and image without her permission to promote their shoddy skincare products. It should be a great segment!
PLEASE SHARE this post – turn your friends into Rat Race Rebels!