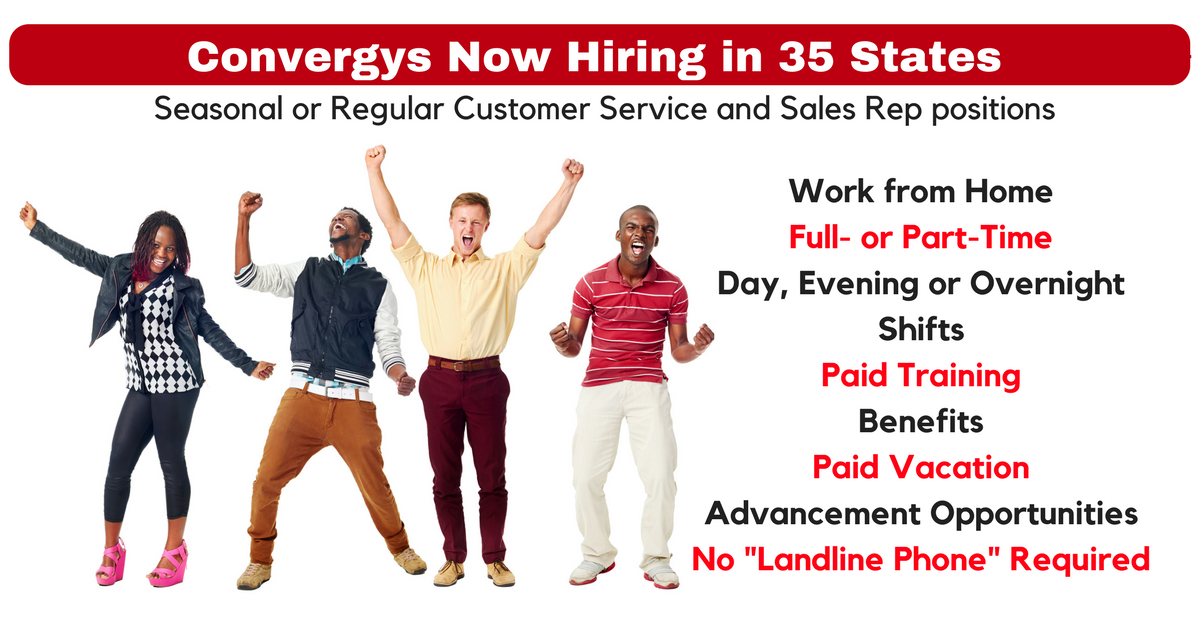 by Chris Durst     Oct. 10, 2017
Convergys is now hiring for seasonal and regular Customer Service and Sales Rep positions. Paid Virtual Training + Benefits – No Landline Phone Needed for the Job (Cell or Landline Phone OK for Training)
They have three types of work at home positions that they hire for regularly: Sales & Service, Customer Service and Technical Support Representatives. "Your answers to the questions during the application process, your qualifications and your experience will all be reviewed as part of the evaluation process to determine which one is the best fit for you," says the company.
Requirements
Requirements include a HS diploma or GED, plus one year's customer service experience (for customer service jobs) or one year's sales experience (for sales-related jobs). On the tech side, the list includes a desktop or laptop with Windows, cell phone or landline phone, high-speed Internet, seven days/wk. availability, and a 17″ monitor.
Hiring from 35 States
The company is hiring from AL, AZ, CO, FL, GA, ID, IN, IA, KS, KY, LA, MI, MN, MS, MO, MT, NE, NM, NY, NC, ND, OH, OK, OR, PA, SC, SD, TN, TX, UT, VA, WA, WV, WI and WY.


Pay
Per employee reviews on Glassdoor, pay for Sales & Service Reps averages $10.14/hr. and ranges from 9$ to $12/hr. "We also offer attendance based wage increases, performance bonuses, and some programs include sales incentives," the company says. Pay isn't quoted in the job listing.
Also Offered:
Day, Evening or Overnight Shifts
Paid Virtual Training
Benefits
Paid Vacation
Advancement Opportunities
Benefits (Quoting)
– Medical
– Dental
– Vision
– 401(k)
– Paid time off
– Tuition reimbursement




For more on the jobs, click here and DON'T USE THE SEARCH FIELD, just scroll down the page. For more jobs like these, check our Newest Jobs & Gigs page. To be the first to hear about jobs like these, like our Facebook page and check your feed for our posts. May you be working from home soon!