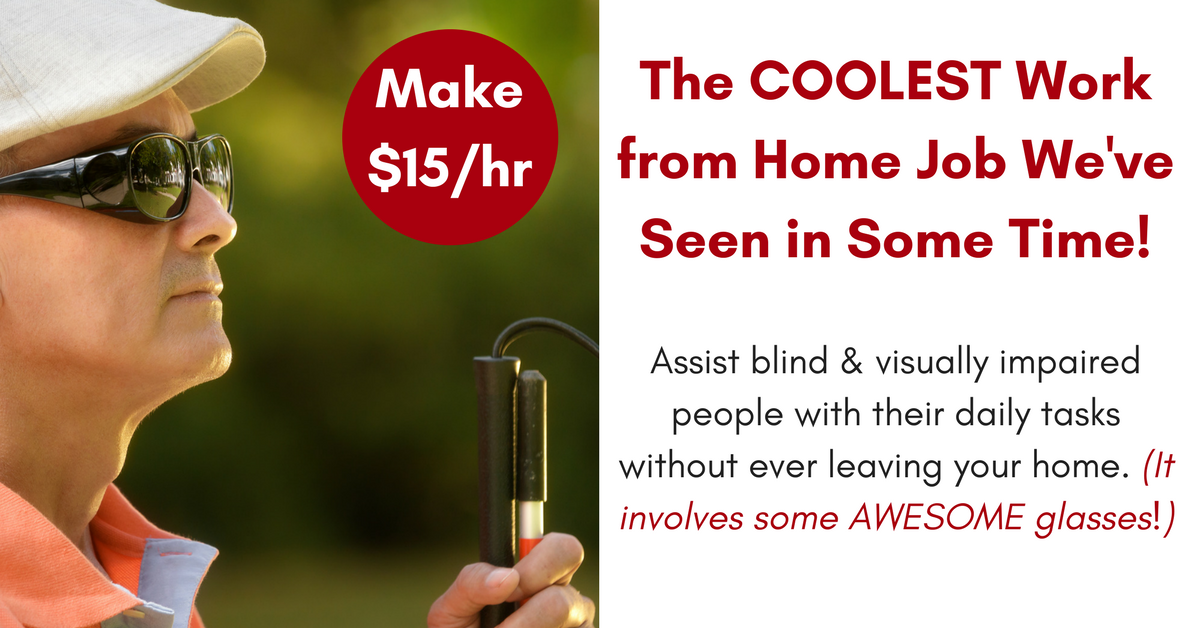 by Chris Durst      Sep. 18, 2017
Ok, this has to be one of the COOLEST work from home jobs I've come across in… ever!
Aira has developed glasses that have a webcam and audio built into them. People who are blind or visually impaired wear the glasses and, when they need help, they push a button and YOU SEE what's in front of them.
Now you, as an Aira Agent can help them with shopping, reading email or computer screens, identifying obstacles on walking routes and helping them change their course to get around them, and so much more.
Here's what they have to say:
Agents play a key role in Aira's mission to assist the visually impaired gain greater independence. Our agents have a keen desire to help others, in addition to possessing other important attributes, including patience and good character. We offer a rewarding career with the chance to impact the lives of others.
You don't just want a job — you're seeking an adventure!
Work from home while traveling the world? Meaningful interactions with individuals who appreciate your help and expertise? Grow lifelong skills in communication, empathy and broad understanding of a vast cross section of individuals? No paperwork, scripts or quotas? Sound too good to be true? Read on!
At Aira, we are giving increased freedom and independence to individuals who are blind or visually impaired. But we need your help as the star of our service! Full time or part time: whether you are in college, no college, home-maker, retired or looking for full time employment the Aira Agent is a great option."
"As an Aira Agent you simply log onto our dashboard from your computer at home and begin answering video calls from our customers who reside across the United States – you will help them to shop, read their mail or computer screen, cook meals or even describe individuals in social settings — the scenarios are varied and unique. You will join a small but growing team of Aira Agents who, along with training, will help you hone your skills and share your calls.
Through a live video stream, you are able to see what they would be seeing, and provide the information they need to make decisions or explore their world. Hours and location are flexible – you will earn $15 an hour. We offer a range of hours per day between the times of 4 a.m PST to 10pm PST.
Who are we looking for?
People who are enthusiastic, eager, and well spoken.
People who love to search the web and find the best, most relevant info.
People who can multitask while remaining focused and calm.
People that want to grow within a company — the opportunities are just beginning with Aira.
People located in the United States.
We value your time and interest, so learn more about what you can expect from Aira hiring process:
We will be continuously interviewing and hiring Agents on a rotating calendar though 2017.
Agent candidates must successfully pass a background check and our prescreening exam, with a 75% or higher, to qualify for in-person interviews.
Once your initial application is complete, an Aira representative will contact you within 30-45 days for next steps"
They have a great video that really helped me to grasp the concept – you can view it on their home page.
Click here for full details and to apply. For more jobs like these, check our Newest Jobs & Gigs page. To be the first to hear about jobs like these, like our Facebook page. Good luck in your next steps toward working from home!
PLEASE SHARE this post – turn your friends into Rat Race Rebels!