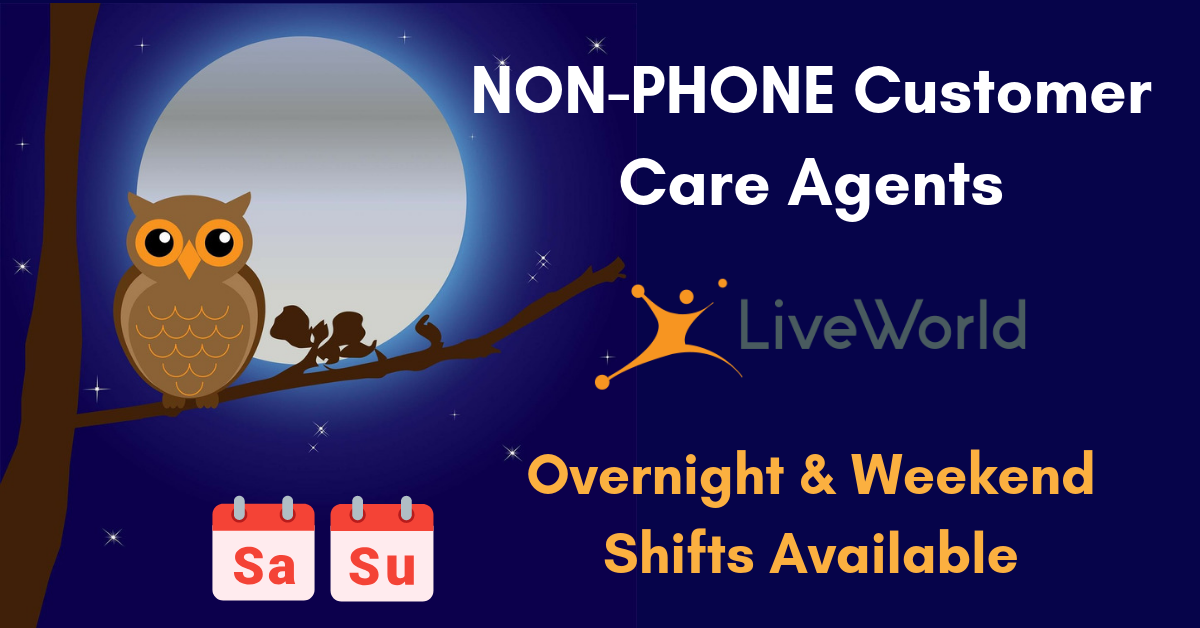 by Chris Durst      Sept. 12, 2018
LiveWorld is seeking part-time agents to help ensure their customers have a great experience.
Here's what the company has to say about these roles:
"A LiveWorld customer service agent is a virtual, part-time, work-from-home position. Our hourly agents perform tasks including social customer service, engagement for marketing purposes, and protecting a brand's image by supporting a good experience for a brand's customers in their online venues.
LiveWorld provides services in dozens of languages and defines fluency as complete competency in reading, writing, and speaking at a native or near-native level. Language needs are dependent upon client needs. Language fluency testing and writing samples are a requirement for all our hourly positions. All applicants must be fluent in English.
Primary responsibilities may include, but are not limited to:
Responsibilities include reviewing, taking action on (rejecting or approving), tracking, and/or escalating social media users' posts according to brand guidelines
Responding to user content in a social context and initiating or conversation
Triage and responding to customers' questions (with pre-determined or authored responses)
Identifying and escalating trends, topics, sentiment, and emerging issues
Required skills and traits
Excellent writing and communication skills, including grammar, punctuation, spelling, and ability to compose well-spoken messages in a real-time, multi-tasking environment (Please note: This is not a telephone position; writing skills are critical.)
Language fluency testing and writing samples are a requirement for all hourly positions in any language. All applicants must be fluent in English.
Demonstrated ability to empathize with people, make decisions according to guidelines, and communicate company policies in informal courteous conversational style
Must demonstrate the ability to make quick and correct decisions under pressure. Critical thinking is key in this fast pace work environment
Ability to focus on the task at hand with minimal external distraction, including working in a quiet atmosphere (This is not a role that can be done from a coffee shop or with toddlers underfoot.)
Ability to work for a block of several hours at a time
Punctuality and adherence to attendance policies, which are strictly enforced
Ability to regularly or occasionally work evenings, nights, weekends, holidays
Dependable, high-speed Internet access
Dependable telephone access (landline preferred for training)
Experienced computer user with knowledge of chat, email, and instant messaging programs
Familiarity with and access to spreadsheet and document software
Familiarity with social media sites on a personal or professional level
Strong typing skills
Previous moderation experiences a plus, but not required
Healthcare background a plus
Must be 18 or older
This is a work-at-home position; you must be able to work at home with the self-discipline needed to be effective
Recommended education and experience
2-3 years experience in online moderation or customer service
One-year experience working in a Call Center environment
Experience using Salesforce and Social Cloud
Must be 18 or older
College Degree or equivalent experience preferred
Demonstrated personal or professional success engaging in a social channel"

Click here for full details and to apply. For more jobs like these, be sure to check our Newest Jobs & Gigs page. To get our new job postings ASAP, like our Facebook page and check your feed for our posts. May you be working from home soon!
PLEASE SHARE this post – turn your friends into Rat Race Rebels!
[social_warfare]