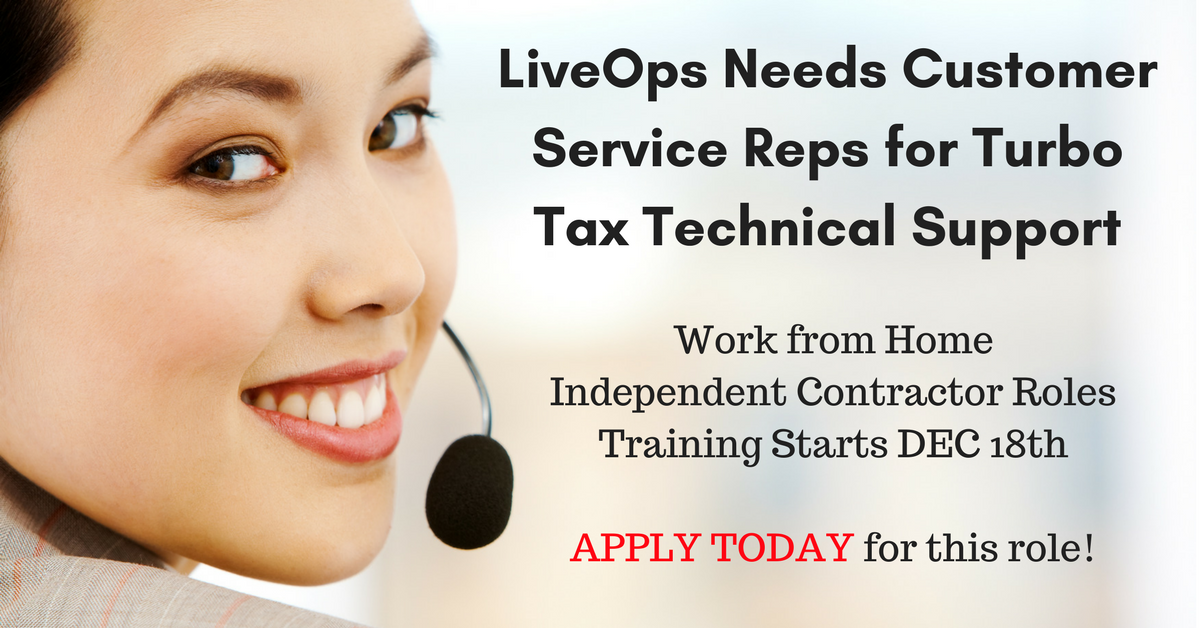 by Chris Durst Dec. 7, 2017
APPLY FAST if you are interested in this one! They would like all applications in by today (12/7)!
LiveOps is looking for independent contractors who have demonstrated success in roles that require analytical skills to troubleshoot and solve technical problems for customers.
(If you aren't sure about the differences between working as an employee and an independent contractor, please watch our video here.)
Training begins DEC. 18th, so move quickly if you are interested!
Here's that the company has to say about these jobs:
"We currently have openings for independent agents interested in a Technical Support focused role, supporting Intuit's Turbo Tax desktop software. You will be assisting callers by talking and supporting callers using Livelook technology which allows agents to assist callers by connecting to caller's computer to co-browse, screen share, and effectively resolve issues.
Responsibilities
If the requirements below describe the type of role you like to do- then this might be a good opportunity for you to add to your business!
On an interaction, you will be assisting callers using Live Look technology to assist with a wide range of product support questions, including but not limited to software troubleshooting to basic tax filing questions.
Comfortable using client tools to research and find the solution for the caller.
An interaction will require you to research, navigate, and locate answers from webpages/resources independently while engaging the customer.
The interactions will use your analytical, critical thinking, and organizational skills in combination with your troubleshooting and problem-solving knowledge.
Each interaction demonstrates a sincere desire to assist the customer and put the customer's needs first.
How much can you invoice?
Independent contractors earn money in a variety of ways. This opportunity pays for time spent talking on the phone. The talk-time rate is $0.32 cents per minute.
Available hours
Calls are received Monday through Friday, 8am to 8pm ET May-Dec and 7 days a week, 8am – 12am ET January-April. These hours are subject to change based on the client's needs.
Interested agents should have the flexibility to self-schedule 40 commits per week, the equivalent of 20 hours a week during the available hours. This will be a requirement in the Statement of Work for this client.
Qualifications
Technology needed for success
Internet Speed- Download/Upload of 5Mbps/3Mbps
PC Hardware Requirements:
Processor Model: Intel i5 650
Processor Speed: 3.20 GHz
Memory Standard: DDR3-1333/PC3-10600
Processor Type: Core i5
Memory: 4GB
Operating System: Windows 7 or higher
Software/Permission Requirements:
Internet Explorer version 8.0 or higher (128-bit encryption required)
Latest versions of Firefox, Chrome, Safari
Application to replicate a printing environment (PDF or emulator)
Adobe Acrobat Reader version 8.0 or higher
Current version of Adobe Flash and Java and ability to update them if needed
Microsoft Office (2003 or later)
Cisco Jabber
Current Anti-Virus software
Launch package: Security permissions to allow product installation, ability to print, CD ROMs, etc.
This client is looking for independent contractors with the following skills:
Minimum of one year customer service experience.
Six months' experience of providing technical support for either computer software or hardware.
Familiarity with operating systems, both Windows OS and Mac OS versions.
Strong knowledge and understanding of tax software.
Ability to provide detailed notes in the client's system.
Ability to learn and use customized software and applications.
Willingness to use a personal smart phone to complete a verification for access to the client systems.
Application and certification process
Interested agents should apply online. If your application is accepted, you will be invited to become an independent contractor with LiveOps and provide services to Intuit. The application to provide support on the Intuit contract requires completion of an Intuit required assessment and a video conference with a member of Liveops' Talent Acquisition Team. This invitation is contingent upon you signing the Intuit Statement of Work, ordering, paying for, and passing a background and credit check, and completing all certification requirements. All required application steps must be completed by December 7, 2017.
This certification is a combination of self-paced eLearning courses, live virtual classroom learning sessions, and Readiness Assessments conducted via conference call. The certification takes approximately 35 hours of self-directed e-learning and 9 required live sessions of 3 hours per day, during which time your business must adhere to the certification schedule and attend all required virtual classroom learning sessions. The self-paced eLearning courses will be held in Intuit's learning system. The certification class will begin, December 18, 2017."
Click here to learn more and to apply. For more jobs like these, check our Newest Jobs & Gigs page. To be the first to hear about jobs like these, like our Facebook page. And if you'd like to see more Customer Service Agent positions, check our Customer Service Jobs page. Good luck!
PLEASE SHARE this post – turn your friends into Rat Race Rebels!