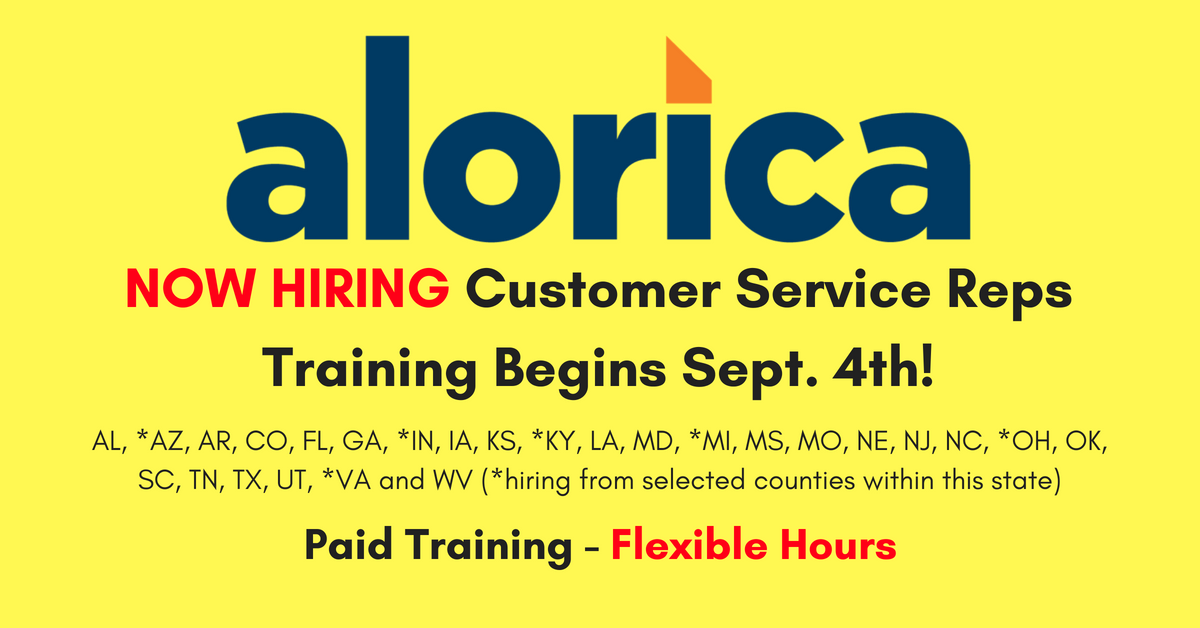 by Chris Durst       July 24, 2018
Alorica, a legitimate and frequent hirer of work from home Agents, is looking for Customer Service Reps. Training pay rate is min wage per your local area. Call taking will be a per minute rate with a guarantee of at least minimum wage.
Yep, don't shoot the messenger; we know minimum wage isn't much. On the other hand, for many people getting a full-time job working from home can make a big difference, and this can be a good "filler" job and resume-builder while you are looking for your ideal job!
Not sure? Here's a quote we received today from an email we received from Amanda K. (a fellow RRRebel) about her current experience with Alorica:
"Thank you so much Christine! I just started Training yesterday and I'm loving it! I originally just applied for a Customer Service position with the [popular retail store] program from Alorica's website, but upon my 2nd interview and the Hiring Manager looking over my prior experience with call centers, he offered me a salaried management position instead!! Totally unexpected but such a blessing Alorica has been! If anyone wants holiday cash, [popular retail store] is definitely ramping up right now with Alorica!!"
As of now, the company is hiring from the following states: AL, *AZ, AR, CO, FL, GA, *IN, IA, KS, *KY, LA, MD, *MI, MS, MO, NE, NJ, NC, *OH, OK, SC, TN, TX, UT, *VA and WV (*hiring from selected counties within this state). If your state or county isn't listed, be sure to check our Newest Jobs & Gigs page. We post new work from home leads there every day except Sunday.
From their site:
"We need agents that can provide excellent customer service assisting customers with placing orders for customers and assisting with service recovery. Service recovery includes answering questions about placed orders, tracking shipments, processing returns, among other things. Agents on this project must demonstrate exceptional customer service skills along with patience and empathy, and must also possess strong computer skills and experience with online shopping. Agents must be available to work a minimum of 15 hours per week, 5-10 hours must be worked over the weekend, majority of hours available will be between 3pm-9pm CST during the week and 12pm-9pm CST on the weekends. Mandatory days in peak season: Black Friday, Cyber Monday, December 23rd, 24th and 31st, and January 1st.
Training is Monday through Friday from September 4th to September 19th from 12pm to 6pm CST. The on the job training is September 20th through September 28th from 1:30pm and 6pm CST. Training pay is $8.25/hr or minimum wage per state or local area, whichever one is higher. Upon graduating from training, the call taking rate is $9/hr.
Alorica-at-Home Agents are responsible for receiving and processing various incoming phone calls for numerous clients in accordance with policies, procedures, quality standards, and federal laws and regulations. Additional responsibilities pertaining to call and sales function are (but are not limited to):
Receive and process incoming phone calls for clients, which includes obtaining, entering, and verifying customer information (e.g. names, addresses, credit card numbers, etc.), answering questions, resolving issues, providing customer service, adhering to scripts, and attempting to make up-sells.
Ensure that calls are processed in strict adherence to established policies, procedures, and quality standards, as well as any federal laws and regulations.
Successfully complete initial on-the-job training, as well as any new product or on-going training.
Click here for details and to apply. For more jobs like these, check our Newest Jobs & Gigs page. To be the first to hear about jobs like these, like our Facebook page. Good luck in your next steps toward working from home!
PLEASE SHARE this post – turn your friends into Rat Race Rebels!
[social_warfare]