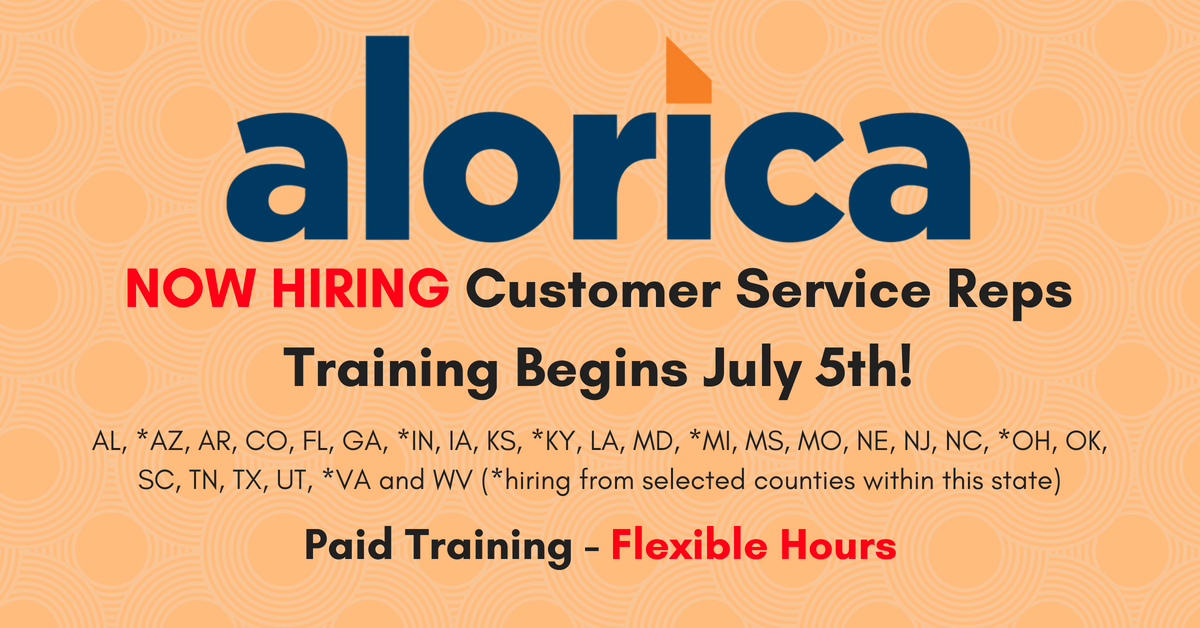 by Chris Durst        June 18, 2018
Alorica, a legitimate and frequent hirer of work from home Agents, is looking for Customer Service Reps. Training pay rate is min wage per your local area. Call taking will be a per minute rate with a guarantee of at least minimum wage.
Yep, don't shoot the messenger; we know minimum wage isn't much. On the other hand, for many people getting a full-time job working from home can make a big difference, and this can be a good "filler" job and resume-builder while you are looking for your ideal job!
As of now, the company is hiring from the following states: AL, *AZ, AR, CO, FL, GA, *IN, IA, KS, *KY, LA, MD, *MI, MS, MO, NE, NJ, NC, *OH, OK, SC, TN, TX, UT, *VA and WV (*hiring from selected counties within this state). If your state or county isn't listed, be sure to check our Newest Jobs & Gigs page. We post new work from home leads there every day except Sunday.

From their site:
"This positions provides an opportunity to take calls in a scripted environment for a wide variety of businesses that you may have seen on the internet, TV or heard on the radio. Products & services ranging from exercise equipment, kitchen appliances, cosmetics, entertainment products (CD & DVD Collections), vacuums, and free information regarding insurance and legal representation.
We are seeking individuals that are sales minded, possess exceptional customer service skills and have the ability to read scripts verbatim. Hours of operation for this line group are 24/7 with our highest needs being on the weekends. (Primarily Saturday)

We have a 15 hour minimum weekly requirement during our peak season that allows our agents to ensure call quality, product awareness and call fluency. We also have a Saturday requirement (currently 2 hours per week) that helps ensure we meet our contractual call handling requirements. These minimum requirements may be raised or lowered based on business needs.
TRAINING WILL BE Thursday July 5th & Friday July 6th FROM 9am-3:30pm CST, training dates will vary. 100% TRAINING ATTENDANCE IS REQUIRED. THEREFORE, THERE WILL BE NO TIME OFF ALLOWED FOR THE DURATION OF TRAINING.
There is tremendous opportunity to earn incentives, especially while working weekends.
Training pay rate is min wage per your local area. Call taking will be a per minute rate with a guarantee of at least minimum wage. There is an opportunity to work additional hours. The pay rate for any additional hours will be at the rate listed for the shift (Primarily on the weekends) Alorica-at-Home employees average between min wage per your local area and $10.00 per hour.

Alorica-at-Home Agents are responsible for receiving and processing various incoming phone calls for numerous clients in accordance with policies, procedures, quality standards, and federal laws and regulations. Additional responsibilities pertaining to call and sales function are (but are not limited to):
Receive and process incoming phone calls for clients, which includes obtaining, entering, and verifying customer information (e.g. names, addresses, credit card numbers, etc.), answering questions, resolving issues, providing customer service, adhering to scripts, and attempting to make up-sells.
Ensure that calls are processed in strict adherence to established policies, procedures, and quality standards, as well as any federal laws and regulations.
Successfully complete initial on-the-job training, as well as any new product or on-going training.
Click here for details and to apply. For more jobs like these, check our Newest Jobs & Gigs page. To be the first to hear about jobs like these, like our Facebook page. Good luck in your next steps toward working from home!
PLEASE SHARE this post – turn your friends into Rat Race Rebels!