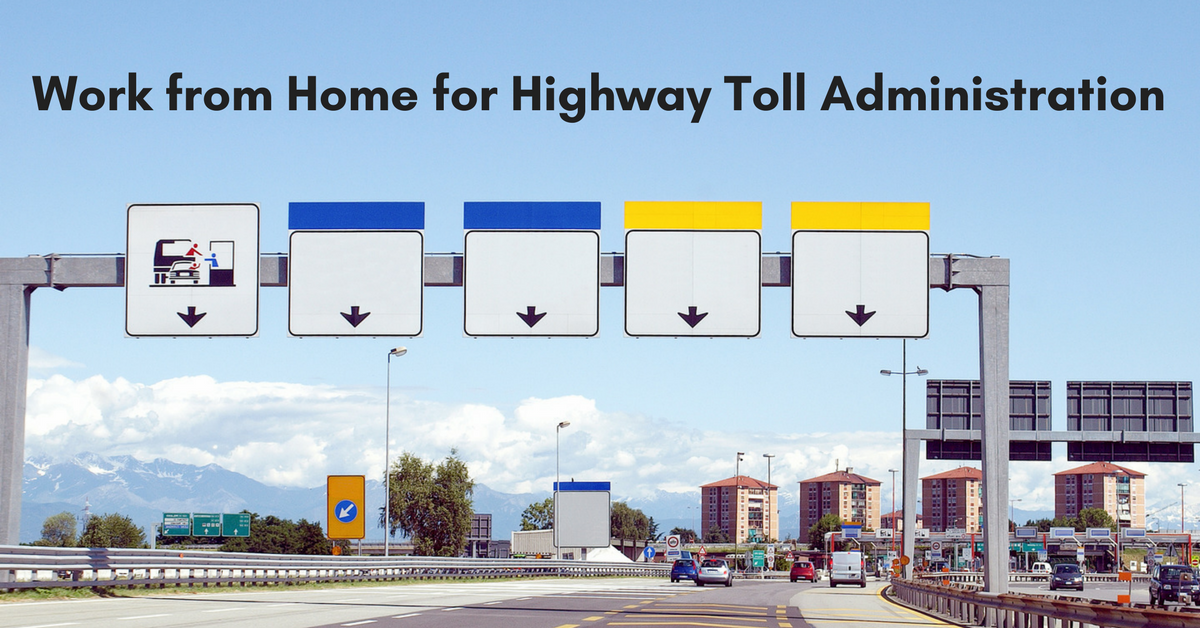 by Chris Durst    June 12, 2017
Highway Toll Administration is the largest provider of toll services for the rental car industry – processing toll collection transactions for transponder-based and license-plate-based video tolling.
The company is currently hiring work from home Customer Service Specialists in the US. (The company is based in NY, but lists "US" as the job location, so it appears you do not need to be located in NY to apply. We will post here if we learn otherwise.)
According to Glassdoor, the pay rate for Customer Service Reps at Highway Toll Administration is $13.87 hourly. The company will train you and provide the necessary equipment – including a computer and headset.

Here's what they have to say about the role:
"We are currently seeking an energetic, positive, rock-star Highway Toll Specialist to join our eclectic Customer Service department. Our dynamic team is fun, creative and self-motivated (yes, we're awesome).
Are you looking for a job where you can work completely from home, eliminating commuting time and costs, while providing exceptional customer service? If so, we have a great opportunity to do both!
You will work from home as part of the Customer Service virtual call center, fielding calls and emails from our customers who have questions about toll roads, answering billing inquiries, locating toll charges on our proprietary database and helping to maintain best-in-class customer satisfaction and foster long-term relationships with our customers.
This is the kind of stuff you'll do
Provide exceptional customer support at all times
Answer phone calls from customers around the country with a smile
Address all customer concerns over the phone, email and/or online chat
Review disputed toll charges
Investigate billing inquiries
Maintain a thorough knowledge of toll roads throughout the country (we will train)
Ensure customer addresses are correctly logged in our database

What we need in you
You have a High School Diploma or Graduate Equivalency Degree;
You have a minimum of 1 year of related experience in a customer care environment
You have solid experience dealing with irate customers and explaining and resolving complex situations for them with ease
You read, write and speak eloquently
You thrive on meeting and exceeding daily service levels
Problem solving and thinking on your feet is totally your thing. You may not always know the answer, but you certainly know how to find it!
You're a communicator; you know how to get your point across efficiently and effectively to both customers and colleagues
You're detail oriented; nothing gets your stamp of approval unless it's been proofread
You are drama-free and possess the ability to maintain a positive attitude at all times
Please note that this is a full time, telecommuting position. Candidates must have a quiet separate space at home and also have high-speed internet access (Satellite and DSL are not acceptable). We will supply the equipment, including the computer and headset. This position may include working some or all weekends. Any employment inquiries without a resume will not be considered. Cover letters always help you stand out!"

Click here for full details and to apply. For more jobs like these see our Newest Jobs & Gigs page. To be the first to hear about jobs we post, like our Facebook page.
PLEASE SHARE this post – turn your friends into Rat Race Rebels!