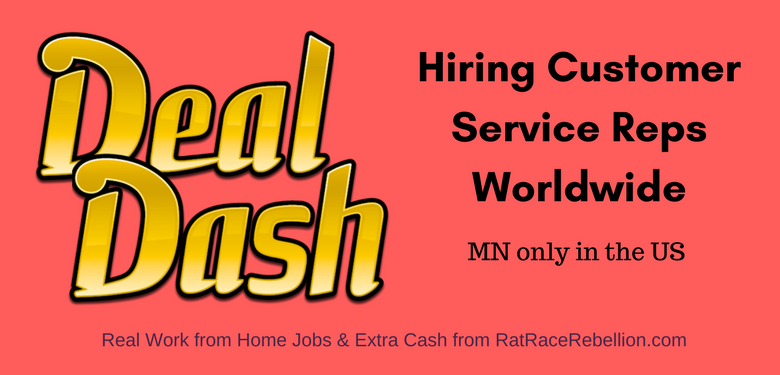 by Chris Durst     Mar. 30, 2017
DealDash is an internet retailer and brand promotion platform for some of the world's leading brands and retailers like Walmart and Sears.
From their site:
The DealDash team is made up of highly-motivated, analytical and entrepreneurial professionals who work collaboratively to provide top-notch recreational shopping experiences for our customers. We challenge each other in an open and candid environment, no matter what our job title is, so that we may all grow and improve together.
Some fun facts about DealDash:
Our team is spread out over 6 countries
14 nationalities
We offer a $6,000 resignation bonus to anyone who resigns! (We believe people who work at DealDash should only do so because they love it, not because it's their only option financially)
Every employee talks to Customers every week, no matter what your function! We love our Customers!
92% of our revenue comes from repeat buyers! (And we are growing!)




We believe in:
Putting the Customer first in everything we do
Small teams with lots of autonomy
Making data driven decisions
Being candid, fair & honest
Maintaining a flat meritocratic org structure
Managing through social trust, not control
Allowing people to work from wherever and whenever (with a few exceptions), results matter, not hours
If you feel our values match yours, then come and join the team!
JOB DESCRIPTION:
We are a small team with a big business! Our customers come first, and our Customer Service team is at the forefront!
Are you passionate about people? Do you want to join a fast-growing business? Then we are looking for you!




Our Customer Service Specialists are spread across Finland, Canada, Germany, Switzerland, Spain and USA to provide top-notch 24/7 service to our amazing customers! Our highly-skilled CS Specialists have the freedom to serve our customers the best way they know how (who wants to read from a script?). As a member of this team, you would be responsible for answering customer inquiries through email, chat and phone.
We encourage applicants from the following locations:
Canada
Ireland
Minnesota (USA)
Finland
UK
Spain
Germany
Estonia
Hungary
Requirements
Excellent English skills, both written and spoken
A passion for helping people
Creative problem solver
Adaptable to change – we are a growing team with lots of ideas!,
Benefits
join our diverse and high-energy company
opportunity to serve our amazing 5 million+ customers
lots of career opportunities as we continue to grow! Most recently, a few of our former CS Specialists created their own departments at DealDash in Security, Email Marketing, and Digital Marketing!
Click here for full details and to apply. For more work from home jobs and gigs, see our Newest Jobs & Gigs page. We post new leads every morning except Sunday. Good luck!
PLEASE SHARE this post – turn your friends into Rat Race Rebels!