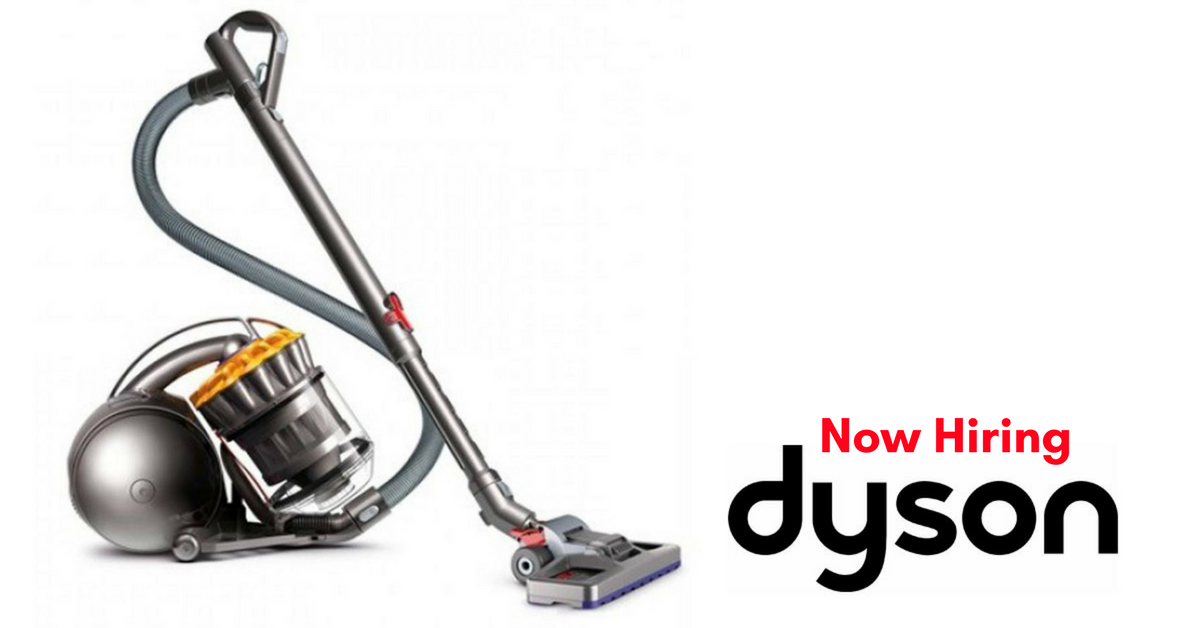 by Chris Durst May 17, 2017
Dyson (yes, the Dyson that makes vacuum cleaners) is now hiring work from home Customer Experience Specialists / Online Advisors! No college required!

In this role, you will offer their customers help and advice via telephone, email, social media and online chat.
Here's what they have to say about this position:
"Our Customer Service team epitomises Dyson's problem-solving ethos. There's no query our Ask Dyson teams can't answer. And there's no fault our Field Service engineers can't fix.
Driven to turn owners into passionate advocates of the brand, our team makes each experience rewarding. It requires in-depth knowledge and genuine passion for Dyson technology. So we never miss an opportunity to talk about Dyson's latest machines – and frequently sell products as well as solve problems. From letters and emails, to calls, online and social media, our team is constantly evolving to give better service.


MAIN ACCOUNTABILITIES
1. ONLINE CUSTOMER SERVICE
Email Correspondence
Review and enthusiastically respond to customer concerns via email within 3-hours of receiving
Conduct research to determine the best solution that fully resolves a customer's concerns, and capture customer data and input it into CRM
Identify sales opportunities and drive revenue – situations where a customer may benefit from a new product and an upgrade in technology
Use concise and specific language that upholds the Dyson brand and resolves customer concerns expeditiously
Live Chat
Identify and capture sales opportunities to drive revenue and achieve conversion rates
Conduct real-time research to determine the best solution for the customer – this requires immediate responses and quick thinking
Passionately manage proactive and reactive messages initiated to address needs of customers
Responsible for resolving a plethora of customer issues including sales, check out support, technical trouble-shooting, and service requests
2. SOCIAL MEDIA MONITORING, WEBSITE QUALITY ASSURANCE AND PROJECT SUPPORT
Monitor targeted social media websites for actionable content from consumers and report these opportunities to the Associate Online Customer Service Manager
Report any and all trends found while monitoring targeted and non-targeted social media and other websites
Assist in the preparation of the monthly Dyson.com user review program reports
Provide website quality assurance testing support of the US website before, during and after the implementation of updates for errors in product pricing, availability and/or overall functionality.
3. FULFILL OTHER DUTIES AS REQUIRED
Relish opportunities to pick up new activities that fall broadly in the purpose of this role
Fix things that you can see need fixing
Identify problems and find solutions
Special projects as needed
Experience and Education
High School diploma or equivalent required
Minimum 2 years experience in a customer service position, call center experience preferred
1+ years of experience in an online customer support role required
Experience with social media websites (i.e. Facebook, Twitter, Yahoo Answers, YouTube, etc.)
Experience working in a major ecommerce customer support environment preferred
Experience working with a CRM program for a consumer brand preferred
Experience with Quality Assurance testing of a major ecommerce website preferred
Skills/Competencies
Ability to understand the Dyson brand and uphold its integrity.
Strong/advanced written and oral communication skills required and must be demonstrated
Advanced proficiency in Microsoft Excel, Word, PowerPoint, and Outlook preferred
Ability to type 50 wpm
Dependable, professional, enthusiastic and flexible
Strong writing skills and attention to detail
Knowing when to work independently and when to ask for help Evening and weekend hours required
CLICK HERE for full details and to apply.
PLEASE SHARE this post – turn your friends into Rat Race Rebels!