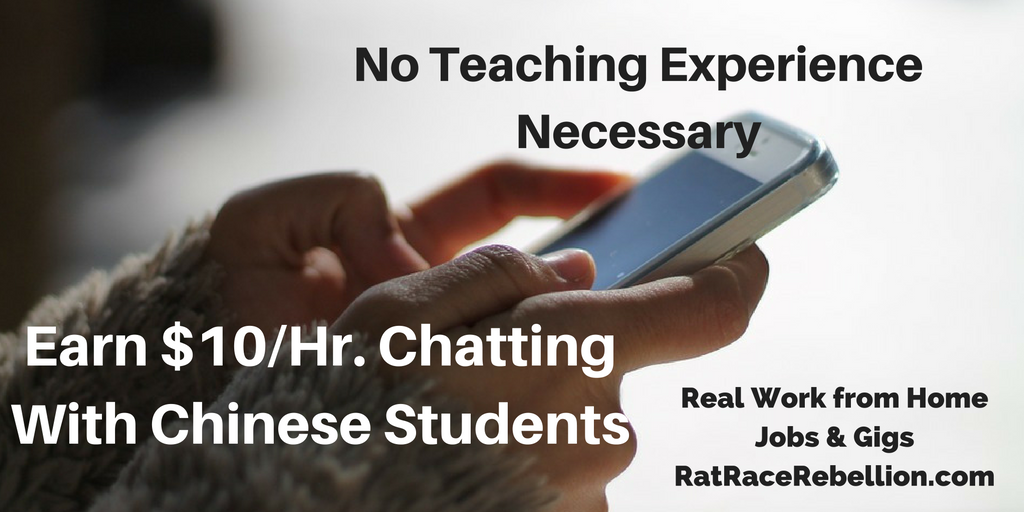 By Mike Haaren – Dec. 5, 2016
Work from Home Jobs – Get Paid for English Conversation
If you're a native English speaker and you'd like to earn some extra cash on your own schedule, chatting with Chinese students on your cell can be a great option. You don't need to be a Teacher. Pay is by the minute at a rate of $10/hr.
I've been an English conversation Tutor, and it's really not that hard. I had Russian students, Italians, and French, from teens to older adults. Some spoke very little English, while others could carry on a basic conversation, and some were advanced. More on that in a sec.
You can break the ice and get chats started by asking about family, or travel, or movies, or music, or sports. Sharing things about yourself will help spark questions, too, and keep things flowing. (Students are almost always interested in their Tutors, though they may be too shy to say so.)
If a student mispronounces or misuses a word or a phrase, you can gently correct her when she finishes her thought or when there's a lag in the chat. If she already knows the basics, you can find out what topics or themes she wants to improve in and focus on those.
Good conversation — with your friends or with foreign students — is all about improvisation, anyway. You're sparking off this idea or that image to light up another one. Just use your intuition and your sense of fun, keep things upbeat, and you'll be fine.
There will be lags sometimes — as there are in many jobs — and beginners will take more energy and patience than advanced students. But it can be really satisfying work — helping someone accomplish something that's very important to them — and you're earning cash from the comfort of your home. Plus, you can work whenever you like.
Pay is weekly via PayPal, and the app is available for Android or iOS. For details, click here.
PLEASE SHARE this post – turn your friends into Rat Race Rebels!