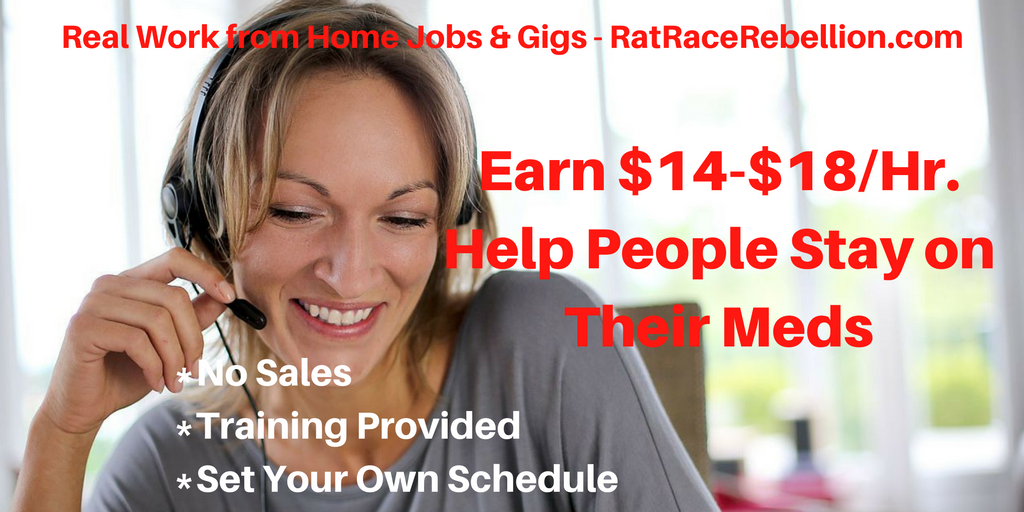 By Mike Haaren – Oct. 5, 2016
Work from Home as a GoodStarter – Set Your Own Schedule – Training Provided
If you like to help people get better, Pleio, an established company we've been covering for years, continues to list its GoodStart Mentor positions. Training is provided. Average pay is $14-$18/hr., says the company.
You'll be helping patients get into a good routine with their medication, via phone. No sales, no medical experience needed.
How Does It Work?
A person starting a new medication signs up for the GoodStart Program at their pharmacy because they want to make sure they'll be using it correctly. You, the GoodStarter, make non-sales outgoing calls to those folks who signed up. (Don't worry — you will NOT be giving medical advice.) During those calls, you'll work from a script that reviews the side effects of the drug and reminds the patient of the routine for taking it.
You'll also listen to the patient and report back any adverse effects the patient may have mentioned.

You'll be working as an independent contractor rather than an employee. Once you're invited to train, you'll need a credit and background check ($45). "A low credit rating will not automatically disqualify you." (Due to IRS regulations, companies rarely if ever pay for background checks on independent contractors. While we tell job seekers never to pay for a job, this type of fee is common and acceptable for independent contractor positions and is NOT A SCAM.)
GoodStarters can work from all states except ND, OH, WA and WY.
PLEASE SHARE this post – turn your friends into Rat Race Rebels!
BE SURE TO CHECK OUT OUR OTHER RECENT POSTS FOR MORE JOBS