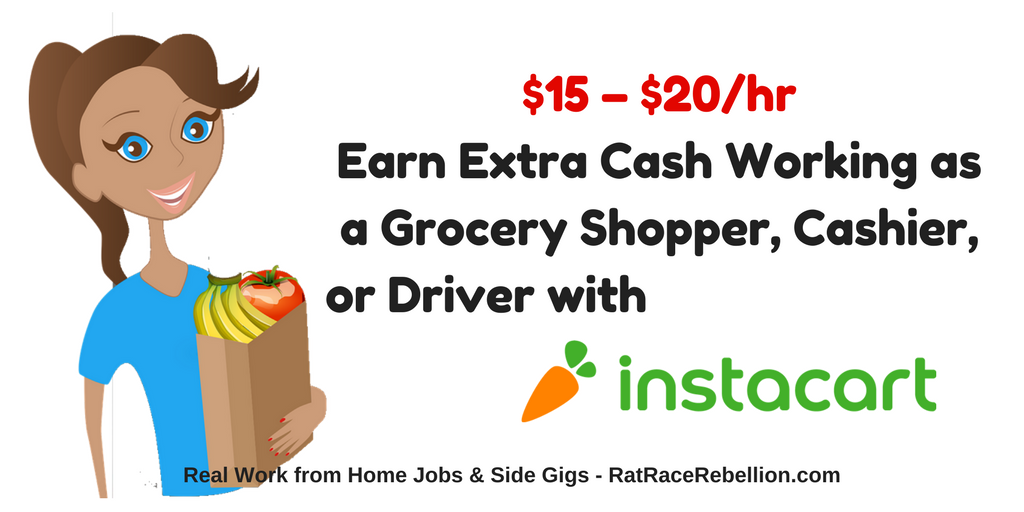 By Mike Haaren – Co-Founder – June 5, 2017
As we've often mentioned here on Rat Race Rebellion, the "on-demand" economy has spawned all kinds of non-cubicle side jobs for people who love flexibility… and extra cash. Everything from driving for Uber (even if you have bad credit and don't have a car) to getting paid to watch videos or take polls or go to the movies.
Instacart, for example, lets customers order food online from stores like Whole Foods, Costco, Target and others, for delivery in an hour or two. They're seeking people for a variety of grocery shopping-related roles, including:
Shopper
part-time employee
Shop for grocery orders in local stores.

Shopping only
No vehicle required
Flexible schedule
Work up to 29 hrs/wk

Cashier
part-time employee
Work the cash register to check out orders

Check-out only
No vehicle required
Flexible schedule
Work up to 29 hrs/wk

Car Required
Driver
independent contractor
Deliver groceries from local stores to customers.

Delivery only
Vehicle required
Flexible schedule
Work unlimited hours

Driver + Shopper
independent contractor
Shop for groceries and deliver them to customers

Delivery and shopping
Vehicle required
Flexible schedule
Work unlimited hours




Pay Details:
Instacart recently restructured their pay model, and that has been getting a lot of attention – good and bad. In their own words, "We have made some recent rate changes to reduce variability in how much shoppers earn, and we are constantly innovating to help shoppers get more orders. After these changes our shoppers will earn, on average, an effective rate of $15-$20/hour, which is both in line with historical levels and strongly competitive within our markets." Your mileage may vary on the income, but click the link at the end of this post to learn more about the variables.
From their site
WHAT IS INSTACART?
Instacart is an on-demand grocery delivery service. Customers order groceries from their favorite local stores and we handpick the items and deliver the order to them.
---
WHAT IS THE APPLICATION PROCESS?
Take 5 minutes to complete the online form. Once your application is approved, schedule an in-person introduction at your local grocery store Learn about Instacart and the app in your in-person session. Shop 'til ya drop!
---
I ALREADY HAVE A JOB – CAN I STILL WORK AT INSTACART?
Yea! Instacart values flexibility. You can schedule Instacart shifts around your own life. We don't have a minimum number of hours each week. Positions that require a car have an unlimited number of hours per week, and positions without cars have a max of 29 hours per week.
---
DO I NEED A 4-DOOR CAR?
No! Any type of functioning car works. Plus, you only need a car for delivery roles.
---
WILL I NEED TO COMPLETE A BACKGROUND CHECK?
Yes. Trust and safety is important to us and customers. After your in-person introduction, we'll ask you to consent to a background check.
---
WHAT ARE THE REQUIREMENTS? YOU:
Are 21+ (18+ in Boston)
Can lift 30+ pounds with or without an accommodation. Applicants with disabilities who may need a reasonable accommodation in order to apply for a role or assistance with the application process may contact 650-935-5020.
Are eligible to work in the U.S.
Have a recent smartphone (iPhone 4 or Android 4, or newer)
You care about customers!
Click here to learn more and to get started! Also, click here to learn more about Instacart's recent pay changes.
PLEASE SHARE this post – turn your friends into Rat Race Rebels!
[social_warfare]