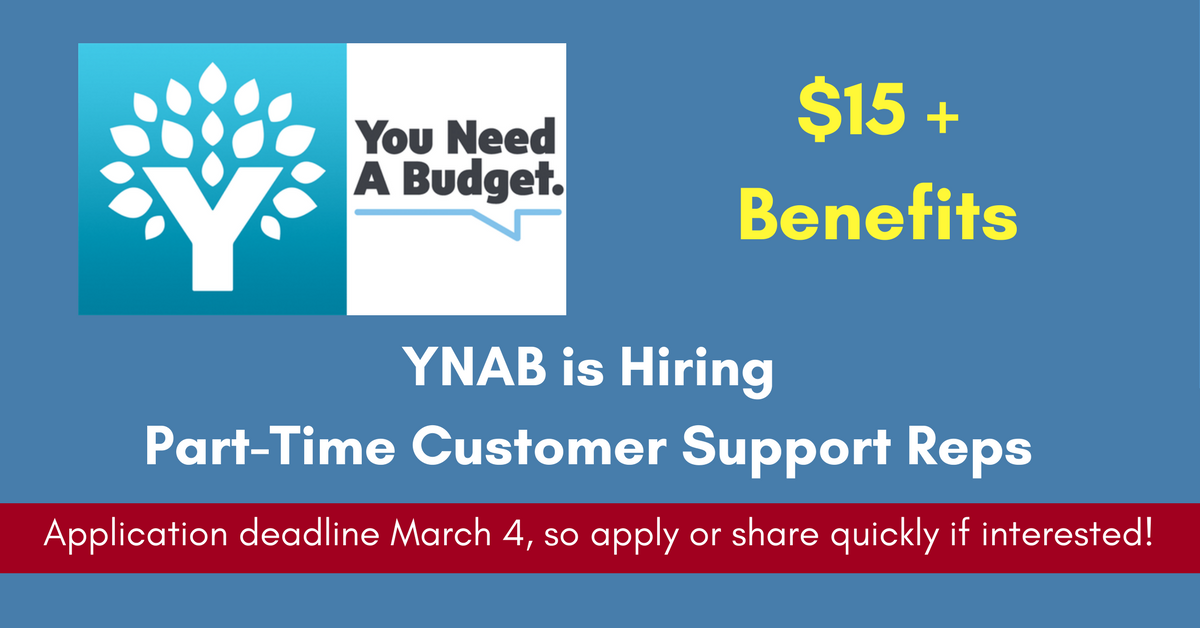 By Mike Haaren – March 2, 2018
UPDATE: Mar. 5, 2018 10:40AM – The application deadline for these openings was 3/4, and YNAB has received all of the applications they need for now. We will be sure to post here when they begin hiring again!
Work from Home Jobs – Part-Time Support Reps. for Chat & Email – $15/Hr. – Benefits – Work from Anywhere
Short Fuse Alert – Application deadline March 4, so apply or share quickly if interested!
You Need a Budget (YNAB), makers of popular budgeting software, is looking for part-time Support Reps. Benefits included, and you can work from anywhere, the company says. This is a "non-phone" job.
"We're hiring for the shift between 6pm and midnight EST at this time," YNAB adds. "So please confirm that is ideal for you, and let us know if any days are off limits."
Pay
"Pay for this role is $15 an hour."
Here are the details in YNAB's words —
Live Where You Want
We're a distributed team, so you can live and work wherever you want. Proximity doesn't influence productivity, and as we continue to increase our global reach, we'd love to have more team members in other timezones to help deliver timely responses to users. Our only requirement is that you have a reliable internet connection and can work during your scheduled shift!
How You're Paid
If you're stateside, you'll be paid as a W2 employee, and also have access to a Traditional and Roth 401k option – yes, even for part-timers! And YNAB contributes three percent whether you choose to throw any money in there or not.
If you're international, you'll be set up as a contractor. Employee or contractor, it's all the same to us. You're part of the team.
The Trial
The first 8-weeks for all support team members is considered a working trial. We hire people who we believe will be an exceptional fit for the role and the team. Although, it might be your first time doing email support, or your first time working remotely, and we want to make sure it's the right fit for both of us. You'll have weekly meetings to discuss your metrics, grow your skill set, and chat about how working remotely is going. After a successful trial, you'll be a full-fledged member of the team – and we can't wait!
You're the one we're looking for if:
You'll be able to send 50 email replies in a five-hour shift.
You could flawlessly juggle three live chat conversations at a time. (While this role is primarily email support, we may have you help out in chat support as needed!)
You can help us achieve an average response time of under four hours.
You can commit to 25-30 hours per week, with one 5-6 hour shift on Saturday or Sunday.
You value excellence and continuous improvement. At the same time.
You understand how every support response is an expression of the YNAB culture and brand.
Other people consider you a stellar communicator.
You love making people happy.
People thank you when you deliver difficult news. You're that good.
You enjoy trying things you haven't ever done before.
You aren't afraid to ask questions.
You are wildly productive and independent, but a team-player at heart.
Bonus Points:
You already use and love YNAB.
You have Customer Support experience.
You have experience with live chat support.
For more about the job, click here. Before you apply, you should also read YNAB's brief Cultural Manifesto, which will give you an idea of the company's values. The better they fit yours, the happier and more successful you'll be as a member of the team. Good luck!
PLEASE SHARE this post – turn your friends into Rat Race Rebels!