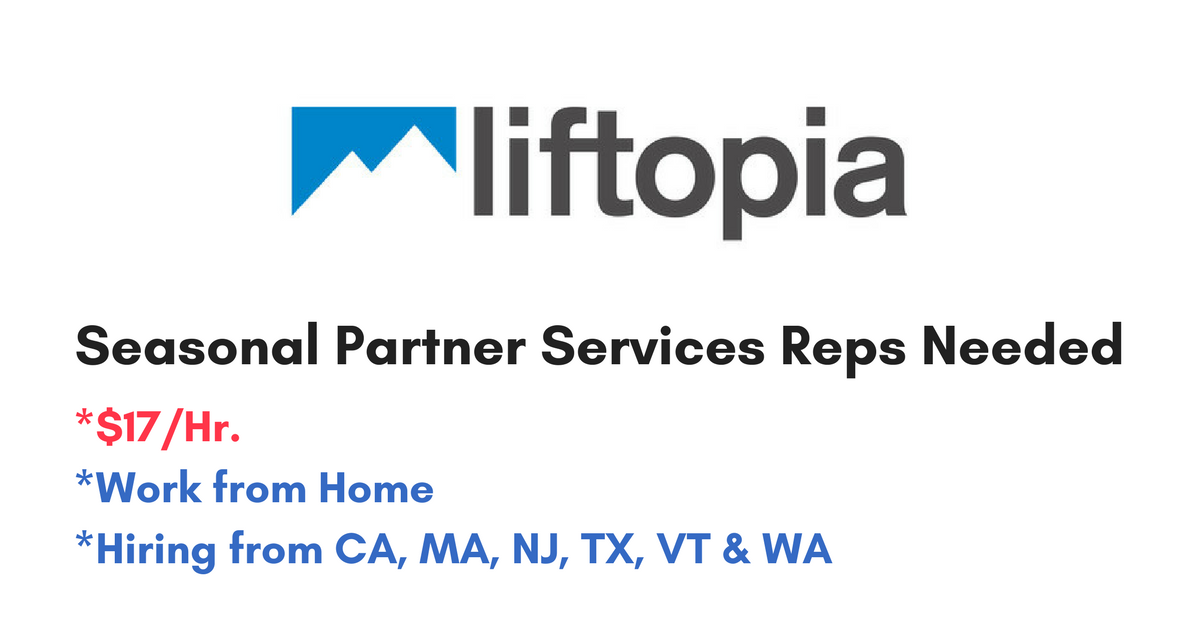 By Mike Haaren – Co-Founder – July 27, 2017
Work from Home Jobs – Seasonal Partner Services Reps Needed at Liftopia
We have warm weather now, but Liftopia is already hiring for the upcoming ski season. It operates a large site where 200+ resorts sell ski lift tickets. They're looking for Seasonal Partner Services Reps to work from Sept. – April.
Pay is $17/hr. Schedules are full-time. "Applicants must reside in CA, MA, NJ, TX, VT or WA."
In their words, "We are looking for highly motivated and talented candidates to fill our Seasonal Partner Services Representative role in order to better support our Partner Services Team during our high-season."
Requirements (Quoting from the Lead)
— 2+ years of experience providing customer support, hospitality experience, or account management support. (For an internet e-commerce, SaaS, or travel site is preferred.)
— Working knowledge of the ski or travel industry.
— Extensive experience building effective client relationships through positive communication, honesty and trust.




— Outstanding written and verbal communication skills. You will need to explain complex ideas to partners, so writing and speaking with clarity and precision is a must.
— Great troubleshooting and analytical skills, constantly making improvements to our process.
— Compassionate and level-headed. You must be able to confidently and calmly serve high value partners in all types of situations, resulting in positive outcomes.
— A great teammate. We are a highly organized and efficient team. You should be extremely well-organized and comfortable collaborating with your team to solve diverse customer inquiries and issues.
— Able to roll with change and solve problems. Liftopia needs your continuous input on how to make Liftopia better.
— Fun! Our team can get a little weird at times. At Liftopia we embrace fun and seek balance with work and life.
Core Responsibilities (Quoting from the Lead)
— Act as primary support for the Partner Services Team at Liftopia during the 2017/18 Winter Season, approximately Sept-April. Season duration is dependent on winter weather conditions and volume of workload, and is subject to change.
— Work closely with the Partner Services (PS) and Sales Teams to successfully complete partner related requests.
— Manage phone and ticket queues, including weekend and Holiday coverage (November – April)
Data Maintenance:
– Auditing systems and updating data through custom software interface.
– Ticket barcode reconciliation and allocation.
– Reloading ticket inventory upon request or as needed.
– Loading new and updated data to our inventory database with assistance from senior team members.




— Process resort closures by modifying inventory and updating internal departments.
— Modification of ticket product details that affect the Liftiopia.com website offerings.
— Running and emailing reports on behalf of the Partner Services Team or for partner contacts.
— Completing Quality Assurance (QA) on all inventory data points uploaded to our website.
— Process payments, refunds, and credits when necessary.
— Be the voice if the company to resort partner contacts.
— Ad Hoc projects.
To go to the jobs, click here. For more jobs like these, check our Newest Jobs & Gigs page. To be the first to hear about jobs like these, like our Facebook page and check your feed for our posts. May you be rocking your rebellion soon!
PLEASE SHARE this post – turn your friends into Rat Race Rebels!