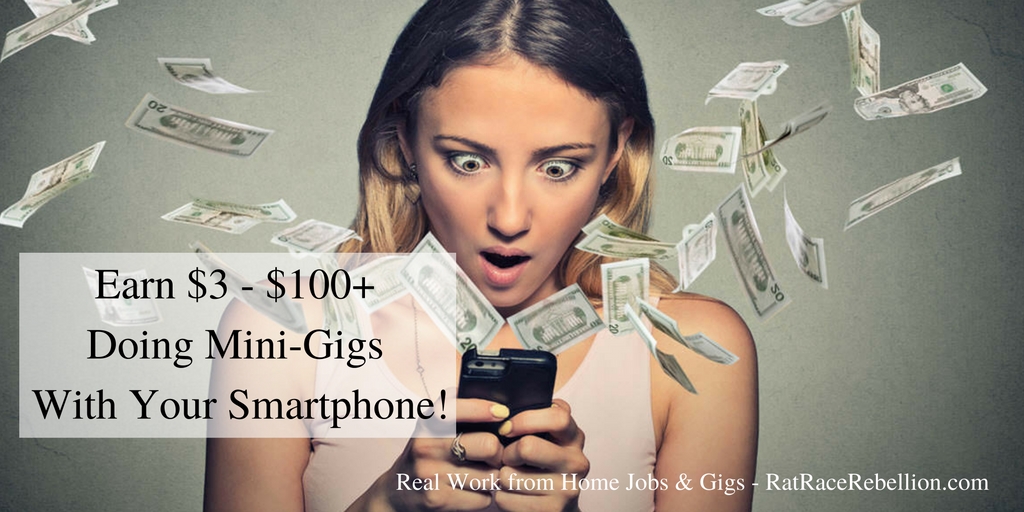 By Mike Haaren – Aug. 9, 2016
If you're looking for a convenient way to make money on the side, you'll want to check out these apps — Field Agent, Gigwalk and EasyShift. All are legitimate and have been around for years. For Apple or Android.
Gigs usually involve visiting local stores — though some offer paid surveys — so you'll probably want to grab them when you're already out running an errand.
Availability of the gigs will depend in large part on where you live. If you're in a major metro area, you'll see more than if you're in the outback.
Field Agent – Field Agent tasks usually pay $3-$12 each, says the company. A typical job might be going to a local store, taking a pic of a product, and answering questions about its price or placement. The app also offers paid consumer surveys. Payment is by PayPal or Dwolla. For more, click here.
Gigwalk – The gigs for "Gigwalkers" pay $3 to $100 or more, says Gigwalk. User reviews suggest that most gigs range from $5-$20, though that may depend on location. A gig could be taking a product pic at a local store, or making sure that a marketing event is done on time. Didn't see any recent mentions of $100 gigs, though that doesn't mean they aren't available. Payment is by PayPal. For details, click here.
=> Earn $3 per survey at PineCone Research, one our Top 5 Picks for survey cash. <=
EasyShift – Like Gigwalk and Field Agent, gigs may involve "audits" (checking an item in a store), scavenger hunts (finding a specific product in a local store), or taking a photo of a storefront. Users report gigs averaging $2-$5 with time commitments of 10-20 minutes, though again this will depend on location. And as with Gigwalk and Field Agent, you'll want to maximize your return by already being out of the house when you take a gig. Payment by PayPal. To get the app, click here.
PLEASE SHARE this post – turn your friends into Rat Race Rebels!
BE SURE TO CHECK OUT OUR OTHER RECENT POSTS FOR MORE JOBS