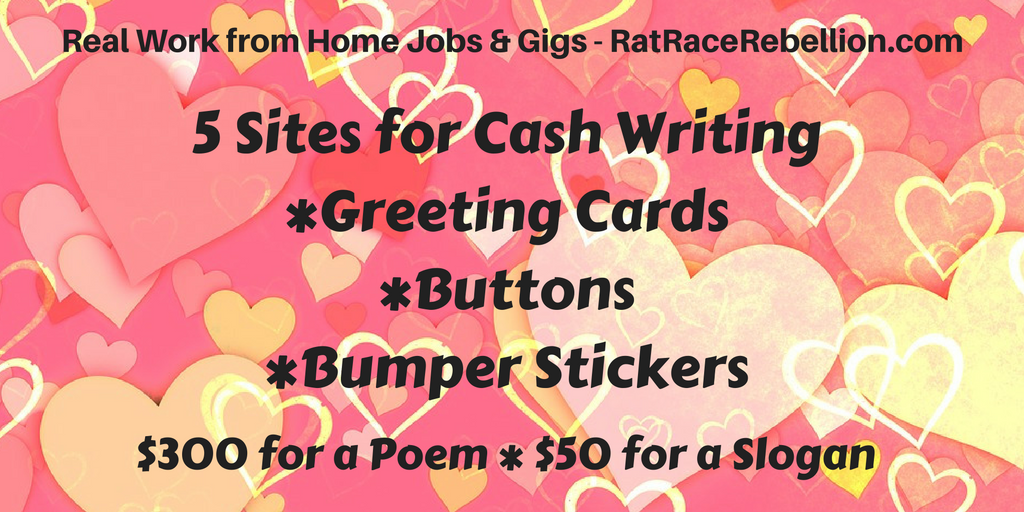 By Mike Haaren – Oct. 26, 2016
If you have a flair for phrases and want to earn some extra cash — $300 for a greeting card poem at Blue Mountain Arts — check out these five options.
— Blue Mountain Arts: Pays $300 for greeting card poems, $50 per poem for books. "WHAT WE ARE LOOKING FOR: Contemporary prose or poetry written from personal experience that reflects the thoughts and feelings people today want to communicate to one another, but don't always know how to put into words." For details, click here.
— Oatmeal Studios: Pays $75 for greeting card and notepad ideas. "We reject the following: PUNS, GROSS IDEAS, MEAN IDEAS, LENGTHY POETRY or PROSE, NARROWLY FOCUSED IDEAS (ie: new baby for quintuplets)." Click here for more.
— Ephemera: Pays $50 per slogan for buttons, magnets, stickers. ("Parental guidance suggested.") "We're looking for satirical slogans about pop culture, politics & the president, job attitudes, women's & men's issues, coffee, booze, pot, drugs, religion, food, aging, teens, gays & lesbians, sexual come-ons & put-downs. But please don't limit yourself to these topics, surprise us!" For details, click here.
— Snafu Designs: Pays $100 per idea. "Our humorous cards use clever ideas that are simple, concisely delivered, and aimed at a 'smart' adult audience. We like our cards to invoke a laugh-out-loud response from the reader." For guidelines, click here.
— Smart Alex: "Compensation discussed after submission is accepted." Risqué. "We are always on the lookout for funny lines with an emphasis on humor for grown-ups. Our style of humor tends to be topical, witty, smart, ironic, or sexually suggestive. We like our cards to be surprising without being shocking, a bit dirty without being filthy, and we like to poke fun without being insulting." For more, click here.
PLEASE SHARE this post – turn your friends into Rat Race Rebels!
BE SURE TO CHECK OUT OUR OTHER RECENT POSTS FOR MORE JOBS