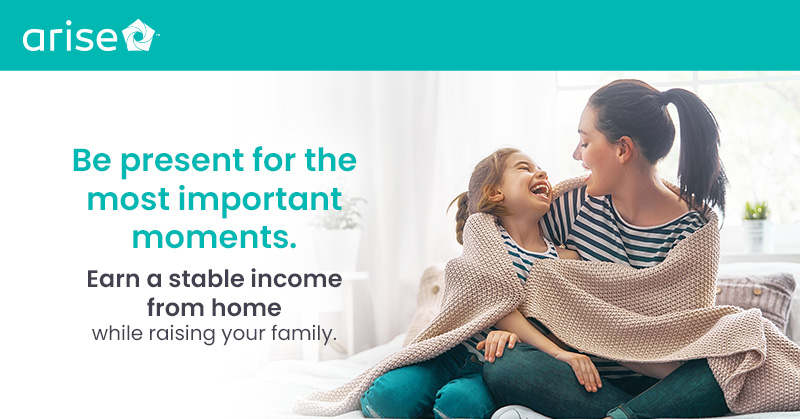 Sponsored Post    Updated Jan. 31, 2022
Earn a stable income from home while raising kids and caring for your family.
If you're like millions of others, you love being home and near those most important to you. For many, it means everything to be present when the kids get home, to provide care for aging parents, to have a warm meal on the table at dinnertime. You don't have to give these up in order to make an income.
Imagine spending your days at home near those who need you, while still providing for you family by earning a living from home! What's more, you get to work around your schedule – become your own boss – and still be the support your family needs.
Cue the Arise® Platform.
The Arise® Platform offers solutions for anyone looking to work from home. Through the Arise® Platform, you can be your own boss or work for someone else already established on the Platform.
---
Here's how it works:
Arise contracts with huge name-brand companies looking for Customer Service Support.
Everyday, people (like you) register on the Arise® Platform to access an online portal that connects you with these big-name brands, and remote customer service opportunities.
–
When you register, you have the option to set yourself up in one of two ways:
Working for yourself (servicing as your own boss)

As a sole proprietorship (where you run an unincorporated business)
As an incorporated business (where you run your business through an incorporated entity, such as an LLC or corporation)

Working for somebody else (where you work for an established business that is already registered to use the platform)
–
Select a client and customer service opportunity to service.
Take and pass a certification course, specific to that opportunity.
Provide customer service for that client through the Platform.
Simplified, the process looks a little like this…
---
The Average Client Opportunity At-A-Glance
Type of Work:
–

Customer Service
Work Status:
–
Independent Contractor, temporary
Full- or Part-Time:
–
Gig work, flexible hours
Contracting From:
–
All US states except CA, CT, MA, MD, NY, OR, WI
Pay Rate / Range:
–
$11 – $17 per hour
What to Expect:
–

Provide customer service from home, via phone, chat, email, internal network
Support some of the largest companies in the world
Document all issues, resolution, and follow-up actions
Assist with order processing, cancellation, and management
Accurately and efficiently resolve customer inquiries on the first contact

–

What Does it Take to Succeed:
You must be self-motivated, possess outstanding problem-solving skills, patience and empathy, and demonstrate the ability to work under pressure, handling potentially stressful situations. Excellent written, listening and verbal communication skills are a must. It's also important to deliver knowledgeable, friendly, and customer service while efficiently navigating multiple systems.

No degree necessary – great work from home opportunity for anyone who is ready to invest in themselves and work hard! In order to service a client through the Arise® Platform you must successfully complete a virtual certification course.

---
What You Need to Get Started:
Select a client opportunity
Enroll in a certification course to prepare to service
About Arise
Arise connects small call center businesses, run by people like you, to prestigious Fortune 500 clients through a virtual platform. Arise provides the clients, your business provides the service. you have the power to choose your clients, and schedule from the comfort of your own home.
This is not an offer of employment. It is an opportunity to enter into a business-to-business relationship with Arise.