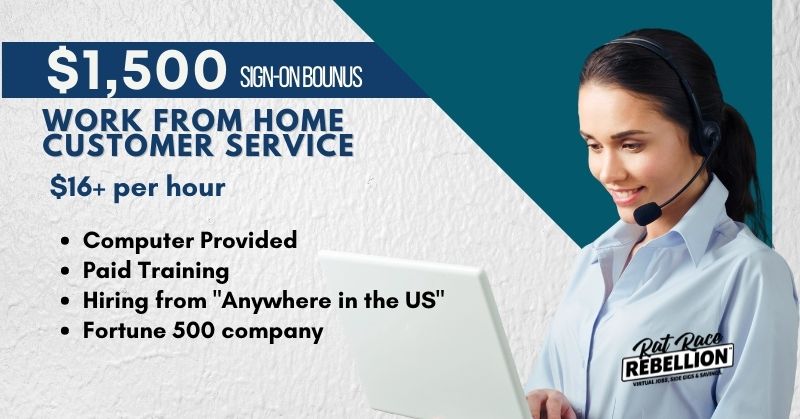 by Chris Durst        Nov. 17, 2022
Update Nov. 18, 2022
Well, darn! It looks like UnitedHealth has received all the applications it needed and has deleted the job.
Never fear though, we've got you covered. UnitedHealth isn't the only company that hires people to work from home. Find your ideal remote job on one of our other pages:
While you're here, follow us on Facebook to make sure you never miss out on any of the amazing jobs we post.
---
NOTE: These jobs will fill quickly, so apply or share ASAP if interested.
UnitedHealth Group is looking for work from home Customer Service Advocates from "anywhere in the US."
$1,500 sign-on bonus. Pay starts at $16/hr. (or more, depending on your location). Computer provided. Benefits.
A college education is not required.
In this full-time role you'd help customers with questions about their health benefits.
Here's what the company has posted about these openings:
Welcome to one of the toughest and most fulfilling ways to help people, including yourself. We offer the latest tools, most intensive training program in the industry and nearly limitless opportunities for advancement. Join us and start doing your life's best work.SM
It's that time, isn't it? You're ready for the next step forward with an opportunity to build on your skills and assist those in need. It just so happens that there's never been a better time to become a part of the team at UnitedHealthcare. Now, you can take advantage of some of the best training and tools in the world to help serve our members by interfacing and solving issues with their health care.
As part of our Member Services team, the support you provide directly impacts our consumers, and their ability to live healthier lives. This is no small opportunity. This is where you can bring your compassion for others while building your career.
This position is full-time. Employees are required to have flexibility to work any of our 8-hour shift schedules during our normal business hours of 8:00am – 6:00pm EST. It may be necessary, given the business need, to work occasional overtime. Training will be conducted virtually from your home.
Primary Responsibilities:
Answer incoming phone calls from our health insurance consumers (i.e., plan members, family members on the plan) and identify the type of assistance needed to address their concerns and answer their inquiries.
Route applicable requests to rectify issues with claims, benefits, pharmacy, enrollment, and authorizations.
Ensure consumer satisfaction by delivering a high quality of customer service and following through to resolve issues.
Identify, anticipate, and resolve additional issues to better serve the consumer and eliminate possible needs for future calls.
This role is equally challenging and rewarding. You'll be on the phone for long periods of time interacting and empathizing with our consumers with the intent to identify their complete needs, ensure they have confidence in the solution and verify they have a full understanding of what next steps need/will transpire. Within a high-volume setting, you'll need to develop knowledge of our various systems and numerous types of benefits within each product to best assist our customers.
You'll be rewarded and recognized for your performance in an environment that will challenge you and give you clear direction on what it takes to succeed in your role as well as provide development for other roles you may be interested in.
Required Qualifications:
High school diploma / GED (or higher) OR equivalent years of work experience
2+ years of experience with customer service OR experience in a medical office, health care, call center or office setting analyzing and solving customer problems including the use of conflict management skills and resolving stressful situations
Flexibility to work any of our 8-hour shift schedules during our hours of 8:00am – 6:00pm EST
Proficiency with Windows PC applications, which includes the ability to navigate and learn new and complex computer system applications
Preferred Qualifications:
Prior health care experience
Knowledge of billing / finance and eligibility processes, practices, and concepts
Telecommuting Requirements:
Ability to keep all company sensitive documents secure (if applicable)
Required to have a dedicated work area established that is separated from other living areas and provides information privacy
Must live in a location that can receive a UnitedHealth Group approved high-speed internet connection or leverage an existing high-speed internet service

CLICK HERE for full details and to apply. For more jobs like these, check our Newest Jobs & Gigs page. May you be working from home soon!
PLEASE SHARE this post – turn your friends into Rat Race Rebels!