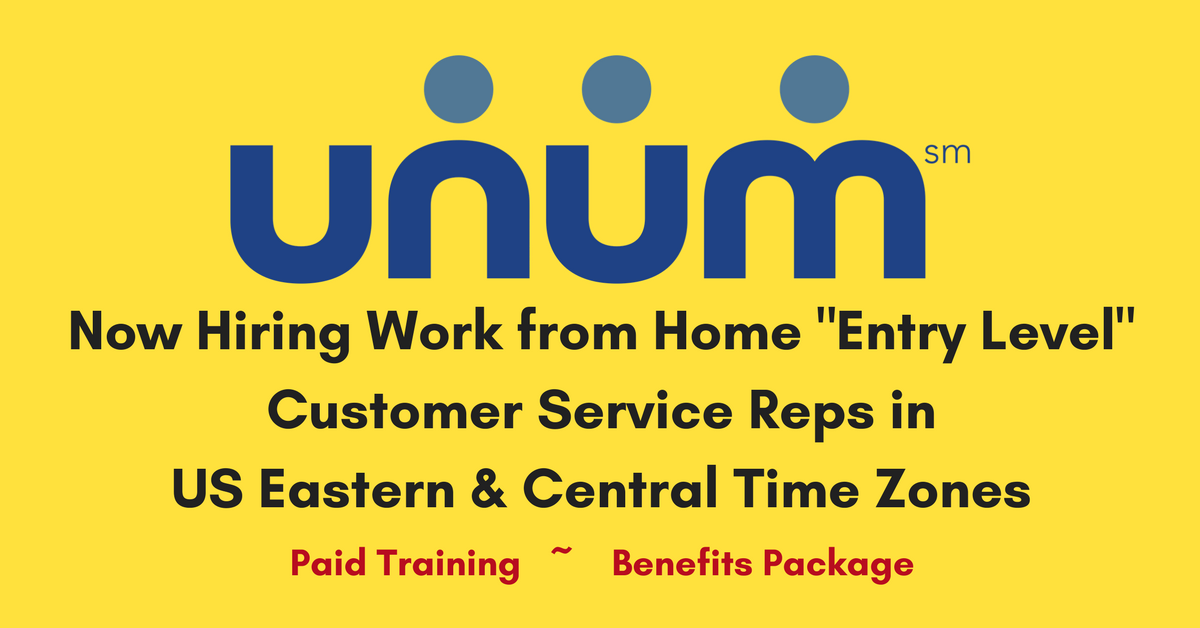 by Chris Durst       Aug. 25, 2017
Unum is one of the world's leading employee benefits providers and a Fortune 500 company. They help protect more than 25 million working people and their families in the event of illness or injury.
The company just posted an opening for an "East Coast Remote Customer Service Specialist" and they describe the role as an "entry level position."
This position is open to applicants from US Eastern and Central time zones.
Here's what they have to say:
"The incumbent is responsible for providing critical and accurate information on benefits, claims and/or policy administration. All work is carefully performed according to established protocols/procedures. As the first point of contact and a direct representation of the Unum/Colonial brand, this position is responsible for the execution of exceptional customer satisfaction by acting in the best interest of the customer; ensuring information is accurate, applying empathy to those situations that require special care and concern. Customer issue resolution is a priority – issues should be resolved on the first call whenever possible.
This position will require incumbents to work from home, separate from the home office. On rare occasions remote employees may be required to come to the office. This position requires the setup and use of multiple systems, applications and administrative processes. While service is focused on our external customers, this position is responsible for creating detailed/appropriate documentation for our internal cross-functional business partners.
Principal Duties and Responsibilities
Respond to external customers inquiries with timely and accurate information
Follow all documented processes/workflow to enhance customer service and reduce customer effort/operating efficiency
Meet or exceed individual performance goals which contribute to the overall goals of the Contact Center
Utilize resources and tools to accurately respond to customer inquiries
Accurately navigate through specific system platforms
Meet the expectations of the quality/productivity standards
Share recommended process improvements to enhance customer service and/or efficiency
Continuously acquire knowledge and understanding of the business functions that the role supports
Ensure privacy of our customers remains the utmost importance
High level of discipline to remain focused and adhere to a prescribed schedule while working from home
Shifts may vary outside the standard 8:00 am to 5:00 pm. This position requires employees to be available to work a flexible schedule between the hours of 8:00am-8:00pm, Monday-Friday.
May perform other duties as assigned
Qualifications
Bachelor's degree preferred or equivalent, relevant business experience required
Strong customer service orientation with demonstrated commitment to meet/exceed customer needs
Strong verbal/written communication and interpersonal skills
Demonstrated ability to work in a fast paced, structured environment, handling large call volumes
Ability to make sound business decisions, which balance customer satisfaction and financial integrity
Strong computer proficiency essential
Self-directed with the ability to perform both as part of team and individually
Ability to adapt and work effectively in a continuously changing environment
Solution oriented individual demonstrating critical thinking and problem solving skills
Ability to seek out developmental opportunities and continuously improve skills/performance
Consistently demonstrate a high level of professionalism through a strong worth ethic that positively influences the work habits of the team
Detail oriented with a focus on quality and consistently meeting goals
Meets the standards for this position, as defined in the Talent Management framework
Requirements for remote workers:
Must be located in East or Central Time Zone
Must have access to a broadband cable internet service provider
A separate, quiet dedicated work space must be established at remote site for the purpose of performing work duties. This area must be maintained in a safe condition, free from all hazards
Unum and its family of businesses offer world-class training and development, generous compensation and benefits packages, and a culture built on employee ideas."
Click here for full details and to apply. For more jobs like this, check our Newest Jobs & Gigs page. To be the first to hear about jobs like this, like our Facebook page and check your feed for our posts. May you be rocking your Rebellion soon!
PLEASE SHARE this post – turn your friends into Rat Race Rebels!
[social_warfare]