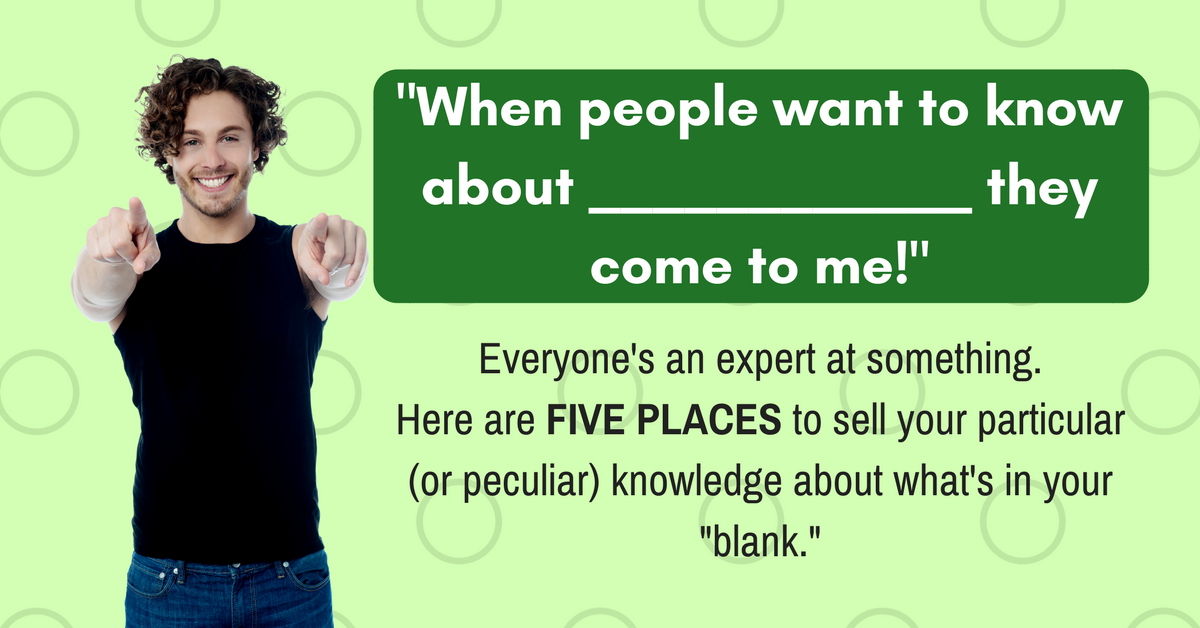 by Chris Durst     Dec. 11, 2017
"When people want to know about ____________ they come to me!"
Come on… fill in the blank. We're all experts at something. For me, it's home-based work and scam/fraud investigations. For my son, it's sustainability, and for my daughter, it's elementary education.
So, what's in your "blank"?
Once you identify what goes there, check out these five sites where you may be able to turn that knowledge into money!
BrainMass
"You're already an expert in your field. Why not turn that expertise into cash? BrainMass allows you to publish your existing knowledge in eBooks, turn your teaching experience into video form and put those tutoring skills to great use. We'll help you to monetize the knowledge you already possess by marketing your work to our base of student customers who need help!"
Clarity
"Join a growing community of passionate experts and thought-leaders who are being sought out by fellow entrepreneurs, searching for unbiased and useful advice. Create a profile through Linkedin and add all of your details along with a video if available. Link up your Paypal. Set your rate. Choose your category of expertise. Wait for the call requests to come in. Talk. Help. Get paid."
Ether
"We all have something valuable to say.  Whether you're an accountant, a computer expert, a blogger, or a good gossiper, you can earn money selling what you say to others over the phone or through email. There are no monthly fees, no setup fees and no connection fees. Ether only earns money when you earn money – our commission is 15%."
Maven
"Join Maven to profit from your knowledge and connections, network with other smart professionals, and get faster insights from our global Consultant Network. Our users include hundreds of thousands of people from all over the world and all walks of life – from CEOs to recent high school graduates – who connect, consult, and profit from what they know. Our 'microconsulting' platform puts real value on your knowledge and gives you the power to manage your own private and secure professional network. With Maven you are in complete control – you decide with whom to connect and consult and what types of opportunities are appropriate for you."
Udemy
"There is no fee to create and host a course on Udemy, and you can publish as many free and paid courses as you like… 97% revenue share on sales made by instructors where the student purchases their course using an Instructor Coupon (there is 3% administrative processing fee, 4% in the territory of Japan); 50% revenue share on organic Udemy sales where no Instructor Coupon is used…"

PLEASE SHARE this post – turn your friends into Rat Race Rebels!