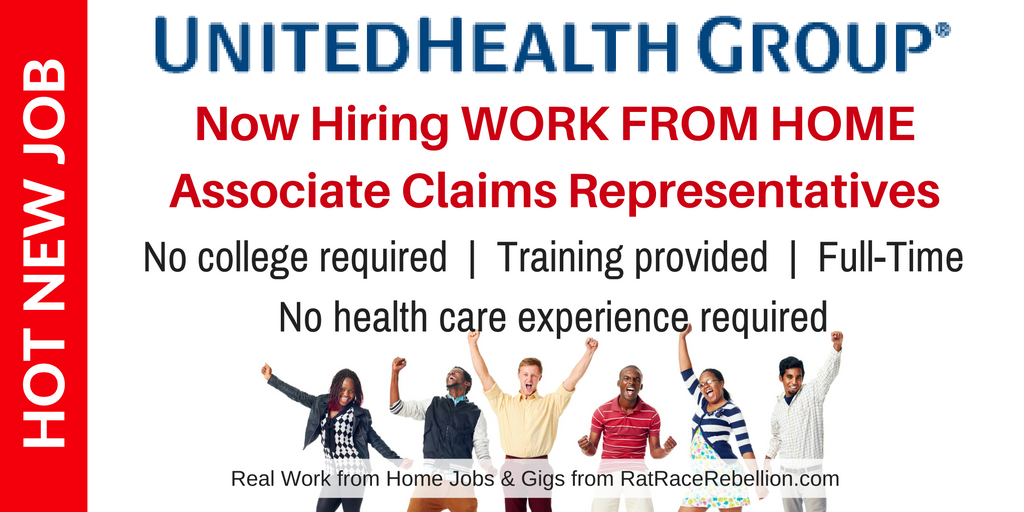 by Chris Durst      Nov. 7, 2016
UnitedHealth Group has just posted an exciting new work from home opportunity for Associate Claims Representatives!
"Whether you have prior experience or not, we'll provide extensive training and a highly supportive environment for all of our Claims team members."
Opportunity At-a-Glance
Full-time, Monday – Friday
100% Work from Home
No healthcare related experience necessary
No college degree required
Training provided
From the UnitedHealth Group site:
As an Associate Claims Representative, you'll be responsible for handling incoming healthcare claims ensuring a high level of customer service and maximizing productivity by processing claims accurately, the first time. You'll put your skills and talents to work as you review, research, and process medical claims. It's complex, detailed work. It's a fast-paced challenge. It's a job that calls on you to be thoughtful, resourceful, team-driven and customer-focused. To put it mildly, there is never a dull moment.

This position is full-time (40 hours/week) Monday – Friday. Employees are required to have flexibility to work any of our 8 hour shift schedules during our normal business hours of (6:00am to 6:00pm). It may be necessary, given the business need, to work occasional overtime or weekends.  This role is 100% telecommute (work at home).
Minimum of 1 year work experience in a related environment (i.e. office, administrative, clerical, customer service, etc.)
An education level of at least a high school diploma or GED OR 10 years of equivalent working experience
Experience requirement: Demonstrated ability in using computer and Windows PC applications, which includes strong keyboard and navigation skills and learning new computer programs
Ability to remain focused and productive each day though tasks may be repetitive
Ability to multi-task, this includes ability to understand multiple products and multiple levels of benefits within each product
Consistent attendance with ability to meet work schedule including the required training period
Successful completion of the UnitedHealth Group new hire training and demonstrated proficiency required
Primary Responsibilities:
Review and research assigned claims by navigating multiple computer systems and platforms and accurately capturing the data/information necessary for processing (e.g. verify pricing, prior authorizations, applicable benefits)
Ensure that the proper benefits are applied to each claim by using the appropriate processes and procedures (e.g. claims processing policies and procedures, grievance procedures, state mandates, CMS/Medicare guidelines, benefit plan documents/ certificates)
Complete on a daily basis all data entry required to document and communicate the status of claims as needed adhering to all reporting requirements
Communicate and collaborate with members and providers to resolve claims errors/issues, using clear, simple language to ensure understanding
Learn and leverages new systems and training resources to help apply claims processes/procedures appropriately (e.g. on-line training classes, coaches/mentors)
Meet the performance goals established for the position in the areas of: efficiency, accuracy, quality, member satisfaction and attendance
Click here for full details and to apply.    |    Click here to see a video about this position.
PLEASE SHARE this post – turn your friends into Rat Race Rebels!