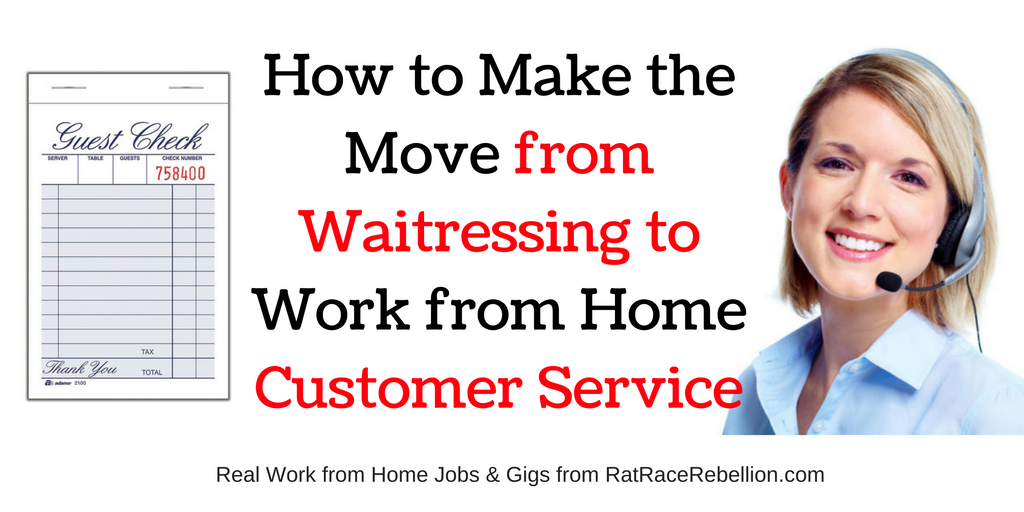 by Chris Durst    Oct. 14, 2016
Note: While I am using a work history of waitressing in this example, it's important to note that the same strategies apply to other work that may not seem (on the surface) to be an easy transition to an "office" job.
We regularly hear from folks who would love to work from home but who have "only" worked as servers in restaurants.
First, let me say that I cringe when the word "ONLY" appears in those messages. I mean, I've been a server and I know first hand how rigorous the job can be and what a diverse skill set it takes to do it well.
The key to writing a resume and cover letter that will help you make the move into a different career field is to focus on the many skills and capabilities you have that are "transferable" to the job you are applying for.
In our example, we'll suppose the job seeker, Mary Smith, has a high school education and that all of her work experience as a waitress/server and that she would like to apply for home-based customer service positions.
Below, we've written a SAMPLE COVER LETTER and RESUME to serve as a guide as you write your own! Above all, your approach should be confident and unapologetic – you have a great set of skills and you simply want to apply them to a new industry.
COVER LETTER
The cover letter is your chance to shine as an individual and really dazzle them with your personality and commitment to not only landing the job, but to turning in a stellar performance once you have.
You'll notice in this sample that Mary tells the reader how her work as a server will benefit the company. There is not even a glimmer of doubt in her mind that she's a perfect fit for the job!
Dear Sir/Madam,

While searching RatRaceRebellion.com for a home-based customer service position, I was delighted to find your opening for a Customer Care Representative. I've carefully reviewed the job description and requirements, and I feel confident I'd be an ideal fit for this position.

I have more than 9 years of customer service experience and a successful track record of problem solving, communication, up-selling, and doing "whatever it takes" to ensure a exceptional customer experience. My years as a server in the restaurant industry have taught me the significance of clear communications and friendly service with a very diverse customer base.

I am a self-directed worker who functions well both autonomously or as part of a team. My my highly-focused and detail-oriented approach to my work will serve me well in this home-based position.

It is with great enthusiasm that I submit this cover letter and resume for your review and consideration. I'd welcome the opportunity to discuss the position and my qualifications to fill the role in person. Thank you for time and consideration. I look forward to hearing from you.

Sincerely,

Mary Smith
RESUME
In this resume, I've bulked all of the jobs together and put a list of "Duties & Accomplishments" directly below them. In cases where the positions held have had similar duties, this can be more effective than repeating the same information under each job separately. That said, make sure that if you held somewhat different positions, you make not of that as well. For example, "Head Waitress" as opposed to "Waitress" and then add specialized duties to the list below (i.e., "trained new wait staff" or "set wait staff schedules").

MARY SMITH
123 Main Street, City, NY 33333  |  1.555.555.5555  |  [email protected]
---
SUMMARY
Enthusiastic bilingual (Spanish-English) worker with an exceptional work ethic and a dedication to positive customer experience. High energy and the ability to stay positive and focused in high-volume work situations.
---
HIGHLIGHTS
Works well under pressure
Comfortable "upselling" when warranted
Responsible and reliable
Able to navigate customers' moods, behaviors and agendas with a smile
Exceptional interpersonal skills
Upbeat, friendly, and positive
Self-motivated
Thoroughly learns product line and is able to discuss with accuracy
---
EXPERIENCE
02/2013 to present     Waitress – Restaurant Name – City, State
09/2009 to 02/2013    Waitress – Restaurant Name – City, State
04/2007 to 09/2009    Waitress – Restaurant Name – City, State
---
DUTIES & ACCOMPLISHMENTS

Delivered exceptional, friendly service
Answered customer questions and made recommendations
Accurately recorded orders and partnered with team members to serve customers in a manner that exceeded their expectations
Skillfully anticipated and addressed customer needs
Handled cash, credit and debit payments
Managed closing duties including cash reconciliation
Effectively communicated with customers and co-workers
---
EDUCATION
Hometown High School, City State – 2007
High School Diploma
Above all, have confidence in your hard-earned skill set and make sure that confidence shines through in your cover letter and resume!
That's it! Go forth and conquer!! 🙂
PLEASE SHARE this post – turn your friends into Rat Race Rebels!
BE SURE TO CHECK OUT OUR OTHER RECENT POSTS FOR MORE JOBS