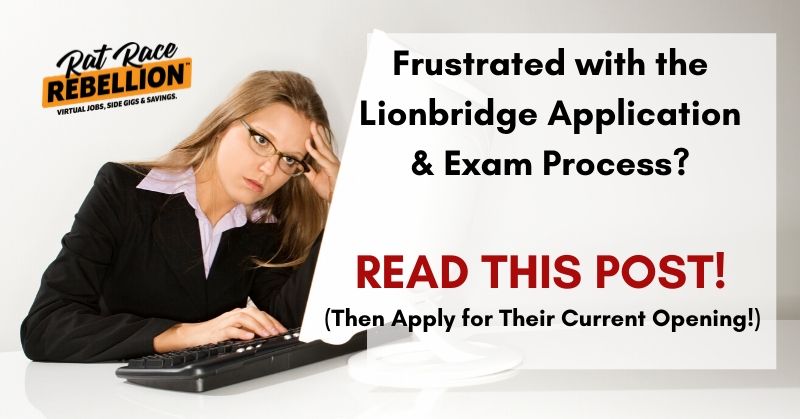 by Chris Durst          Updated Jan. 23, 2020
We often post openings with Lionbridge. In fact, the company wrote us to say they are currently looking for Ad Raters in the US.
Here's how they describe this position:
"We are looking for dynamic and creative people who have strong communication skills and use the Internet daily. The job involves analyzing and providing feedback on text, web pages, images and other types of information for leading search engines, using an online tool. Raters log on to the online tool to select tasks to do on a self-directed schedule. A Rater reviews the results returned in a specific search query and rates them in terms of relevance. The majority of the task types will require both a desktop/laptop and a smartphone. You should have a minimum 12 months experience using Gmail as primary email, daily access to and use of a broadband internet connection to perform the work and an Android smartphone 4.1 or higher or iPhone 4S or higher to perform the work on."
The application link is at the bottom of this post. BEFORE YOU APPLY CHECK OUT THESE RESOURCES THAT WILL HELP YOU PASS THE EXAM AND LAND THE JOB!
IF YOU'VE APPLIED IN THE PAST BUT CAN'T GET PAST THE TESTING…
We know the Lionbridge testing proves to be a hurdle for many applicants. Even folks with great skills have expressed frustration with the application process.
Since I haven't personally applied for a job with Lionbridge, I've been unable to give any advice on the topic.
After an in-depth search, I was able to turn up a couple of resources that are proving useful to Lionbridge applicants!
RESOURCE 1: "Getting Accepted at Lionbridge" on the Side Hustle Survivalist site
This tutorial was written in 2017, but the information is still valuable today.
The writer has broken the information into three parts:
RESOURCE 2: Lionbridge Exam Tips by PassLeapforceExam.com
This resource was updated in January 2019 and it will give you a comprehensive step-by-step look into the Lionbridge exam process. In particular, the exam for Internet Assessors.
The writer includes their suggested schedule and steps for studying to take the exam in a meaningful and productive way.
NOW, APPLY FOR THE CURRENT LIONBRIDGE RATER POSITION!
"Basic Requirements
High School Diploma or GED Qualification
For cultural awareness purposes you should be living in the United States for the last 5 consecutive years.
Preferred Skills
Active daily user of Gmail, Google+ and other forms of social media including Twitter & Facebook
Familiarity with current and historical business, media, sport, news, social media and cultural affairs in the United States
Experience in use of web browsers to navigate and interact with a variety of content

Click here to learn more and to apply. For more jobs like these, check our Newest Jobs & Gigs page. To be the first to hear about jobs like these, like our Facebook page. Good luck in your next steps toward working from home!
PLEASE SHARE this post – turn your friends into Rat Race Rebels!