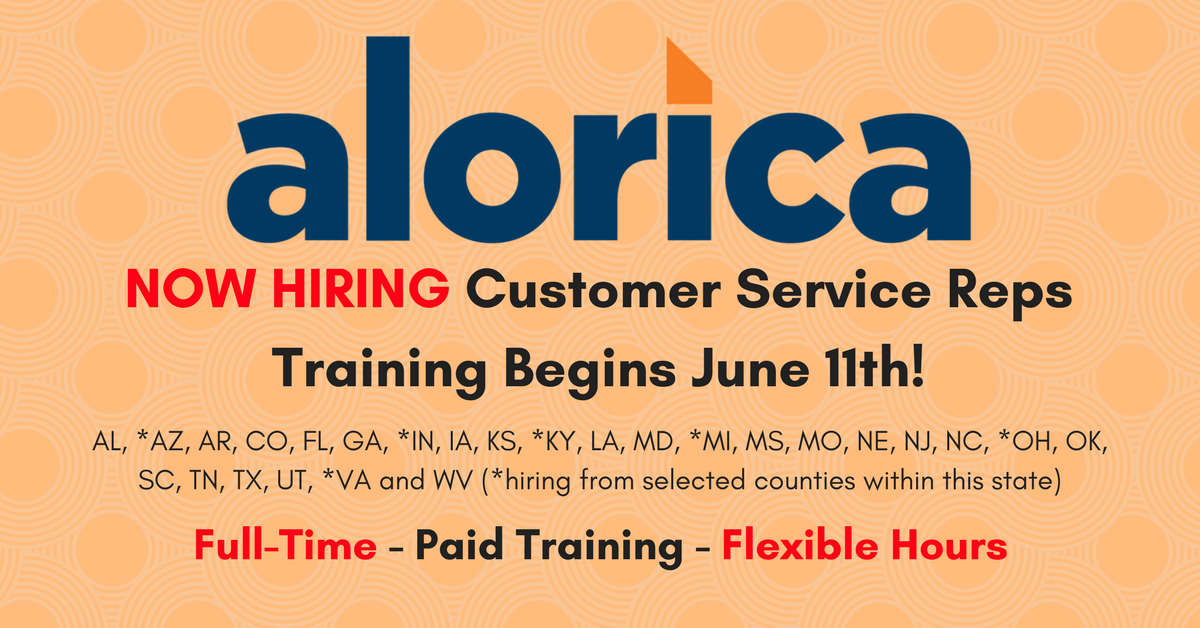 by Chris Durst        Apr. 30, 2018
Alorica, a legitimate and frequent hirer of work from home Agents, is looking for Customer Service Reps. Training and call-taking is paid at $9/hour.
Hey, we know this isn't much but (1) we don't set the pay rates, (2) for many people this rate with full-time hours can make an enormous difference, and (3) this can be a good "filler" job and resume-builder while you are looking for your ideal job!
As of now, the company is hiring from the following states: AL, *AZ, AR, CO, FL, GA, *IN, IA, KS, *KY, LA, MD, *MI, MS, MO, NE, NJ, NC, *OH, OK, SC, TN, TX, UT, *VA and WV (*hiring from selected counties within this state). If your state or county isn't listed, be sure to check our Newest Jobs & Gigs page. We post new work from home leads there every day except Sunday.
From their site:
"We are looking for self-starting, enthusiastic agents to join our work at home team!
We need agents that can provide excellent customer service assisting customers with payment plans, service reconnects, and general questions about their utility bill. Agents on this project must demonstrate exceptional customer service skills along with patience and empathy, and must also possess strong computer skills. Training will be 6/11/18 through 7/13/18 from 8am to 4:30pm, CST. Upon completion of training you must be available to work up to 40 hours per week on a set schedule. Training and call taking will be paid at $9.00/hr.
Work At Home Agents are responsible for receiving and processing various incoming phone calls for numerous clients in accordance with policies, procedures, quality standards, and federal laws and regulations. Additional responsibilities pertaining to call and sales function are (but are not limited to):
Receive and process incoming phone calls for clients, which includes obtaining, entering, and verifying customer information (e.g. names, addresses, credit card numbers, etc.), answering questions, resolving issues, providing customer service, adhering to scripts, and attempting to make up-sells.
Ensure that calls are processed in strict adherence to established policies, procedures, and quality standards, as well as any federal laws and regulations.
Successfully complete initial on-the-job training, as well as any new product or on-going training.
Applicants for this job will be expected to meet the following minimum qualifications:
high school or GED required, minimum one year customer service or sales experience required;
must be 18 years or older; based on project candidate may be required to meet additional experience/skill requirements;
basic computer skills required to include navigation between application and internet sites;
ability to pass required background checks; based on project, ability to pass required drug screening;
based on project, candidate must score acceptably on job related testing assessments;
ability to clearly communicate using a clear, distinct voice;
and bilingual in English and Spanish (or other language as defined) may be required for certain projects.
Click here for details and to apply. For more jobs like these, check our Newest Jobs & Gigs page. To be the first to hear about jobs like these, like our Facebook page. Good luck in your next steps toward working from home!
PLEASE SHARE this post – turn your friends into Rat Race Rebels!