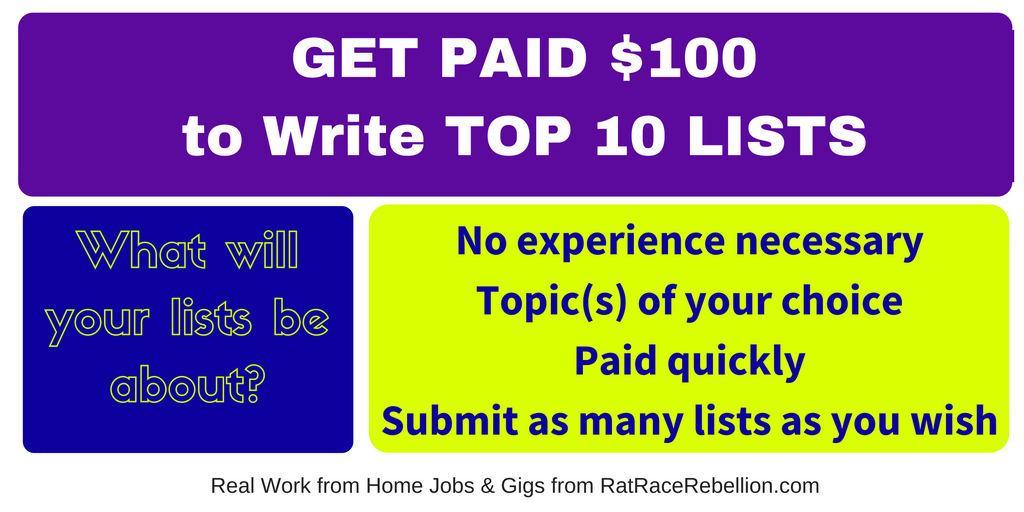 by Chris Durst     Oct. 12, 2016
First things first, you do NOT need to be an experienced writer for this gig, you just need to have English equal to that of a native speaker, a sense of humor, and a love for things unusual or interesting.
Listverse has a variety of list categories – Bizarre, Entertainment, General Knowledge, Lifestyle, Science, Society and more. Examples of lists on their front page today include:
10 Pop Culture Moments We Owe To Animals (including Alfred Hitchcock's "The Birds" and that version of "Jingle Bells" sung by dogs)
10 Mysterious Discoveries Of Pre-Human Art
10 Celebrities With Historically Important Parents
10 Fascinating Real-World Inspirations Behind Pokemon Characters
10 Holy Hoaxes
10 Creepiest-Looking Fungi
Here's how it works…
Topics are not assigned, so you draw from your own knowledge, passion, and sense of humor to create your own list(s) of at least 10 items and at least one or two paragraphs per item.
You send your list into Listverse and, if they love it, they'll send $100 to your PayPal account.
If they don't love it, you'll receive a reply letting you know that the submission is not a good fit for their readers and encouraging you to give it another shot.
POINTERS & TIPS
If you don't want to write a whole list without knowing whether the site administrators will find it appealing, the site accepts pitches by email (to save you writing a list only to have it rejected for not being a good fit for the site). If pitching before diving in appeals to you, email your pitch(es) to [email protected].
Speaking of lists, here are the top reasons they cite for rejecting submissions:
1. They are written with bad English
2. Topics they don't publish [like self-help or personal opinions]
3. Topic has already been published
4. Topic is unlikely that it will appeal to their audience
With that in mind, make sure your lists are well-written and have a "that friend" who is always correcting people's writing take a look at it for you before you submit.
Make sure you look through their existing content to see if the topic you are considering has already been covered. If it has, email a pitch with what will make your list more appealing and non-redundant.
That's it! BE ORIGINAL, BE YOURSELF, BE CREATIVE and BE MAKIN' MONEY (bad English, but I couldn't resist)!! 😉
PLEASE SHARE this post – turn your friends into Rat Race Rebels!
[social_warfare]
BE SURE TO CHECK OUT OUR OTHER RECENT POSTS FOR MORE JOBS