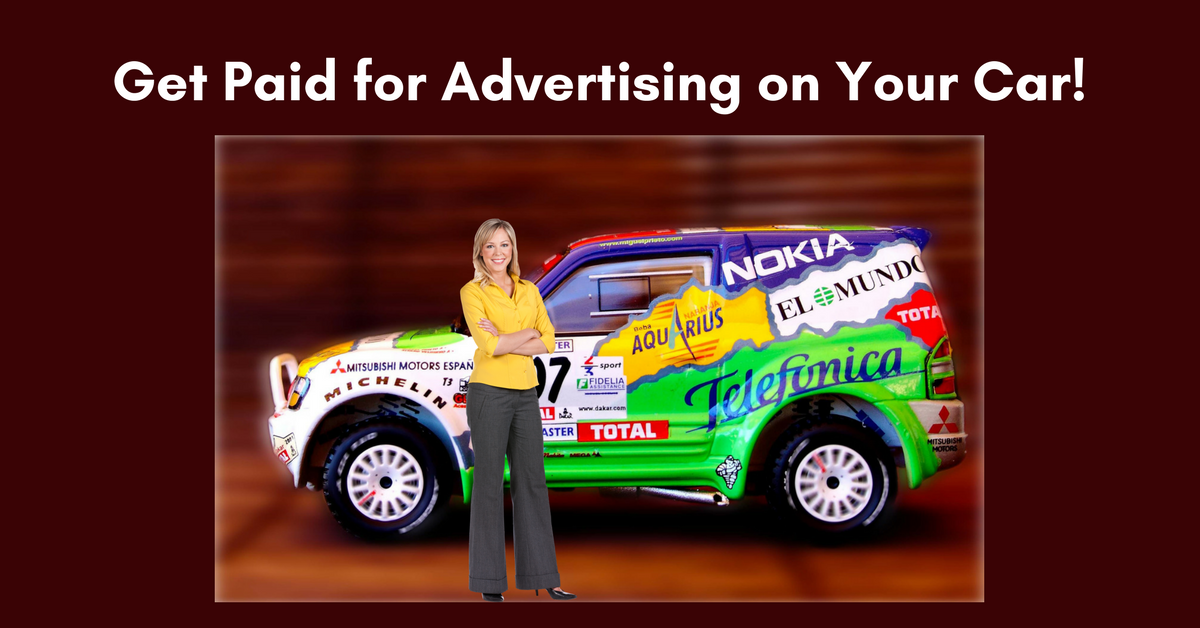 By Mike Haaren – Rat Race Rebellion Co-Founder – Oct. 7, 2017
Work from Home Jobs & Extra-Cash Gigs – Get Paid for Putting an Ad on Your Car
First off, most car advertising offers are scams. Not all, but most. Especially when it's supposed to pay you a lot of money. Anything over a few hundred dollars a month should be a caution flag.
Also beware of companies that ask you to pay an "application fee" to be considered to display their ads. It's your car. You're getting paid, not them.
We've also seen offers from companies that say they will provide you with a free ad-wrapped car and pay you to drive it. Would you like to know more? You'll have to pay a "membership fee"… Chances are very good that it's money down the drain.
Finally, you may be offered a cashier's check to pay for the ad wrap. Take your fee from the check, and wire the remaining funds to, say, a graphic artist who will design the ads. But that's all bogus, including the check, as this Chicago woman discovered.
In the meantime, here are two legitimate car advertising options.




Carvertise
Carvertise doesn't ask you for money, and typically pays drivers $100/month to drive with their ads. Some campaigns pay more — up to $200/month — but they're uncommon, the company says. Cars are "wrapped" partially or fully, and Carvertise takes care of this.
The company also pays people about $30/hr. for parking their wrapped car in assigned places at designated times. That could be easy money, assuming the location is safe, etc. And if you were staying with the car, and had a personal hotspot with your phone plan, you could make more extra cash by getting paid to do surveys or taking some other non-phone gig. Or you could hop on wifi at a nearby cafe.
How Long Would the Ads Be on My Car?
Campaigns usually last from two to six months, the company says. So apart from the parked-car option, you could make up to $1200 for a campaign. Payment is monthly by direct deposit.
Suppose I Don't Like the Ad They Offer?
You're not obliged to accept any brand that wants to advertise. So don't worry about having to show up at your daughter's high school play with happy erectile dysfunction pills dancing around the car, or adult diaper ads, or whatever your particular nightmare might be.
For more detail, click here.




Pay Me for Driving
If you live in the St. Louis, MO area, this company could be an option.
Here are their requirements:
— Must live and work in St. Louis City, St. Louis County, or St. Charles
— Must own a car and drive it regularly, and report change in driving habit
— Must be willing to put a advertisement on vehicle
— Be 18 years or older
— Have no serious traffic violations or criminal record
— Vehicle must be kept clean and free of damage, and be repaired if damage should occur
— Drivers must have a social security number and drivers license and maintain insurance required by state laws
— Any damage to the advertisement must be reported within 24 hours
— Advertisement cannot be removed or tampered with
For more side gigs, check our Newest Jobs & Gigs page. To find out right away when we post new leads, like our Facebook page and check your feed for our posts. May you be earning extra cash soon!
PLEASE SHARE this post – turn your friends into Rat Race Rebels!