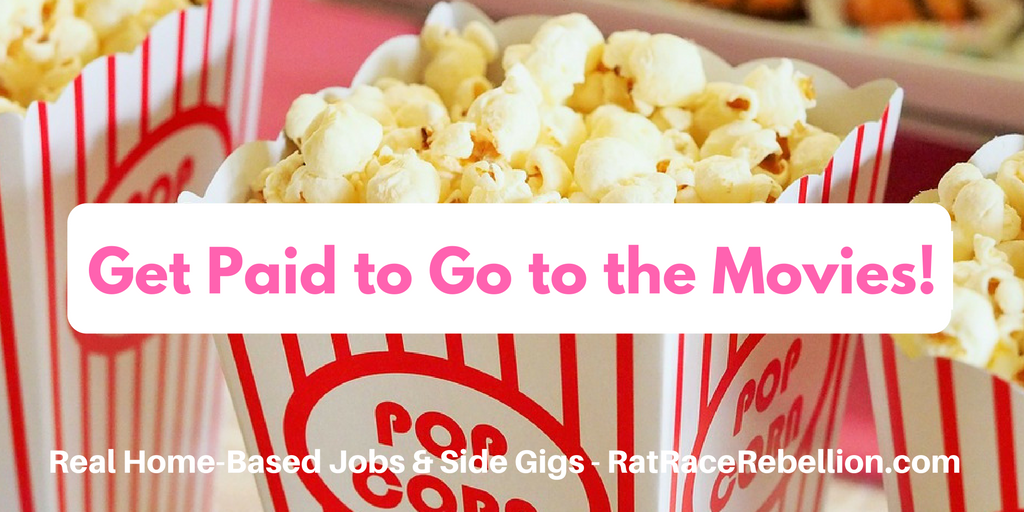 By Mike Haaren – Co-Founder – March 11, 2017
Home-Based Jobs and Side Gigs – Theatre Checkers
If you like going to the movies, why not earn some extra cash AND watch them for free? With free snacks, too!
In Northern Virginia, where I live, I pay $14.50 for a plain vanilla movie ticket at the mall. IMAX 3D is over $20. Throw in popcorn and a drink, and it's $30+. If I go with my daughter, that's $60+. And if the movie's a dud, UGH!
But there are some side gigs with Market Force Information — a legitimate and established hirer of Mystery Shoppers — that let you get your movie fix on better terms. Just register (for free) as a Certified Field Associate (CFA), and you're eligible.
TYPICAL ASSIGNMENTS OFFERED (Quoted from the Market Force site)
Theatre Checks: Most of these assignments are conducted on Friday, Saturday and Sunday:
       Trailer Checks: Present your Letter of Authorization to theatre management to watch and record all trailers on all screens shown prior to the assigned feature.
       Open Checks: Present your Letter of Authorization to theatre management to count the patrons attending the showtimes of the assigned feature, and collecting box office information at the end of the day.
       Blind Checks: Covertly counting patrons attending all show times of the assigned feature on the assigned day.
       Advertisement Checks: Watch and record all advertisements shown prior to the feature.
       Sneak Checks: Present your Letter of Authorization to theatre management to watch a sneak preview of an upcoming release, collecting reactions and demographic information.
       Comprehensive Checks: Present your Letter of Authorization to theatre management to collect a variety of information on new releases: Patron counts, ticket prices, sound and visual quality, trailers shown, etc.
Mystery Shopping/On-site Evaluations: Posing as a typical customer, usually without the theatre personnel's knowledge, you would go to a theatre to evaluate the movie-going experience. This includes an assessment of how you are treated as a customer, the overall appearance, housekeeping, & marketing and/or promotional material placement.
Promotional Material Installations: Involves assembling movie standees, installing one-sheets (movie posters), banners, etc.
Exit Polling/Trailer and Advertisement Recall/Market Research: Various types of movie audience data is collected at theatres on behalf of movie studios, and is used to assess public opinion of current and upcoming movie releases.
On-site Auditing: This involves such tasks as counting/confirming placement of promotional materials, counting people, and a variety of other related activities.
What's the Pay?
Reportedly CFAs can make between $10 and $20/hr. per gig, and some of the assignments can pay $30+. But data's hard to come by, and the company hasn't confirmed those rates. "You'll be paid for field visits… and even reimbursed for your movie tickets and concessions for select assignments," Market Force says.
Employee reviews on Glassdoor give the company 2.7 stars out of 5, and 3.6 on Indeed. You can pick the films you see, so you won't have to worry too much about objectionable content. To go straight to the job, click here. For more Mystery Shopping jobs, click here. Good luck!
PLEASE SHARE this post – turn your friends into Rat Race Rebels!
[social_warfare]