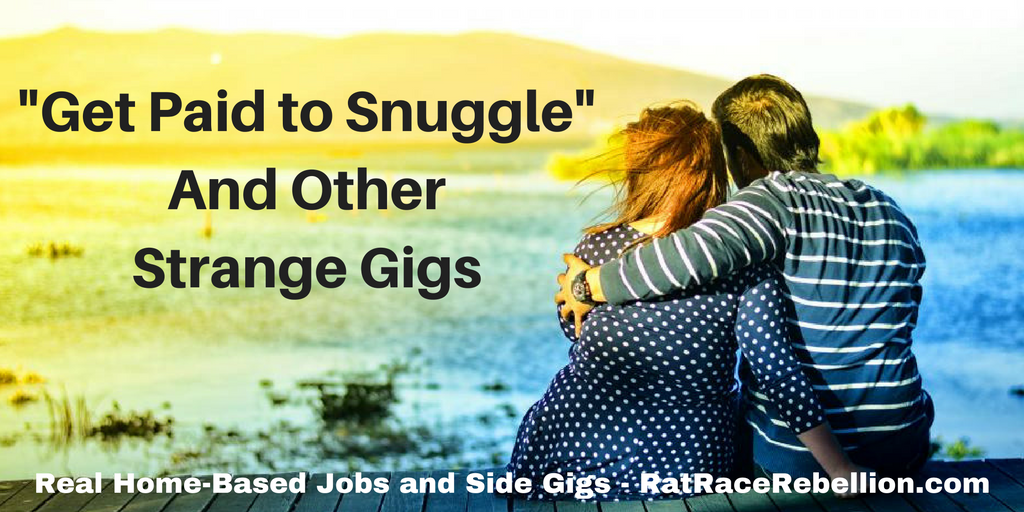 By Mike Haaren – Dec. 8, 2016
Home-Based Jobs & Side Gigs – Feeling Adventurous?
In our job research we see many unusual ways that home-based workers are making money. Here are 7 that stood out.
Get Paid to Snuggle – If you don't mind cuddling up with a stranger — a big if — you can make $80 an hour and $400 a night as a professional snuggler. You keep your clothes on, snugglers say; this is Safe Spooning. Sites like Cuddle Comfort match snugglers and snugglees. For more, see this Wall Street Journal article.
Get Paid to Be a Friend – Want to make $2,000 a week renting your friendship to strangers on a "strictly platonic basis"? You may be skeptical, but Rent a Friend says, "We have some Friends on RentAFriend.com making over $2000 a week full time. Then we have some people who just do it on the weekends and make $300-$500."
People are hiring Friends to go to the movies, visit museums, be tour guides, have coffee, go bike riding and much more, the company says. "No sex, platonic only." Set your own rates and availability. Free to join; keep what you earn. "Now accepting applications worldwide." For more, click here. To see TV coverage of Rent a Friend, click here.
Professional Bridesmaid – Many brides would like to have bridesmaids who could "do anything" to make the wedding a success. Jen Glantz at Bridesmaid for Hire reportedly charges $199 to $1,000+ with several options: "Everything from hiring us just virtually, to having us there behind the scenes – making sure you and your bridesmaids have everything they need, to hiring us to actually stand up there with you at the altar." Think you'd like to give it a try? Click here for more.
Professional Mermaid – What little girl hasn't wanted to be Ariel, one of the great Disney princesses? Professional mermaid Melissa Dawn, aka Mermaid Melissa, actually prefers Jacques Cousteau to Ariel, but otherwise she's crazy about water. In her performances at aquarium shows and poolside parties, she wears a 60-lb. silicone tail and can hold her breath for five minutes. Professional mermaids are reportedly in high demand, and can make $250 an hour at children's birthday parties. For more, see Inside the Mermaid Economy.

Rent Your Clothes – If you're working from home, your wardrobe may run more toward PJs and sweats, but there might be something at the back of the closet… A strapless floor-length dress, for example, can rent for $700 a month! Check out the options at Loanables.com.
Fortune Cookie Writers – Got a flair for phrases? About 3 billion fortune cookies are made and eaten in the world every year. Each one needs a "fortune" inside, so that's a lot of phrases! But the big cookie-maker, Wonton Food, has thousands in its database, so you'll have to think hard. You'll find more on Wonton and its search for Writers here. (Their Writer Donald Lau has apparently stepped back.) You might consider submitting a few of your best samples on Wonton's contact page. For more, see this Guardian article.
Make Money with a Drone – Drones are all the rage now. Toy drones, camera drones, racing drones… A few hundred dollars, or even less, and you're flying. Don Gottlieb makes $175 an hour with his, filming weddings, real estate, yachts… You'll need an FAA permit for commercial use. More on that here.
PLEASE SHARE this post – turn your friends into Rat Race Rebels!