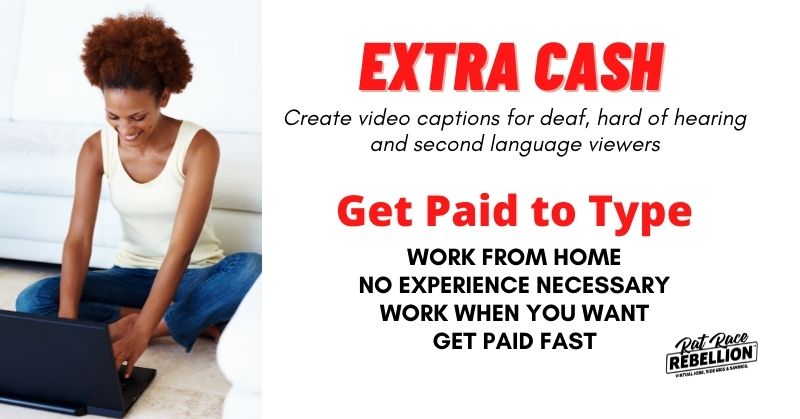 by Chris Durst            June 21, 2021
CrowdSurf is a platform that works with freelance transcriptionists to, "create video captions for deaf, hard of hearing and second language viewers."
This opportunity allows for very flexible work — you can log in whenever you have time, and work for as long as you choose.
The company pays within hours of completing tasks so, while you will not get rich doing this work, it can be a good means of bringing money in quickly on a regular basis.
You DO NOT NEED TO HAVE EXPERIENCE, however, you will be most successful if you have good typing skills, excellent listening skills, a solid command of the English language, and great proofreading skills.
Crowdsurf is rated 3.6 out of 5 stars on both Indeed and Glassdoor, with some great reviews and some not-so-great as well. In reading comments, it appears that it is what you make of it!
Here's what Crowdsurf has posted about this opportunity:
Your Benefits
Instant Income. By day's end, you can have cash to spend.
Easy Tasks. Most HIT jobs are very easy.
Steady Work. Jobs are waiting for you to accept them — no resumes, no interviews, no waiting.
Flexibility. Work on your own schedule. If you have a free few minutes throughout the day, use them.
Fulfillment. Make a difference!
Required Skills
Detail-oriented, talented and able to speak, read and write fluently in English.
Must have a PC or Mac
Reliable Internet connection
Basic typing skills necessary
Great listening skills
Excellent Proofreading skills
Good judgment and problem solving skills
Team-player attitude – we're looking for positive influences on the CrowdSurf community!
We Recommend
Over-ear headphones to cancel ambient noise
Google Chrome Browser works best with CrowdSurf HITs
No extra equipment required! Just you and your computer are needed to get started!

"CrowdSurf is a dedicated community of freelance transcriptionists working to create video captions for deaf, hard of hearing and second language viewers.
We offer short transcription tasks, available day and night, so that you can work anytime, anywhere! It's free to sign-up, you'll be paid instantly, and we offer several opportunities for growth and promotion.
CrowdSurf needs your help to transcribe online media, join us today!
1. Sign-Up on Work Market
CrowdSurf uses Work Market to hire and pay all CrowdSurf freelancers. You'll join CrowdSurf via Work Market, and work with us on our private editing platform, the CrowdSurfWork platform. It's easy to get started.
Use the link at the bottom of this page and create your Work Market account. (Note: Choose "Writing and Translation" as your primary Industry. Use the drop down list to select your "Postal Code")
The Work Market team will review your profile and tax information. This typically takes less than 24 hours. If there's an issue, please contact their support team.
Set up your Payment Method, you can choose from Direct Deposit, Paypal, and more!
2. Join CrowdSurf
Work Market uses recruitment groups to connect you with employers offering freelance work. Once your Work Market account is set up, apply to join CrowdSurf as a new CrowdSurf transcriber, review the guidelines, and take a brief assessment to join the CrowdSurf group.
Work Market assessment
3. Start CrowdSurfing!
Once you've passed the assessment, we will create a new account for you on the CrowdSurfWork platform. This usually takes 3-5 business days. When your account is ready we will send login instructions to your Work Market email.
Just follow the instructions in your email. All of your work will be available on the CrowdSurfWork platform.
What are the benefits of becoming a CrowdSurf Freelancer?
Easy tasks. Most transcription tasks are very easy.
Work on your own schedule. If you have a few free minutes throughout the day, use them.
Make a difference! Your transcript makes videos accessible to deaf and hard of hearing viewers!
This is just the beginning! If you're interested in making online media accessible an enjoyable by all, sign up today!"
When can I expect to be paid?
ANSWER: With Work Market you will now receive one payment for each batch of tasks completed in CrowdSurfWork. The number of tasks in each batch, and the timing of payments depend on your level of activity. Each batch will be paid after approximately an hour of inactivity. This will allow for more reliable CrowdSurfWork payments to your Work Market account.
Here are some examples:
If you work for 40 minutes and then do not work for at least an hour, you will receive a single payment for all of the work completed in your 40 minutes of activity.
Alternatively, if you work for 4 hours, take a 30 minute break, and then work for 2 more hours before stopping for the day, all of your tasks from the 6 hours of activity will be paid in one payment, likely while you are sleeping."
CLICK HERE for full details and to apply. For more jobs like these, check our Newest Jobs & Gigs page. To be the first to hear about jobs like these, like our Facebook page. Good luck in your next steps toward working from home!
PLEASE SHARE this post – turn your friends into Rat Race Rebels!