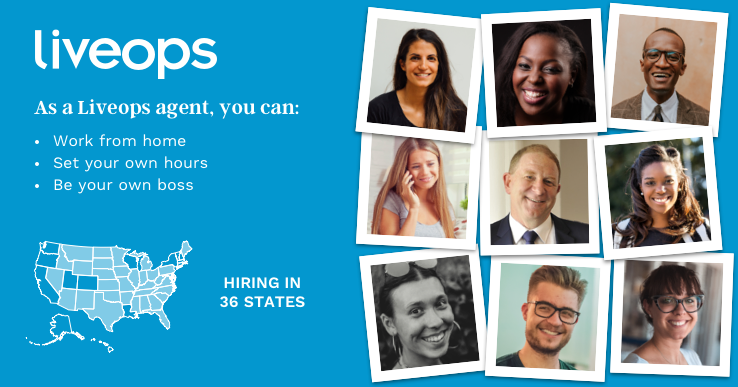 by Chris Durst    Oct. 1, 2019
If you're looking for a work-from-home, customer care role that will allow you to set your own schedule, Liveops may have exactly what you're looking for!
Liveops' client roster includes Fortune 500 companies in retail, insurance, healthcare and direct response industries. This means, once you land a contract with them, you're opening the door to a world of exciting possibilities.
The company has an excellent reputation among their home-based contractors and across the remote work landscape generally. Rat Race Rebellion has been listing their opportunities for years and, as you know, we vet the jobs we post very carefully. Likewise, they've been on the FlexJobs Top 100 company list for years.
Currently, Liveops is seeking qualified applicants in AL, AR, AZ, DC, DE, FL, GA, IA, ID, IL, IN, KS, KY, MD, ME, MI, MN, MO, MS, MT, NC, ND, NE, NM, NV, OH, OK, PA, RI, SC, SD, TN, TX, VA, WV, and WY. (If you don't reside in one of these states, we encourage you to share this post with friends and family so they can get on board.)

In preparation for this sponsored post, we asked a representative from the company to tell us a bit about what you can expect when you become part of the Liveops community.
Here's what they want you to know:
When considering work from home, people often worry about the community they'll leave behind. What they don't realize is that just because they work from home doesn't mean they'll work alone!
As a Liveops agent, you can:
Work from home or any quiet place
Set your own schedule to work around your life
Enjoy the freedom and flexibility of being your own boss as an independent contractor with Liveops
Connect with other agents at anytime to feel a sense of comraderie
As a Liveops call center agent, you'll become part of Liveops Nation: a network of like-minded professionals who each support one another, are eager to help and share their experiences as Liveops agents.
View our available online call center jobs from home to see if we have an opening that fits your skills and career goals.

[social_warfare]