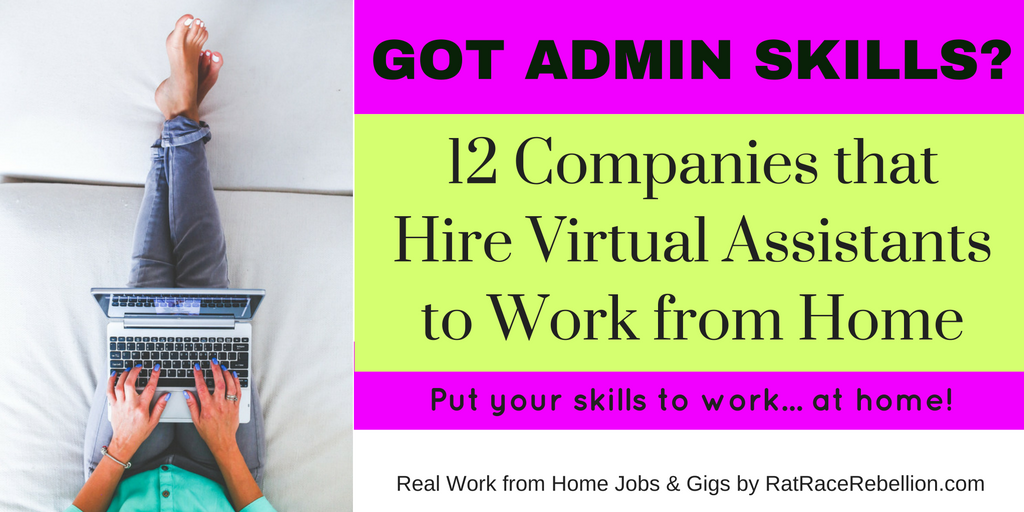 by Chris Durst Dec. 7, 2016
Here, at Rat Race Rebellion, we receive many queries from people who have great administrative support skills but who aren't sure how to find a work from home job that will enable them to leverage their expertise.
We list a number of options on our BIG LIST of Work from Home Jobs so it's a great starting point. To round out that list, this post will direct you to 12 sites where you use those administrative skills you've worked so hard to perfect!
---
Clara
With Clara, the emphasis is on scheduling so, if you are very organized and great at making sure everyone is where they need to be when they need to be there, this may be for you.
The work is done mostly via email so this is a non-phone job!
Pay is about $15/hour once you get "in the groove" and are able to work efficiently.
In their words:
"Clara is a virtual assistant product that saves customers hours a week and tons of cognitive load. Customers copy Clara on emails initiating meetings, and Clara schedules the meetings. Clara's promise to the customer includes high accuracy, fast response time to requests, and a socially aware service that deals with scheduling complexity elegantly.
While customers interact with Clara as a single entity, on the back end Clara is a software platform that empowers humans – Clara Remote Assistants – to process scheduling requests correctly and efficiently. CRAs process customer requests within the Clara software, follow established Clara protocol found in our knowledge base and utilize their excellent English communication skills and scheduling experience."
Click here for more about Clara.
---
Virtual Gal Friday
Hiring, but so many people were NOT following the application process they have asked to have the link removed.
PLEASE ALWAYS FOLLOW APPLICATION INSTRUCTIONS WHEN APPLYING FOR ANY JOB. FAILURE TO DO SO NOT ONLY HURTS YOUR CHANCES OF GETTING THE JOB, BUT IT ALSO RUINS THE CHANCES FOR OTHERS.
---
---
Worldwide 101
Hiring assistants in North America, Europe & Australia
In their words:
"Worldwide101's team of talented professionals has left behind the daily commute for the advantages of working virtually. For some its about having a more flexible schedule, or the freedom to spend winter somewhere warm, or the variety of working with multiple clients. As a business-class Virtual Assistant, you'll play the rewarding role of supporting entrepreneurs and small business owners with a wide range of tasks, helping them to succeed, and freeing them up to focus on growing their business.
Sound appealing? If you have a strong professional background in administration, customer service, marketing, or project management, an interest in learning new skills, & a stable home-office environment we'd love to hear from you."
Click here for more about Worldwide 101.
---
eaHELP
Hiring US-based virtual assistants.
In their words:
"eaHELP, the leading virtual assistant provider in the United States and an INC 500 Company, is recreating what "work" looks like with a third option. We successfully embrace a 100% remote work place. We've been partnering with hundreds of skilled, service-minded VA's for more than five years. Thanks to the service our team of VA's give to their clients, we are able to celebrate with our clients the incredible work they've been freed up to do thanks to their VA's.
If this sounds like the perfect place to spend your workday, we would love to talk to you about becoming part of our world class team!"
Click here for more about eaHelp.
---
Time etc.
In their words:
"If you're a full time freelancer or if you're just looking to earn extra money from your skills, freelancing with Time etc really makes sense.
Whatever your skill-set, freelancing through Time etc can deliver regular ongoing work – as much or as little as you are happy to do.
Unlike other marketplaces there is no overseas competition and no bidding to secure jobs. Instead there is a guaranteed, fixed, hourly rate matched to your skills."
Click here for more about Time etc.
---
Fancy Hands
In their words:
"We're currently hiring people to work as assistants for thousands of very discerning users of this site. If you have fast internet connection and the ability to use common websites and software, this could be a lot of fun. We're looking for smart people who want to help build a great company and get paid. Keep reading if you're interested. Are you good on the phone and great at internet research? This could be the perfect position for you."
Click here for more about Fancy Hands.
---
24/7 Virtual Assistant
In their words:
"Our Human Resource Department will go through your resume as soon as it comes through . If we have an immediate client need that matches your skill sets, we will contact you right away. If not, we will keep your resume on file and contact you when we have a need that matches your skills to see if you are available at that time. Average pay for a US virtual assistant is between $10-$12 per hour and it depends on VA's skill level and client's requirement. 90% of the time, clients are looking for part time VA's which ranges from 20-120 hours a month."
Click here for more about 24/7 Virtual Assistant.
---
---
Vicky Virtual Receptionists
In their words:
"Our clients are busy, small business owners who hire us to handle their phone calls and treat their customers the way they would.
Our job is to answer those phone calls, and do what we can to be helpful, and turn those callers into loyal customers and raving fans of the businesses we serve.
If you decide to join our team, you will be handling phone calls (from your home, through your computer and a headset) for multiple businesses throughout the day, assisting callers with questions and booking appointments, and performing basic receptionist duties.
Compensation: $10/Hour"
Click here to learn more about Vicky Virtual Receptionists.
---
Red Butler
In their words:
"Join the leading executive virtual assistant and travel service provider, Red Butler. Help people around the world see more, do more and be more."
Click here for more about Red Butler.
---
Surplus Hands
In their words:
"If you're a full time free freelancer or looking to earn extra money from your skills, then Surplus Hands is the place to work. From your very first day, we connect you and guide you with tips and advice to help you become successful. Want some extra income? Go for it. Want to take charge of your future? You can make it happen. There's no pressure and no quotas, only unlimited potential. Work hard and your earnings can increase exponentially—for life.
Surplus Hands is currently seeking US and Canada based applications only."
Click here for more about Surplus Hands.
---
Vasumo
In their words:
"Vasumo is dedicated to creating a revolutionary virtual assistant company full of talented, enthusiastic people who enjoy coming to work every day. We are really passionate about helping our clients achieve success and find their work and life balance. We love our work and we have fun doing it."
---
Equivity
In their words:
"Equivity is on the lookout for virtual assistants that are resourceful, detail-oriented, proactive and extremely organized. Equivity is a team of individuals dedicated to improving the lives of our clients so that they can focus on their priorities. Our virtual assistants take initiative and develop creative solutions that help our clients achieve these goals.
What we do at Equivity: Equivity simplifies the lives of our clients by providing personal assistant and administrative assistant services virtually. You may be providing much needed organization to a client's life by scheduling appointments, managing a personal calendar, or planning the perfect vacation. You may be helping an executive with online research, document formatting and proofing, or finding a restaurant for a client meeting.
The job: We are looking for virtual assistants available to work part-time that are available from 9 AM to 6 PM Monday to Friday. As a virtual assistant, you can work entirely from home."
Click here for more about Equivity.
---
PLEASE SHARE this post – turn your friends into Rat Race Rebels!