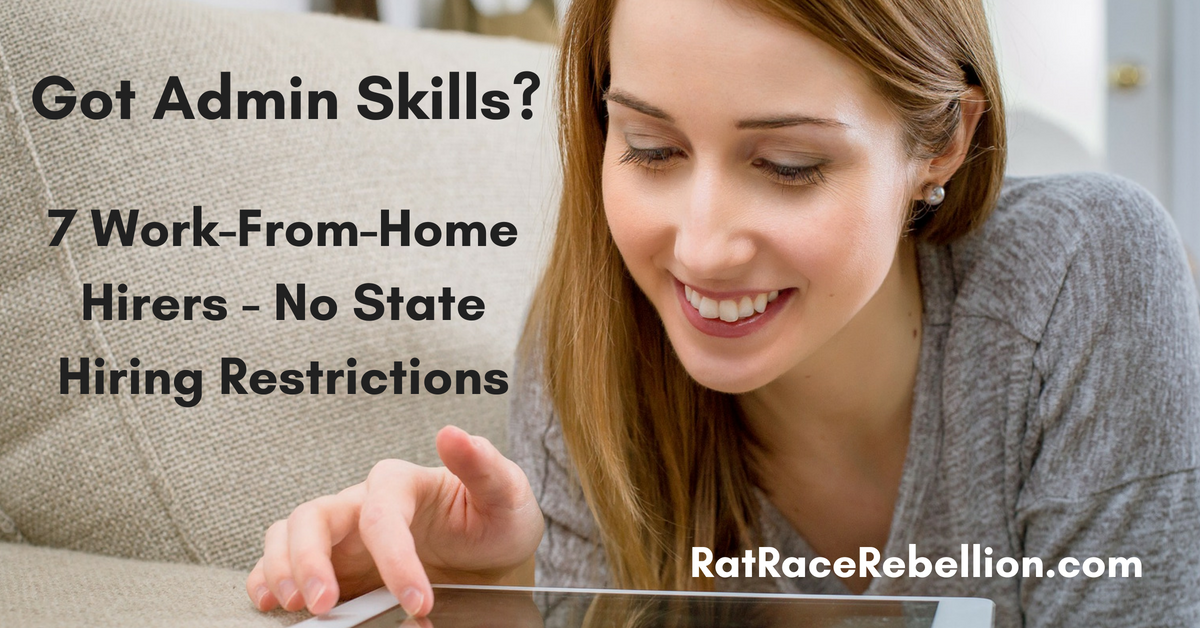 by Chris Durst July 30, 2018
Here at RRR we receive many queries from people who have great administrative support skills but who aren't sure how to find a related work from home job.
We list a number of options on our BIG LIST of Work from Home Jobs, so it's a good starting point. To round out that list, this post will direct you to 7 sites where you use those administrative skills you've worked so hard to perfect!
---
Clara
With Clara, the emphasis is on scheduling so, if you are very organized and great at making sure everyone is where they need to be when they need to be there, this may be for you. No state hiring restrictions mentioned, but you have to be available to work Pacific time zone hours.
The work is done mostly via email so this is a non-phone job!
When we first wrote about Clara in 2016, pay was reportedly around $15/hr. once you got "in the groove" and were able to work efficiently. We assume it isn't less now, but will update here when we get more detail.
In their words:
Clara is a system that combines the best of both humans and software to provide always-on, data-packed, better-than-human support through our Human-in-the-loop system.
We use software to make the most tedious parts of scheduling trivial, and behind that is a human being that has contextual understanding and good judgment whenever it's needed.
With Clara, you have 24/7 access to better-than-human support at a fraction of the cost of an in-office employee or remote assistant. Scheduling today requires you to spend your time managing email threads, your calendar, context switching, rescheduling, following up, sending calendar invites, and more to get a meeting on the calendar.
Click here for more about Clara.




Worldwide 101
In their words:
Worldwide101's team of talented professionals has left behind the daily commute for the advantages of working virtually. For some its about having a more flexible schedule, or the freedom to spend winter somewhere warm, or the variety of working with multiple clients. As a business-class Virtual Assistant, you'll play the rewarding role of supporting entrepreneurs and small business owners with a wide range of tasks, helping them to succeed, and freeing them up to focus on growing their business.
Sound appealing? If you have a strong professional background in administration, customer service, marketing, or project management, an interest in learning new skills, & a stable home-office environment we'd love to hear from you.
Click here for more about Worldwide 101.
---
Time etc.
Several RRRebels have been hired by Time etc recently. Pay starts at $11/hr. and reportedly can go up to $16. If you have a background in any of these areas, you may want to check them out. (Note that each job at Time etc comes with a general administrative support component, so you'll need to be able to provide that, too.)
— Personal assistant, admin assistant, or executive assistant
— Marketing or social media
— Writing or blogging
— Telesales or customer service
In their words:
If you're a full time freelancer or if you're just looking to earn extra money from your skills, freelancing with Time etc really makes sense.
Whatever your skill-set, freelancing through Time etc can deliver regular ongoing work – as much or as little as you are happy to do.
Unlike other marketplaces there is no overseas competition and no bidding to secure jobs. Instead there is a guaranteed, fixed, hourly rate matched to your skills.
Click here for more about Time etc.




Fancy Hands
One of our Facebook members, Mallory Ann, was just hired here. "I filled out an application from them about a month or two ago and today I finally got an email from them saying I was accepted! It does take awhile to hear back from them," she added. (Posted to our FB page July 25.)
In their words:
We're currently hiring people to work as assistants for thousands of very discerning users of this site. If you have fast internet connection and the ability to use common websites and software, this could be a lot of fun. We're looking for smart people who want to help build a great company and get paid. Keep reading if you're interested. Are you good on the phone and great at internet research? This could be the perfect position for you.
Click here for more about Fancy Hands.
---
24/7 Virtual Assistant
In their words:
Our Human Resource Department will go through your resume as soon as it comes through . If we have an immediate client need that matches your skill sets, we will contact you right away. If not, we will keep your resume on file and contact you when we have a need that matches your skills to see if you are available at that time. Average pay for a US virtual assistant is between $10-$12 per hour and it depends on the VA's skill level and the client's requirement. 90% of the time, clients are looking for part-time VA's which ranges from 20-120 hours a month.
Click here for more about 24/7 Virtual Assistant.




Vicky Virtual Receptionists
In their words:
Our clients are busy, small business owners who hire us to handle their phone calls and treat their customers the way they would.
Our job is to answer those phone calls, and do what we can to be helpful, and turn those callers into loyal customers and raving fans of the businesses we serve.
If you decide to join our team, you will be handling phone calls (from your home, through your computer and a headset) for multiple businesses throughout the day, assisting callers with questions and booking appointments, and performing basic receptionist duties.
Compensation: $10/Hour
Click here to learn more about Vicky Virtual Receptionists.
---
Red Butler
In their words:
Join the leading executive virtual assistant and travel service provider, Red Butler. Help people around the world see more, do more and be more. Our hiring and HR team can't wait to meet you.
Click here for more about Red Butler.
---
PLEASE SHARE this post – turn your friends into Rat Race Rebels!
[social_warfare]