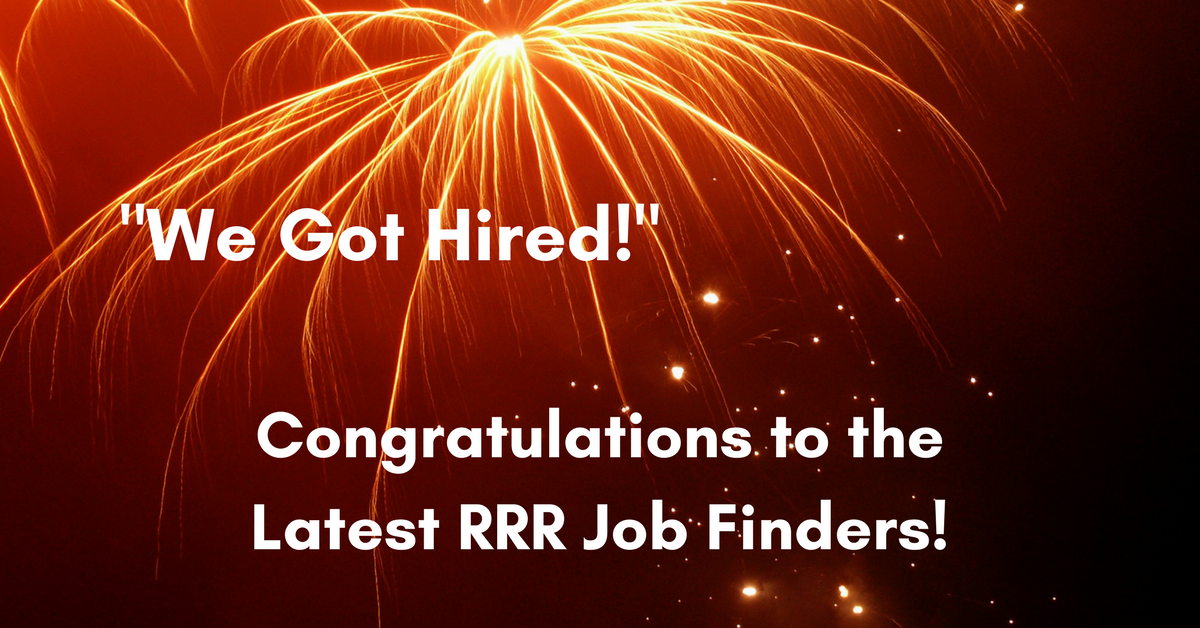 June 11, 2018
Work from Home Jobs – "We Got Hired!" – Congratulations to the Latest RRR Jobfinders!
Please join us in congratulating the latest RRR jobfinders! And thank you all for emailing us and for sharing your wonderful news on our Facebook page! (We've excerpted some of your messages below.) Well done to everyone! And thank you for your referrals — they're very much appreciated!
~*~*~*~*~*~*~*~
I got hired for Kelly Connect through y'all!!! – Felisha M.
~*~*~*~*~*~*~*~
I got hired for U-haul inbound sales and reservations because of your job alert/posting. Thank you!!! – James. B
~*~*~*~*~*~*~*~
I just got hired with U-Haul, inbound sales and reservations and start orientation on May 29th! Thank you Chris and Rat Race Rebellion for the postings! I'm excited to be working again, and not have to drive in the Colorado Snows and pay the high gas prices! This will be a great learning experience for an old lady! – Susan S.
~*~*~*~*~*~*~*~
I wanted to let you know that I was hired with Scribie.com a transcriptionist company through your website. Thank you so much for what you do. – Eugenia Parker
~*~*~*~*~*~*~*~
I just wanted to reach out to you saying thank you I was hired through KellyConnect for the apple chat position!!!!! I am very appreciative for your site!!!!!! – Courtney D.
~*~*~*~*~*~*~*~
Thx for all your leads. I got a job offer from Contemporary VA today. Super excited! Thx again for all your help. – Christi L.
~*~*~*~*~*~*~*~
I wanted to let you know I was hired at 5CA, I saw the positioned posted here, they are still hiring by the way. – Jai
~*~*~*~*~*~*~*~
Thank you! Just became an IC with Arise and my 1st client is Disney. I'm excited to get started! Couldn't have done it without your help! – Heather P.
~*~*~*~*~*~*~*~
I go hired by Kelly Services and start on the 18th. – Nostalgia S.
~*~*~*~*~*~*~*~
Chris and Mike, thanks to your awesome list of remote work opportunities and leads, "I Got Hired!" I start with Enterprise as a WFH CSR next month (haven't read the fine print yet, but if I'm able, I can't wait to use my employee discount with the Enterprise Exotics line of business! Hmmmm…Ferrari or Lamborghini for a day?! :)) Again, thank you so very much! – Lora B.
~*~*~*~*~*~*~*~
I just want to thank you for the lead to U-haul. I was hired Friday. You guys are great!! – Constance L.
~*~*~*~*~*~*~*~
I got hired by Lionbridge, Chris and Mike. Thank you. – Brian S.
~*~*~*~*~*~*~*~
I would like to personally thank you. I had left my horrible work from home sales job and was 3 months buried in bills rethinking "Did I make the right decision" I randomly checked your site as I do from time to time. I came across the "5CA" player support post. Quickly I applied and in less than 2 weeks I was onboard! Thank you Ratracerebellion for helping me find the greatest most enjoyable job I've ever worked! With this job, I can now travel the world. With this job, I have no more stress or dread going to work. Thank you so much! – Dean M.
~*~*~*~*~*~*~*~
I was just offered a job with Concentrix and I am so thankful for this website! If it wasn't for you I never would [have found] them! Thank you!!! – Erika S.
~*~*~*~*~*~*~*~
I got hired to work for Amazon at home. – Teair J.
~*~*~*~*~*~*~*~
I wasn't sure where to let you guys know but I wanted to thank you for your posts and all the jobs you find for us! I was hired with Unum because of you guys!! Just hired today, thanks again!!! – Phoenix B.
~*~*~*~*~*~*~*~
Thank you so much RRR!! I applied for a work from home job at Concentrix and was offered a position this morning!!! Thank you thank you thank you!!! – Ashlee M.
~*~*~*~*~*~*~*~
Thank you Rat Race Rebellion! I am now an independent contractor for Arise and Disney is my client. I'm so excited to start training. – Heather P.
~*~*~*~*~*~*~*~
Hi there, I have followed you for years. I have been working from home for some time and I got my start with you. I have worked for many of the companies on your site. Today I received an email from Rev.com that I got accepted. Thanks for that tip! – Evelyn M.
~*~*~*~*~*~*~*~
I just got hired by Kelley Connect! Thanks RRR. I start 6/18! – Amanda M.
~*~*~*~*~*~*~*~
Thank you, Rat Race Rebellion, for the information on Kelly Connect! I had a great interview and was offered to proceed on the spot. I'm now 2 days into the onboarding emails (there seems to be a lot of it, but the pay is sounding groovy) with a scheduled start date of June 18th. You guys and gals rock! – Douglas B.
~*~*~*~*~*~*~*~
Thanks to you I just got hired by Rev! – Rhonda L.
~*~*~*~*~*~*~*~
Hey Y'all!! I got hired for a remote position as RN Clinical Reviewer with Evicore. I start in July and will have 90 days of training before I start WFH. Thanks so much! – Kimberly S.
~*~*~*~*~*~*~*~
Thank you rrr! I just started with U-Haul and I start with Hyatt for the June 21st class! – Lisa M.
~*~*~*~*~*~*~*~
I wanted to say thank you for keeping your page updated all the time, I just got my offer letter with Humana😊😊 I start on the 25th of june. This job is going to be perfect so I can finish my nursing degree, so again Thank you sooooo much. – Zuneida L.
~*~*~*~*~*~*~*~
I recently accepted a WFH position with RaterLabs and I'm in the process of finishing my onboarding information and verification. I'm set to start on the 12th of this month and I'm so glad that, in addition to a non-WFH accepted offer in an actual office, I can supplement my income in a way that doesn't require driving all over town or working endless days at a mall between two jobs (retail was all I did before and I'm happy to be FREE). Thank you so much RRR for the work that you do! – Michaela F.
~*~*~*~*~*~*~*~
I got hired!!! Thank you, Rat Race Rebellion. I start training as a Technical Support Representative with teleNetwork on Monday, June 4, 2018. I am looking forward to this job, and I found it through your listings. Bless you. – Ann K.
~*~*~*~*~*~*~*~
I got the WFH job with Conduent!! I am currently in training…thank you so much for posting!!! – Colette B.
~*~*~*~*~*~*~*~
Thank you Chris and Mike. I was just offered a job with Amazon. It is seasonal, but could become permanent. I thank you for creating Rat Race Rebellion for those who enjoy working from home. I have been unemployed since Feb. 16, 2018. I am so glad that I received this offer for a position that I can do from the comfort of my home. – Gracieta L.
~*~*~*~*~*~*~*~
I received my contingent job offer from Amazon yesterday and also completed my background check.. It came back today now I'm waiting to complete my other paperwork and receive my start date. – Kaneesha L.
~*~*~*~*~*~*~*~
Got hired at U-Haul thanks to you guys! I start June 4!!! – Sonjanique B.
~*~*~*~*~*~*~*~
Thanks to this group I was able to research and find a WAH position. I have been offered a job with Conduent!! Thank you so much!! – Coyia D.
PLEASE SHARE this post – turn your friends into Rat Race Rebels!