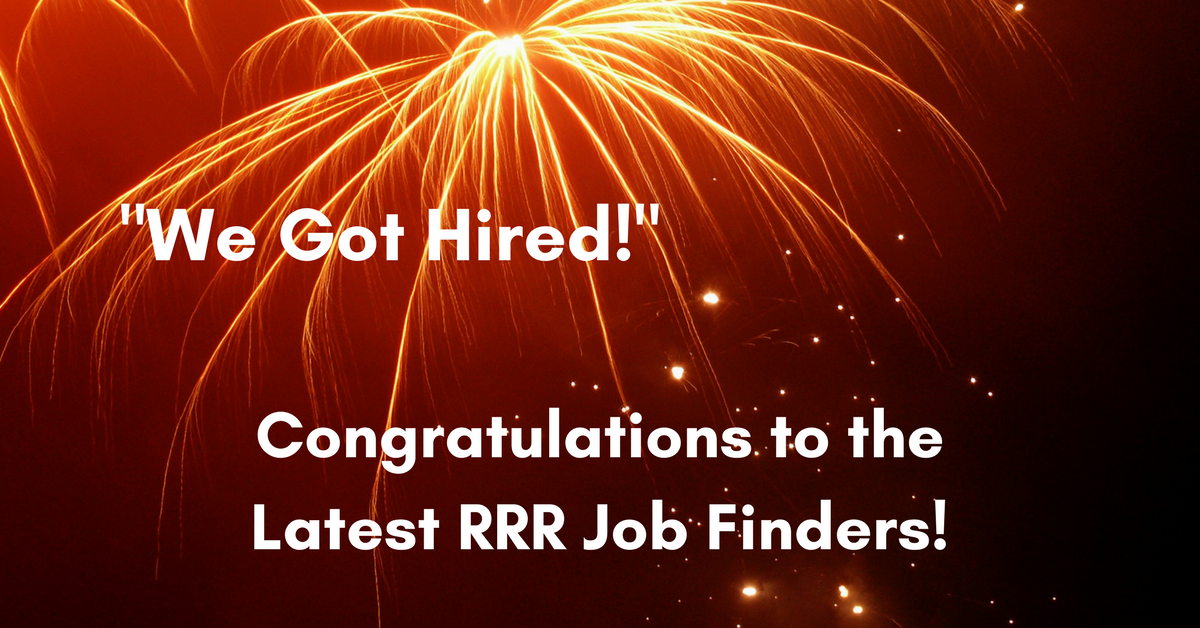 May 23, 2018
Work from Home Jobs – "We Got Hired!" – Congratulations to the Latest RRR Jobfinders!
Please join us in congratulating the latest RRR jobfinders! And thank you all for emailing us and for sharing your wonderful news on our Facebook page! (We've excerpted some of your messages below.) Well done to everyone! And thank you for your referrals — they're very much appreciated!
*****
"I got the job!!! [email protected] with American Express. So excited" – Monica R.
~*~*~*~*~*~*~*~*~
"FYI — I got hired by Hyatt! My virtual training class starts May 24th." – Frances B.
~*~*~*~*~*~*~*~*~*~*~
"I found a job for me and one for my husband, both with U-Haul. Thanks to you!" – Jewel and Michael J.
~*~*~*~*~*~*~*~*~*~*~
"Thank you, I was hired with Williams-Sonoma today in Las Vegas! I start training next week. Your website has been a blessing for me, wish I had known about it sooner." – Lisa
~*~*~*~*~*~*~*~*~*~*~
"I got hired at Transcom doing WFH Technical Support! Thanks for the lead!!" – Stacy P.
~*~*~*~*~*~*~*~*~*~*~
"I just want to say thank you all for all you do. I found the position I currently have at Transcom on this site. The best position I have had so far. Again thank you." – Alicia S.
~*~*~*~*~*~*~*~*~*~*~
"Thanks I got the job!! Concentrix" – Jacqueline L.
~*~*~*~*~*~*~*~*~*~*~
"Yay!!! Thank you so much Chris and Mike. I remember finding your website back in 2007 and I can say that I have had many great work from home contracting positions especially becoming a Corporate Travel Agent without experience and getting a stipend for training! I always share your website with others. When it was difficult finding work, RRR was there with legitimate work from home opportunities so that I had income, thank God! I am beyond grateful and happy to share my 'I got hired' moment. I received a call today from Progressive with a job offer and I accepted a position with excellent pay and benefits all working from home! I found this job on RRR and I'm so glad I did. Chris and Mike, never tire of helping others find careers, extra income, and self-employment opportunities. You have helped me tremendously over the years and I sincerely thank you both!" – Nikki
~*~*~*~*~*~*~*~*~*~*~
"I got hired with U-Haul wahoooo Thank you Rat Race Rebellion. You Guys are the premiere in work from home positions." – Anna M.
~*~*~*~*~*~*~*~*~*~*~
"Thank you so much!!! I begin training as a remote guest service agent for Hyatt on April 26." – Kitty B.
~*~*~*~*~*~*~*~*~*~*~
"I wanted to share with you that I was hired on with Conduent as tech support. I 1st learned of the job through Rat Race Rebellion! Thank you for the great work at home listings." – Roylynn S.
~*~*~*~*~*~*~*~*~*~*~
"Just got a job at Yardi Matrix. Start Monday. Thanks RRR." – Cynthia A.
~*~*~*~*~*~*~*~*~*~*~
"Thank you so much for your post. I got hired with U-Haul using one of your email posts." – Teslimat T
~*~*~*~*~*~*~*~*~*~*~
"I just wanted to say thank you to RRR because Rev.com hired me as a transcriptionist October 2017. The pay is very decent and there is opportunity for growth and higher pay depending on your accuracy and number of minutes transcribed. Very lucrative income." – Demetria H.
~*~*~*~*~*~*~*~*~*~*~
"I just wanted to thank you for sharing so many job leads. I was hired to work at Unum and I never would have known about the opportunity if it wasn't for you guys at Rat Race Rebellion." – Pamela H.
~*~*~*~*~*~*~*~*~*~*~
"I am thankful because of your help posting jobs and sending emails I got hired by U-Haul last Wednesday :)" – Marilyn
~*~*~*~*~*~*~*~*~*~*~
"Hey guys! Just wanted to let you know I got hired!!! Thanks to all your posts, finally after a year of applying I got an offer. I will working for Conduent providing services for Apple, Inc! Thanks a bunch for all your hard work!" – Linda M.
~*~*~*~*~*~*~*~*~*~*~
"Thank you for such a great site. I am now part of the U-Haul Family thanks to you! Keep up the good work!" – Faye
~*~*~*~*~*~*~*~*~*~*~
"This might not be the right place to say this but I couldn't find anywhere else. Thank you so much for your website, I just got hired at U-Haul as a Sales agent. If it wasn't for your site I would have never come across the job. Thanks again!!" – Brianne G.
~*~*~*~*~*~*~*~*~*~*~
"Yay!! I got hired at U-Haul and start Yardi Matrix today too!! Thank you so much!!" – Amanda
~*~*~*~*~*~*~*~*~*~*~
"Rat Race Rebellion I just love this website I've been searching for a work-from-home position in order to serve my customers wow in the comfort of my own home for some time now and after I found this website you guys were able to do me one better, I received an offer letter from Enterprise and NexRep!!! Thank you so much for all of your help daily postings and inspirational posts. You guys are great and I'm definitely recommending your website to family and friends!!" – LaTanya L.
~*~*~*~*~*~*~*~*~*~*~
"Thanks to your listing I applied for the Service Center Associate wfh role with Sedgwick and I just received my offer letter. I start June 4. All equipment provided and health benefits start on day 1. I have to do 1 video interview, a personality test, typing test, spelling/grammar test and a math test with alot of sequence word problems. But i made it through. Thanks for all that you do. I have been unemployed for 4 months. Thank you, Thank you, Thank you." – Rasheda T.
~*~*~*~*~*~*~*~*~*~*~
"Hello, I got hired with U-Haul using this site. Thank you for that!! One company that I have not seen listed her is Sykes formerly Alpine Access maybe you guys can include that one too. :)" – Latoya B.
(Thanks for the suggestion, Latoya! Actually, we do have Sykes listed on RRR. You can find our posts about them at https://ratracerebellion.com/?s=sykes 🙂
~*~*~*~*~*~*~*~*~*~*~
"I wanted to let you know I found Sykes Enterprises last year when I was desperately seeking something. I have worked 3 programs with them and now I just was chosen for a permanent (6 month commitment) position this week. I think your RRR is a great boon." – Amy J.
~*~*~*~*~*~*~*~*~*~*~
"Thanks, I was hired last year for seasonal with their Pearson Program, then I went seasonal with Walmart Dot Com, then I was BLITZ for a few days with Intuit/Turbotax and then I was offered this one which is permanent with a minimum of 6 months commitment. I was thrilled." – Kathy C.
~*~*~*~*~*~*~*~*~*~*~
"I start training with Enterprise through the Arise Portal on May 30th…thank you for your excellent screening of these companies!!!" – Q.T. Floyd
~*~*~*~*~*~*~*~*~
"RRR has gotten me all my work from home jobs… I have worked for Amazon and Sitel in the past… Got a job offer for Williams-Sonoma before 😊.. And I start training in a few weeks for Sutherland part time… Sutherland picked 55 applicants out of 1100 and I got the gig!!!! I also just got hired with MaritzCX part-time start soon… Thanks RRR" – De'Anna R.
~*~*~*~*~*~*~*~*~
"I start with Conduent on the 18th! Thank you RRR!" – Cat M.
~*~*~*~*~*~*~*~*~
"I got the job with CONDUENT thanks to y'all!" – Jennifer M.
~*~*~*~*~*~*~*~*~
"I got accepted at REV, a transcribing company!!! I've already completed paid training, and I'm moving on to actual jobs!!" – Vera M.
~*~*~*~*~*~*~*~*~
"I GOT THE JOB!!! It is one of the Non-Phone positions too! THANKS RAT RACE REBELLION!!! You guys are so awesome!" – Rossi N.
~*~*~*~*~*~*~*~*~
"I was able to get a job at Concentrix. Not sure what I'm starting but I'm very happy." – Janette B.
~*~*~*~*~*~*~*~*~
"Got hired with NexRep TODAY! Just waiting now on the background check. Thanks Rat Race Rebellion for the lead." – Shona T.
~*~*~*~*~*~*~*~*~
"Got hired at TeleTech! Thanks RRR" – Shimeka B.
~*~*~*~*~*~*~*~*~
"Thank you so much for all y'all do! I signed up for your daily emails. I applied to Hyatt as soon as I got the email. I got the call on Tuesday that I have been hired!! Y'all are awesome!! Thanks for everything!!" – April Lynne R.
~*~*~*~*~*~*~*~*~
"Thank you so much RRR for all your hard work in digging up all the work at home jobs, because of your dedication, I am officially a virtual Technician Consultant with KellyConnect! I can't say thank you enough!!" – Laurabeth I.
~*~*~*~*~*~*~*~*~
"I got the offical job offering at KellyConnect! Im super excited!! Thank you for working so diligently RRR employees!" – Ruth M.
~*~*~*~*~*~*~*~*~
"Thank you for helping me find a at home position! I just got hired on with Hyatt!" – Jenna B.
~*~*~*~*~*~*~*~*~
"Finished training and started working part time for Westat Telephone Research. Thank you RRR!" – Rosalyn S.
~*~*~*~*~*~*~*~*~
"I got hired with WRP Professionals as a court researcher! So excited to start my new adventure!" – Laura D.
~*~*~*~*~*~*~*~*~
"I got hired by U-Haul, thank you!" – Marilyn B.
~*~*~*~*~*~*~*~*~
"I got hired with IT Boss Research! I can't wait to get started!" – Laura D.
~*~*~*~*~*~*~*~*~
"I got hired at U-Haul!!" – Laura S.
~*~*~*~*~*~*~*~*~
"Thank you for many emails. I got hired to work for U-Haul. I start on Monday." – Antoinette B.
~*~*~*~*~*~*~*~*~
"Thanks to Rat Race Rebellion I got hired at Yardi Matrix and I start Monday, April 30, 2018. I will be doing surveys on apartments." – Cindy M.
~*~*~*~*~*~*~*~*~
"I've been working with Appen for several weeks now thank to RRR.. thank you!!!" – Tanya F.
~*~*~*~*~*~*~*~*~
"I got hired, thanks to you guys!!! Awesome job board, keep it up!" – Ann Marie Q.
~*~*~*~*~*~*~*~*~
"I just got hired! I'll be starting my certification training tomorrow at Priceline as a customer service representative. Thanks RRR for your help in finding this job!" – Joanne R.
~*~*~*~*~*~*~*~*~
"Thank you Rat Race Rebellion!…….I was hired as a Roadside Assistance Agent for U-Haul on 04/09/2018……U-Haul is a fantastic company with Benefits, Training is very simplified, and great pay. I am going to stay with U-Haul for long-term." – Machelle G.
~*~*~*~*~*~*~*~*~
"Hooray!!! I finally got a job. Just got hired at U-Haul! Thank you RRR!" – Lorraine W.
~*~*~*~*~*~*~*~*~
"Hey RRR, I wanted to let you guys know that 'I Got Hired!' Yep. I'm employed now with NexRep. Wanted to give y'all a BIG SHOUT OUT of appreciation!!!" – Eva C.
~*~*~*~*~*~*~*~*~
"Thanks to RRR!! I applied and was hired with The General Insurance ([email protected]). I began training this Monday!! Thank you for all you postings!!" – Antoinette M.
~*~*~*~*~*~*~*~*~
"Chris and Mike, your website is awesome. Although I have worked for a few seasonal jobs I've found on this site. I finally landed a job I think I can call home. I'm unboxing my equipment I just received from Unum and I am excited to start my training with them on Monday. I recommend so many people to your site. Thank you!" – Natalie C.
~*~*~*~*~*~*~*~*~
"Pretty excited, I start working for U-Haul on April 23rd for the Reservation Agent position. I also was hired by Lionbridge as a Social Media Evaluator. I found both through Rat Race Rebellion! Thanks!" – Sheri H.
PLEASE SHARE this post – turn your friends into Rat Race Rebels!