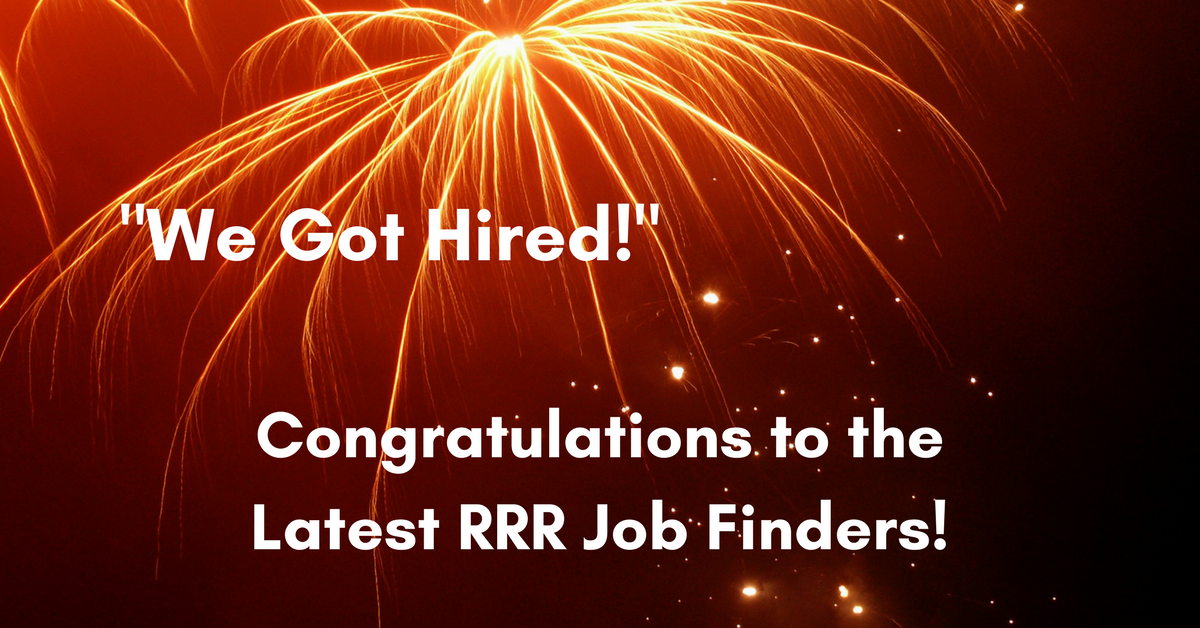 April 13, 2018
Work from Home Jobs – "We Got Hired!" – Congratulations to More RRR Jobfinders!
Please join us in congratulating the latest RRR job finders! And thank you all for emailing us and for sharing your wonderful news on our Facebook page! (We've excerpted some of your messages below.) Well done to everyone! We wish you every success in your new work from home jobs and side gigs! And thank you for your referrals — they're very much appreciated!
*****
"Applied for Disney through RRR and was hired! Start 4/30." — Kimmy G.
"Just wanted to say thanks so much for updating your site daily. RRR posted a job position for American Express and I applied and got the position. Thanks so much for everything you guys do. I check the site daily to get the scoop for all things WORK FROM HOME. Love it! Thanks!" — Rickey W.
"I got hired as a Reservations Agent with Hyatt! I really want to give a shout out to RRR and let everybody know that RRR is a legitimate site and I have responded to many leads and had several interviews." — Karen in Durham, NC
"I'd like to thank both Rat Race Rebellion and Indeed for posting about the Amazon Virtual Customer Service Part Time Flex position. I worked a seasonal position with Amazon. As soon as I found out about the new position, I applied and I received a job offer the next day! I start on April 23!" — Leslie
"Hi. I just wanted to let you know that I got hired at Concentrix. Thanks for your resources!" — T.A. Mayfield
"Thank you SO MUCH Rat Race Rebellion for helping me my DREAM JOB with Gametime! Our client left our last company which left over 50 of us unemployed. I was referred to Rat Race and applied for 3-4 jobs a day. It's an amazing referral service that WORKS! Kudos!" — Diana D.
"Guess what!! I got hired to work for a very reputable company called Sedgwick and it was a short fuse at that. I am now an E-Support Associate with Sedgwick and my start date was April 2, 2018. My first week of training was a great success. I would like to extend a sincere thank you and express my deepest gratitude to you both. I will definitely continue to share the rrr site with my friends and family." — Sandra C.
"Thank you so much!! I was just hired by Working Solutions and start training April 2." — Sherrie M.
"I just wanted to let you know that I recently got hired with Measurement Incorporated to be a Reader/Online Scorer Evaluator. Thank you so much for putting out your post each week! This has encouraged me to apply for more work at home jobs." — Brooke
"I got hired at Transcom and worked there for a year and had to leave due to having a baby and computer crashing. I got back up and running and just recently started looking for another at home job because I loved it so much. I put in an app with Support.com and was offered a job after my interview today. I was hired and start on Monday. Thank you so much for all the job leads and using your time to help us all find a position that fits our needs." — Amanda G.
"Just wanted to share my 'win.' I have been working PT for NexRep, a gig I found thanks to you!! Almost a year and going strong!! Thanks RRR." — Lisa L.
"Your website and daily emails are a blessing. Without them i would not have my current full time Virtual Reservation Sales Agent position with Brittain Resorts. Thanks so much!!!" — Morgan G.
"Chris and Mike, your website is awesome. Although I have worked for a few seasonal jobs I've found on this site, I finally landed a job I think I can call home. I'm unboxing my equipment I just received from Unum and I am excited to start my training with them on Monday. I recommend so many people to your site. Thank you!" — Natalie C. 
"Thank you Rat Race Rebellion! Because of your email notifications, I was hired at Unum/Colonial Life as a Customer Support Specialist (work from home) agent! Thank you!!!!! I would have never thought that I'd get a work from home job but thanks to you, I did!" — Jonaee C.
"I got hired [at NexRep]! I just have to do the background check, get a webcam and I am good to go!" — Patti E. 
"Thanks to RRR's post a while back, I got offered a position with Concentrix!" — Chantanna G.
"Thank you guys so much. I got hired at U-Haul." — Kimberly M.
"I got hired with U-Haul! Thank you Rat Race Rebellion!! You rock!" — Deborah B.
"Got hired at Concentrix!!! Thanks RRR!!!" — Taurean W.
"Hi!! I have been hired with KellyConnect to do Chat Tech Support.. Thanks so much to your website!" — Katt C.
"Thanks!!! I got hired to Voicelog, and I really do appreciate the opportunity. I am completing my paperwork, and should be starting after my background check comes back!!!" — Schmeka L.
"Got HIRED!!! Thanks Rat Race I was hired by The Mod Squad… thank you so much!!!" — Nicole M.
"Got hired for online court research with Wolfgang! Started this week. Thanks RRR!" — Vanessa B.
PLEASE SHARE this post – turn your friends into Rat Race Rebels!