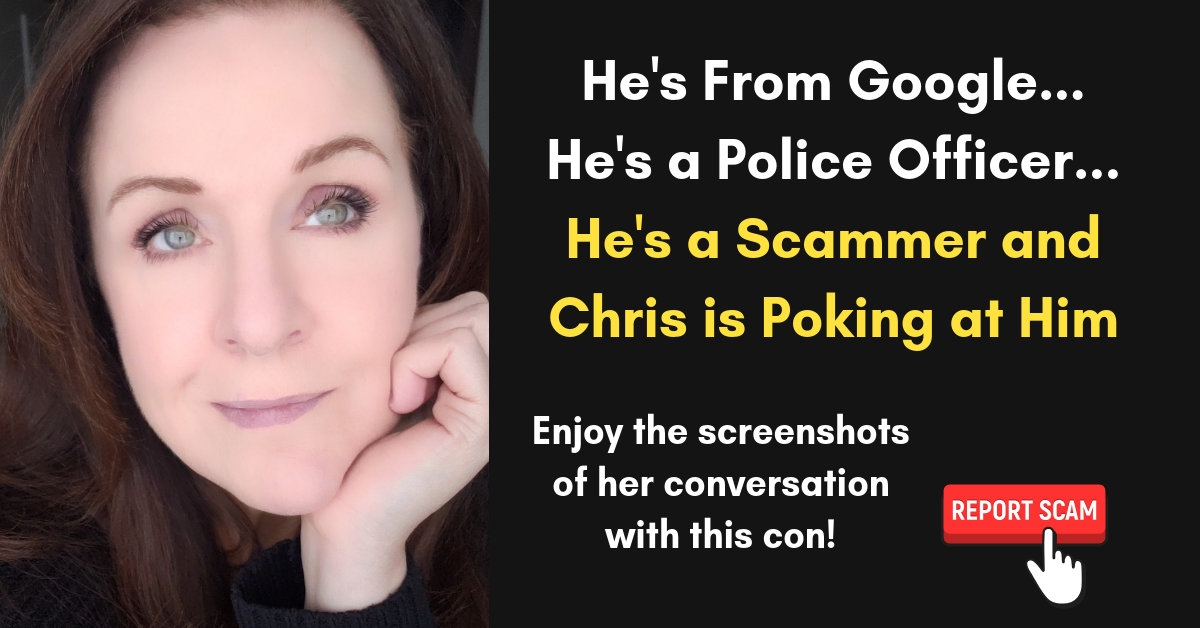 by Chris Durst      Nov. 19, 2018
Yesterday evening I received a text message on my cell that I just knew was from a scammer. It started with a simple, "Hello Christine" from a number I didn't recognize with a Washington, D.C. area code.
Let the games begin!
NOTE: Trigger alert – This conversation gets ugly at the end when the scammer threatens my life.
So, he's pretending to be with Google. The first message arrived at 6:57PM (on a Sunday) – not exactly a time when most companies would be conducting business.
Note that, in the above screenshot, the address he provided includes an address that is a mash-up of a US and a UK address. He is using a UK street address and postal code, and the US state of Nevada.
Really? If you're going to be a scammer you should at least TRY to look smart.
As you can see, the pitch is a long one…
Blah, blah, blah…
As I said, it was a Sunday and, frankly, I didn't feel like taking too much time with this nincompoopery, so I cut to the chase and swore at him. Then, I told him I knew he was a scammer. I figured this would stop him from communicating further.
I was wrong. He responded AND he tried to call my cell. (When I saw the call was from him, I answered saying only, "WHAT?" – he hung up.)
Note in the screenshot above that the name he signed off with at the end of the eternal ramble was "MRS. VERUMLEM KLEITH." This will be important later.
Now, something clicked and I decided would keep him on the hook for a while, so I changed gears a bit…
A lot of the scams I've been getting hit with lately are coming in from Africa, so I decide to drop a hint that I'm onto him.
I should note that, while this particular scammer is from Africa, many scammers come from other countries – including the US.
I'll show you mine if you show me yours…
(Not me, of course. Just some random pic I pulled from the internet.)
He didn't reply for a few minutes so I figured he either (1) bailed out on me or (2) was searching the internet frantically for a picture entitled "MRS. VERUMLEM KLEITH HOLDING APPLE."
Imagine my surprise when I got this instead! (After he sent the picture, he called me three times back-to-back. I didn't pick up.)
THAT'S RIGHT! MRS. VERUMLEM KLEITH IS A MAN AND ALSO A POLICE OFFICER!!
Whodathunk?
(The VERY attractive man in this picture is a police officer in Gainesville, FL who became an internet sensation when he posted a post-hurricane photo. He's easy to find with a quick Google search.)
This was just too rich an opportunity to leave alone.
While I was stringing him along, telling him I had also met the children in the picture (and even dropping a reference to Gainesville in to let him know I was on to him) my son was quickly tossing together a photo for  my response…
Let me blow these up so you can truly appreciate them!
He had the nerve to ask, "What are you?"
Any American knows an astronaut when they see one. Sheesh, MRS. VERUMLEM KLEITH. You're man enough to go by a woman's name, work two jobs, look fantastic, AND visit classrooms to help shape the minds of the future, and you don't know an astronaut when you see one?
I'm  losing respect for you, Ma'am… or Sir.
"Do you think I'm stupid?"
"Absolutely"
Now he knows that I have been toying with him and he's pissed. Here come the threats.
First, he wants to let me know that he knows who I am and where I live (but he had the wrong address, right town).
He's hot under the collar for sure.
Don't be alarmed by his threats. When scammers fail, they like to threaten people in the worst possible ways.
I would normally stop my post here, but I do think it's important to show any of you who might decide to tangle with one of these folks just how quickly things can go sideways.
Please pardon the overlapping conversation in this final shot. It's the only way I could get my parting remarks in-frame.
Please don't worry about me! This is not my first time riding a scammer in the Great Con Rodeo.
That said, I would never do this with anyone who I knew or thought to be stateside. As I said, one of my reasons for posting this is to demonstrate how crazy these scammers can be.
Stay safe out there, RRRebels! We love you and we've got your back!!

PLEASE SHARE this post – turn your friends into Rat Race Rebels!