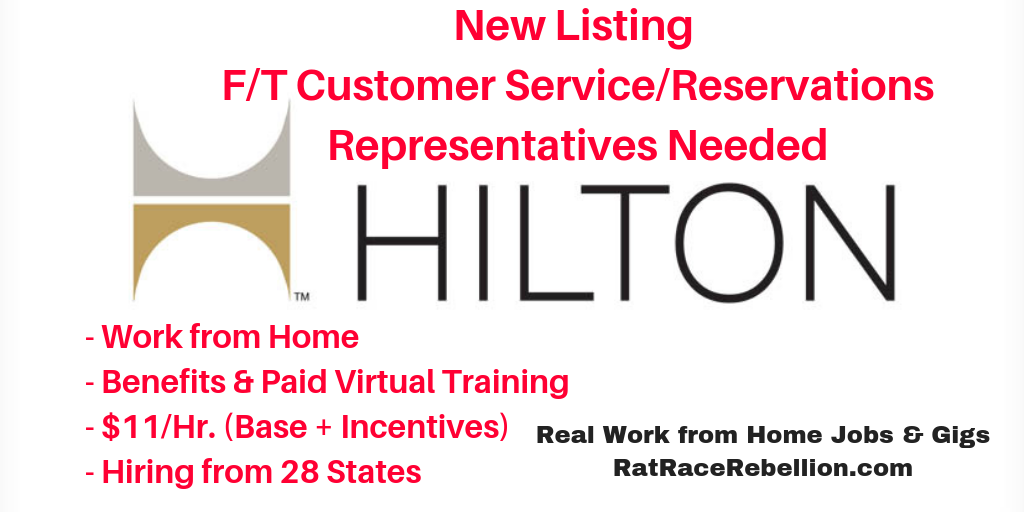 By Mike Haaren – Rat Race Rebellion Co-Founder – Dec. 4, 2018
Work from Home Jobs – Hilton Hiring Again – F/T Reservation Sales/Customer Service Associates – Benefits – Some Equipment Provided – Paid At-Home Training – Earn Up to $11/Hr.  
*** Short Fuse Alert — These jobs usually fill fast, so apply or share quickly if interested!
Hilton just posted that it's hiring full-time Reservation Sales/Customer Service Associates. Benefits, virtual training, some equipment included. In this job you'll be booking reservations for Hilton customers via inbound calls.
Per Hilton, "In this role, you will engage directly with Hilton guest as a specialist in sales/reservations and customer service. The Guest Engagement Specialist is a work from home role within Hilton's Reservation sales and customer support team and is perfect for someone with strong communications skills that can easily switch focus from solving problems to selling Hilton."
Pay Rate Up to $11/Hr.
Update — RRR Facebook members report a base pay rate of $11/hr. (recently raised). Hilton's job FAQs — which we assume are pending an update — report a base rate $9/hr., with up to $2/hr. more with incentives.
Hiring States
For these openings, Hilton is hiring from Alabama, Arkansas, Delaware, Florida, Georgia, Idaho, Indiana, Iowa, Kansas, Kentucky, Louisiana, Michigan, Mississippi, Missouri, Nebraska, New Hampshire, New Mexico, North Carolina, Ohio, Oklahoma, Pennsylvania, South Carolina, Tennessee, Texas, Utah, Virginia, Wisconsin and Wyoming. (If you live in a different state, don't despair — you'll find more jobs on our Daily Jobs & Gigs page.)




Some Equipment Provided
The company provides the following:
Thin-Client/Mini PC
Keyboard
Mouse
VoIP Headset compatible with Thin-Client
Flash drive
Ethernet cable
Requirements
Requirements include a HS diploma or equivalent, three years' steady job experience in a customer service-oriented and/or sales role, plus one year's experience in a role where you had to meet goals and do some cross-selling and upselling, and/or negotiate and overcome objections.
Extra points for any of the following:
— You've worked from home before
— You've taken virtual training before, with self-paced modules
— You have experience in the hospitality industry
Benefits
Employees give high marks to Hilton's benefits, including the deep discounts at Hilton resorts and hotels worldwide. Quoting from Hilton's site, benefits include —
— Competitive starting salary
— Team Member and Family
— Travel Program
— Employee Assistance and
Educational Assistance Programs
— Vacation or Paid Time Off (PTO)
— Health & Welfare benefit plans
— Retirement Savings Program




Primary Responsibilities (In Hilton's Words)
Deliver excellent service by answering back-to-back calls throughout your shift and responding in a friendly, timely, and consultative manner, using discovery principles to uncover the customer needs and matching to the appropriate Hilton offering or solution.
Develop an understanding of Hilton and partner offerings (e.g. timeshares, car rentals, credit card, etc.), and then utilize that knowledge to maximize revenue through consultative selling.
Demonstrate competency proficiency combined with meeting specific sales and customer service goals and metrics daily. Examples of required metrics and competencies include: customer satisfaction scores, revenue generated per call, upselling, cross-selling, first-call resolution, communication, good judgment, and customer focus.
Demonstrate a high-level of accountability and engagement by identifying areas of opportunity to improve the customer experience and driving recommendations/solutions that improve every interaction.
Display an ability to tactfully acknowledge service failures and identify service recovery options in order to maintain customer loyalty.
Build appropriate connections and trust with the customer to effectively counteract objections through negotiating and/or upselling and cross-selling.
Utilize various resources that provide information on the property (e.g. location, promotions, transportation, etc.) to offer clear and accurate details to customers.
Effectively use tools to respond to customer inquiries, including (but not limited to) reservation requests, Hilton Honors account/promotional information, service/stay related concerns, etc.
Be receptive to feedback and apply performance improvement suggestions quickly.




To go to the job listing, click here. For Hilton's job FAQs, click here and scroll down. To be the first to hear about jobs like these, like our Facebook page. Facebook members also share tips on applying for jobs and their experiences with the companies we cover. Good luck in your work from home plans!
PLEASE SHARE this post – turn your friends into Rat Race Rebels!