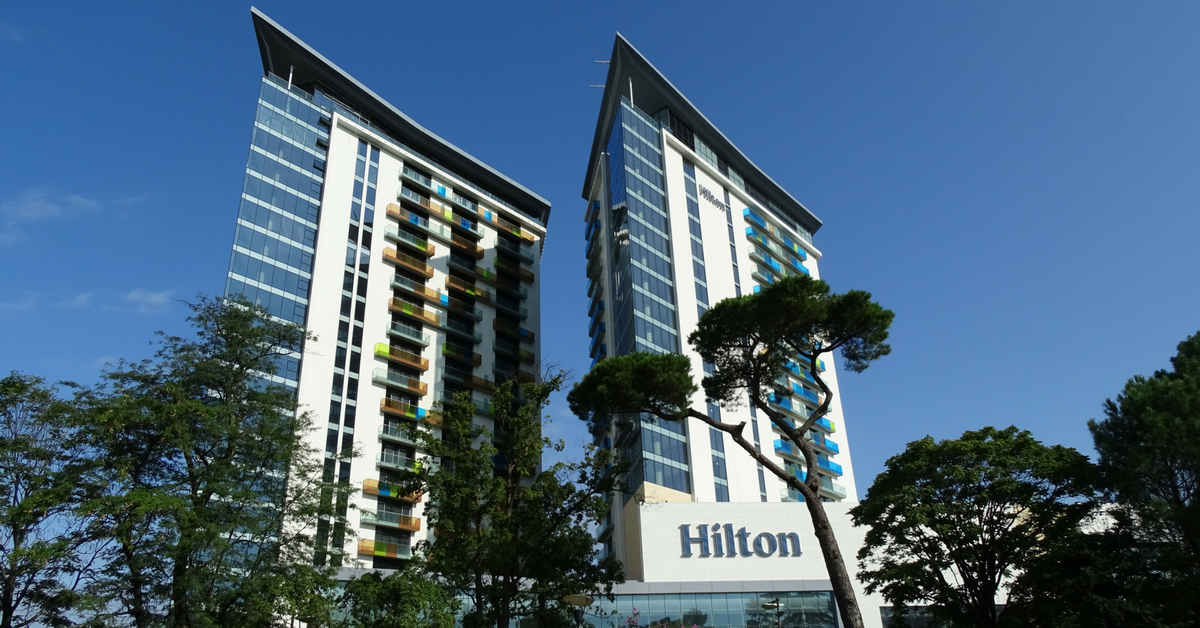 By Mike Haaren – Co-Founder – May 21, 2017
Work from Home Jobs – Hilton Hiring Again – F/T Reservation Sales Associates – Benefits – Virtual Training – Earn Up to $14/Hr. – Hiring from 29 States – These jobs usually fill fast, so apply or share quickly!
[Update May 24, 2017 — Looks like Hilton has received all the applications it needs and has taken the job down. We'll post again when it reopens. For more jobs like these, see our
Newest Jobs & Gigs page
.
Good luck in your work from home plans!]
Hilton just posted again that it's hiring full-time Reservation Sales Associates. Benefits, virtual training, some equipment included. In this job you'll be booking reservations for Hilton customers via inbound calls.
Pay Rate Up to $14/Hr., Hilton Says
According to Hilton's job FAQs, "Once mandatory training is completed, Specialists are eligible to participate in Hilton's iEarn incentive program. Base Pay + Performance Incentives for top performers have the potential average of $11.00 to $14.00 per hour."
As for the base pay, RRR Facebook members report $9/hr. For example, "Started training yesterday, so far I love it! Lots of perks!" Phoebe Rhoades posted to our page May 9. "Starting pay $9 with opportunity to make more with the sales aspect."
Hiring States
For these openings, Hilton is hiring from Alabama, Arkansas, Delaware, Florida, Georgia, Idaho, Illinois, Indiana, Iowa, Kansas, Kentucky, Louisiana, Michigan, Mississippi, Missouri, Nebraska, New Hampshire, New Mexico, North Carolina, Ohio, Oklahoma, Pennsylvania, South Carolina, Tennessee, Texas, Utah, Virginia, Wisconsin and Wyoming. (If you live in a different state, see our Newest Jobs & Gigs page for more job choices.)
Equipment Provided
The company provides a desktop terminal/hard drive, keyboard and mouse, headset compatible with hard drive, flash drive, and Ethernet cable.
Requirements
Requirements include a HS diploma or equivalent, and one year's experience in a customer-oriented and/or sales role. Plus six months' experience in a role where you had to meet goals and do some cross-selling and upselling, and/or negotiate and overcome objections.
Extra points for any of the following:
— You've worked from home before
— You've taken virtual training before, with self-paced modules
— You have experience in the hospitality industry
Benefits
Employees give high marks to Hilton's benefits, including the deep discounts at Hilton resorts and hotels worldwide. Quoting from Hilton's site, benefits include —
— Base Salary + iEarn incentive Program
— Medical, Dental, and Vision Insurance
— Hilton 401 (k) Retirement Plan with Company Match
— Exclusive Team Member Travel Discount Program
— Paid Time Off
— Recognition & Development Programs
— Leadership Opportunities
To go to the job listing, click here. For Hilton's job FAQs, click here and scroll down. To be the first to hear about jobs like these, like our Facebook page. Facebook members also share tips on applying for jobs and their experiences with the companies we cover. Good luck in your work from home plans!
PLEASE SHARE this post – turn your friends into Rat Race Rebels!