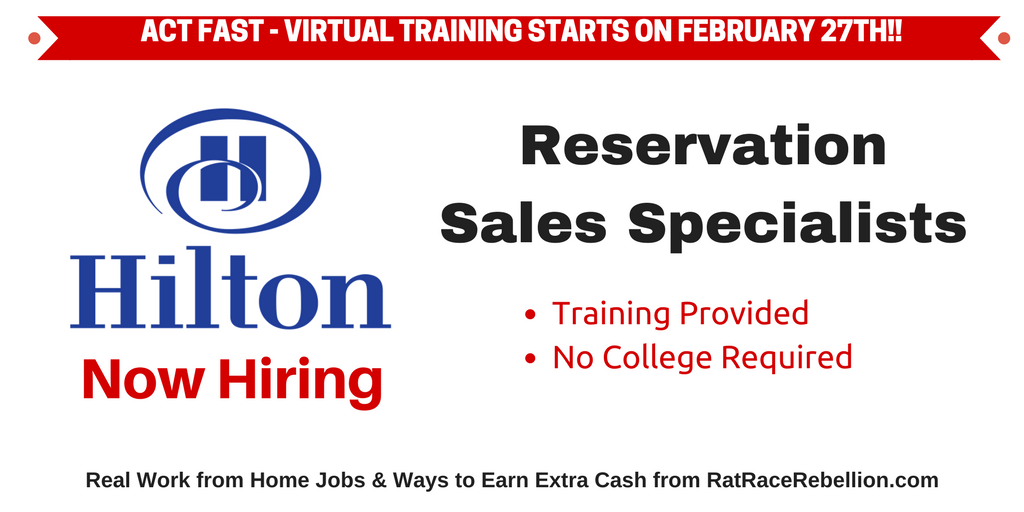 by Chris Durst    Jan. 26, 2017
VIRTUAL TRAINING BEGINS FEBRUARY 27TH – ACT FAST!
Hilton is now hiring "Diamond Desk Coordinators" for full- or part-time. All training is provided virtually!
Here are the details from their site:
A Diamond Desk Coordinator is responsible for answering incoming telephone calls and providing specialized sales and service solutions that meet the needs of our Diamond Members.  Coordinators are expected to use effective sales and engagement techniques to optimize revenue, foster increased member loyalty, and deliver superior service.   Coordinators assist Diamond members with all aspects of making, modifying, and canceling room reservations and provide specialized service to assist members with managing their HHonors accounts.  Coordinators are also responsible for documenting or resolving other service or stay related issues as required.  Coordinators are responsible for meeting revenue, customer satisfaction, and productivity targets.
What it's like to work for Hilton Reservations and Customer Care:
Hilton Reservations and Customer Care is reinventing the contact center. We're no longer the typical brick and mortar call center – instead, think mobile, chat, and customer insights – with a majority of our U.S. based team members working virtually. In today's digital world, we value human hospitality, and are innovating to lead the way in providing a customer-centric experience for our guests.

In addition you will: 
Greet Diamond members and other guests in a friendly, engaging manner using clear, verbal English communication.
Provide reservation sales services and Hilton HHonors account services through the use of a computer reservations system and other applications while maximizing revenue for the Hilton family of brands.
Use effective sales techniques to meet guests needs and maximize revenue
Effectively overcome barriers to satisfy guests
Consistently meet or exceed target for sales conversion and average daily room rate
Offer ancillary products or services as required
Builds trust with guest by listening and asking engaging, needs-based questions
Uses appropriate resources to offer effective solutions that meet the guests' travel needs
Reads, retrieves, communicates and verifies reservations or account details as required
Makes sound decisions to resolve issues at the first point of contact
Key Performance Indicators of this role are:
Strong ability to identify key information from a conversation that is non-specific or incomplete to determine guests' needs and preferences
Proven ability to understand and appropriately acknowledge the importance of a customers' request or problem to build trust and confidence
Able to effectively match the features and benefits offered by each hotel brand to the needs of each guest

Job Requirements:
Met required monthly KPI's for the past 90 days.
High School graduate or equivalent qualification required
Minimum 90 days experience in current position.
Excellent communication skills (verbal and written) skills with the English language.
Outstanding customer service and customer engagement skills
Excellent interpersonal skills and ability to collaborate with others and act in an objective manner in order to effectively solve problems and stay on track towards accomplishing organizational goals to generate reservations and continued guest loyalty Proven ability to effectively resolve difficult situations.
CLICK HERE FOR FULL DETAILS AND TO APPLY!
PLEASE SHARE this post – turn your friends into Rat Race Rebels!