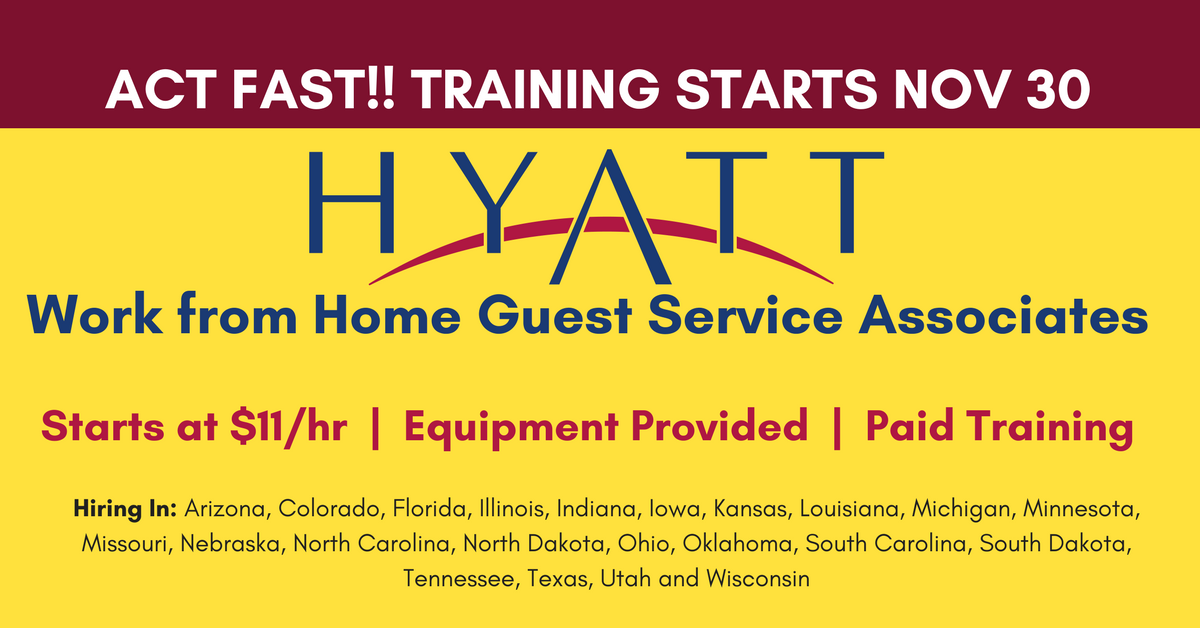 By Mike Haaren – RRR Co-Founder – Nov. 3, 2017
Work from Home Jobs – Hyatt Hiring Again – Short Fuse Alert – Apply or Share Quickly if Interested, These Jobs Go Fast – Equipment Provided
Update Nov. 6 — Hyatt has removed the job listing, but Hilton is hiring. Apply or share ASAP if interested. These jobs will fill fast, too!
***
Hyatt just launched their next round of hiring for f/t Guest Service Associates. Virtual training begins Nov. 30, 2017. It's also expanded the number of states it's hiring from, going from 13 to 22.
For this round, Hyatt is hiring from Arizona, Colorado, Florida, Illinois, Indiana, Iowa, Kansas, Louisiana, Michigan, Minnesota, Missouri, Nebraska, North Carolina, North Dakota, Ohio, Oklahoma, South Carolina, South Dakota, Tennessee, Texas, Utah and Wisconsin. (If you don't live in one of the listed states, don't despair — check our Newest Jobs & Gigs page for more leads like these!)
Starting pay is $11/hour and there are performance-based increases at set intervals throughout the year.
Equipment provided: Hyatt provides a computer, IP phone and amplifier, and a headset.
Here's what they have to say about the role:
"Home Agent Guest Service Associates will provide Hyatt guests with exceptional customer service throughout the inbound reservation process. Home Agent Guest Service Associates must have high speed internet access and a quiet, secure workspace. Strong verbal and written communication skills, the ability to work independently, and have the aptitude and ability to successfully perform in a sales role, in union with a high degree of customer service orientation. A Home Agent Guest Service Associate must multi-task (talk, type, search multiple screens) without impact to the guest. Must be computer savvy and have the ability to type and utilize keyboard functions to navigate multiple programs and screens quickly and accurately.
Adaptability to change, resilience and open-mindedness
Reliable and dependable
Highly sales focused
Highly customer service focused
Enhances the brand and does not detract from the brand
Needs to fit with our learning style – more of a self- study environment
Willingness to provide feedback to management
Self-motivated, requires little supervision
Self-disciplined and self-managed
Needs to be computer/technology savvy- our future focus will become even more reliant on technology
Cognitive ability to learn and process new information and choose appropriate action. This also includes:

Situational judgment
Reading comprehension skills
Advanced interpersonal skills (professionalism, respect/empathy, social aptitude, friendly disposition, positive attitude, patience)
PAY SCHEDULE: Begin your new career at Hyatt. Earn $11.00 per hour. Watch your wage grow with performance based increases at set intervals throughout the year.
Preference will be given to applicants with experience handling customer service related calls in a home environment. [End of quote from job listing.]
Click here for more details and to apply. For more jobs like these, check our Newest Jobs & Gigs page. To be the first to hear about jobs like these, like our Facebook page. Good luck in your next steps toward working from home!
PLEASE SHARE this post – turn your friends into Rat Race Rebels!