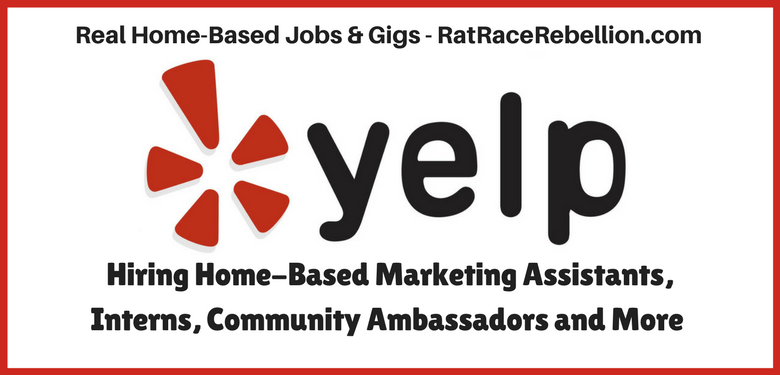 By Mike Haaren – Co-Founder – March 24, 2017
Work from Home Jobs – Brand Ambassadors, Marketing Assistants and More
Yelp, the well-known site for reviews and local activities, is hiring for a range of home-based or cafe Wi-Fi-based jobs in various cities in the US and Canada. If you're outgoing, a good communicator, know your community well and love to make things happen, a Yelp job could be a good fit.
Open positions include:
Brand Ambassadors – In this role you'll be getting the word out about Yelp in your local community. "Yelp is organizing a team of Brand Ambassadors to support our on-site promotions at local festivals, fairs and events. Brand Ambassadors will work specified Yelp events as needed on an independent contractor basis."
Community Managers – "Community Managers are driven, self-motivated, charismatic, and organized as they're tasked with wrangling a slew of to-dos both on and offline, from writing and moderating to party planning and ringleading!"
Marketing Assistants and Interns – Marketing Assistants and Interns play a key role in supporting activities to pep up the Yelp community online and off-. "Community Managers in over 100 Yelp communities are responsible for marketing, PR, other social media outlets, event planning, e-newsletter campaigns, and various odds and ends on the local level — but they can't do it alone!" This is where you step in.
Community Ambassadors and Expansion Ambassadors – In these roles "you'll be a part-time, fixed-term Yelp employee….at the helm of a vibrant, buzzing community of locals who drink, shop and play their way through the city via peer recommendations on Yelp."
Employee reviews of Yelp score pretty high. Reviews on Glassdoor give it 3.5 stars out of 5. On Indeed it gets 3.8. To go straight to the jobs, click here. For salary information, which isn't given in the job listings, check Glassdoor and Indeed. For more home-based jobs and side gigs, see our Newest Jobs & Gigs page. Good luck!
PLEASE SHARE this post – turn your friends into Rat Race Rebels!