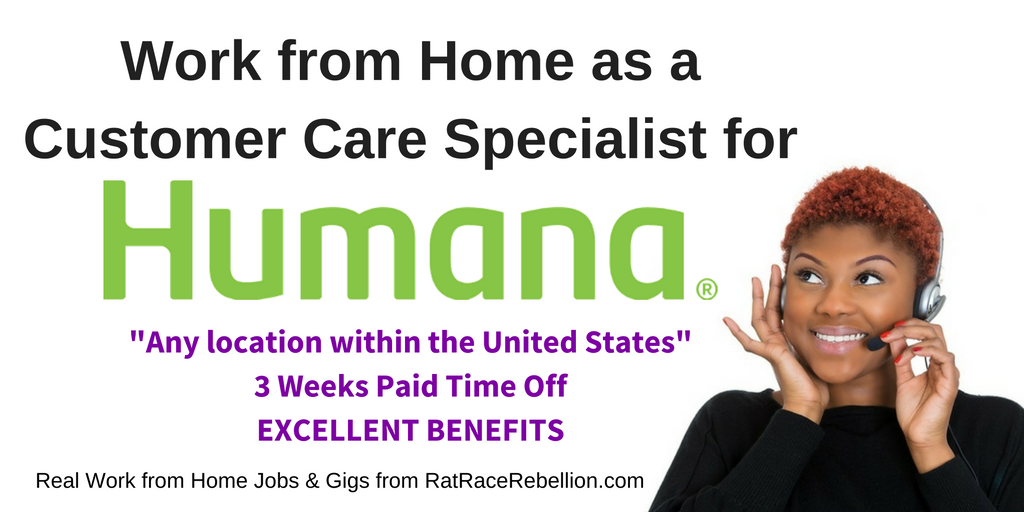 UPDATE: 10:33AM (EST) NOV 8, 2016 – HUMANA has just removed this posting because they have enough applicants at this time. If you are interested in work from home CUSTOMER SERVICE positions, please visit our Call Center & Customer Service page for other options. ~ Chris 
by Chris Durst    Nov. 7, 2016
Location: "Any location within the United States"
Humana is looking for "associates dedicated to service, and who believe in following the golden rule: treat others the way you want to be treated."
The position involves responding to questions, handling issues and providing guidance to internal and external customers.
Receive, document and resolve customer inquiries by using established best practices

Build lasting relationships with Humana's customers

Educate customers, providers and employers about Humana's products and services over the telephone

Role Essentials
High School Diploma or G.E.D.

You must be available to work between the hours of 7 A.M. and 8 P.M (Central Standard Time) Monday-Friday. Shifts can change based on business needs

Strong written and verbal communication skills

Strong typing and computer skills

Ability to work independently with little to no supervision

Exhibits agility, adaptability and openness to new ways of thinking and operating

Proficiency in  Microsoft Office Programs, including Word, Outlook, and Excel

Ability to demonstrate patience and empathy for our members

Capacity to maintain confidentiality

Must have a separate room with a locked door that can be used as a home office to ensure continuous privacy while you work

Must have accessibility to high speed DSL or Cable modem for a home office (Satellite internet service is NOT allowed for this role); and recommended speed for optimal performance is 5Mx1M

The following benefits are offered with Humana and for this role:
REACH (bonus program)

8 hours of paid VTO (Voluntary time off) time to contribute to your favorite volunteer community service event

Advancement opportunities

Extensive Benefit package that starts your 1st day of employment

3 weeks of accrued PTO (Paid time off) in your 1st year of employment

Earn cash/gifts/discounts through Humana Vitality – a wellness and rewards program
Click here for full details and to apply.
PLEASE SHARE this post – turn your friends into Rat Race Rebels!