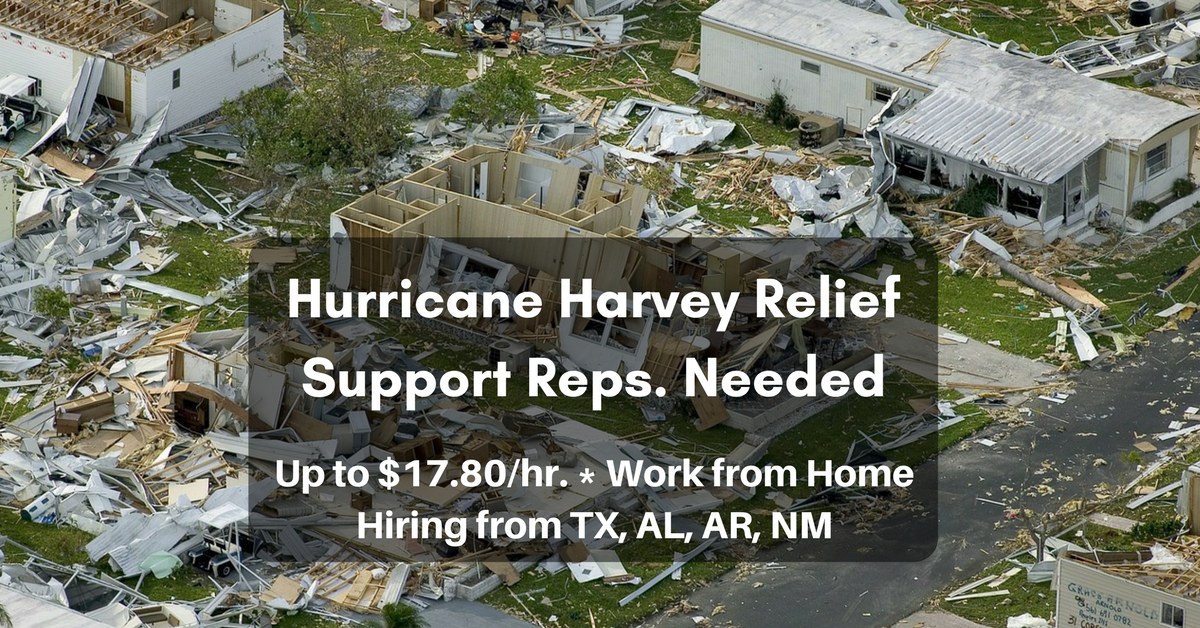 By Mike Haaren – Co-Founder – Sept. 5, 2017
Work from Home Jobs – Hurricane Harvey Relief Support – Customer Service Reps to Help Victims
Update Sept. 6, 2017 – Looks like TeleTech has received all the applications it needs, and the remote jobs have been removed. Good luck to those who applied! For more jobs like these, see our Newest Jobs & Gigs page. If you missed the TeleTech jobs, be sure to like our Facebook page  and check your feed for our posts. We post to Facebook immediately when we put up new jobs and gigs. May you be working from home soon!
***
If you'd like to help the victims of Hurricane Harvey, TeleTech needs people immediately. You'll be helping connect hurricane victims to support organizations for emergency assistance and other help. This could involve damage to homes or cars, lost pets, family members who can't be found — the gamut of distress that comes from a catastrophic storm.
You'll be providing assistance via phone, chat, email and possibly social media, too.
Pay
Pays up to $17.80/hr., which includes a base wage and a payment in lieu of fringe benefits. Overtime is paid at 1.5 times the base wage. Pay varies by your location. Per the company, the lowest rate is $15.08.
Hiring Locations
These jobs are available in the following areas: Houston, TX; San Antonio, TX; Alamogordo, NM; Ft. Smith, AR; Irving, TX; and Andalusia, AL.




What You'll Be Doing
In the company's words:
— First and foremost, listen. Put yourself in their shoes. You may have just lost your home, your car, maybe even a beloved pet or even family member. Your ability to be empathetic and patient is key to helping them on the road to recovery.
— Helping individuals register for assistance through phone, live chat, email or even social media.
— Provide referrals as needed for secondary support organizations and agencies.
Requirements
Quoting from the job listing, you'll need
— Amazing empathy and patience
— Superior communication and customer service skills exhibiting a high level of both empathy and professionalism
— Strong computer literacy
— US citizenship and to be at least 18 years old




Employee reviews on Glassdoor give TeleTech 3.2 stars out of 5. To go the jobs, click here. Under "Location," look for "Remote." For more jobs like these, check our Newest Jobs & Gigs page. We post new leads every morning except Sundays. To get our job postings ASAP, like our Facebook page  and check your feed for our posts. May you be working from home soon!
PLEASE SHARE this post – turn your friends into Rat Race Rebels!