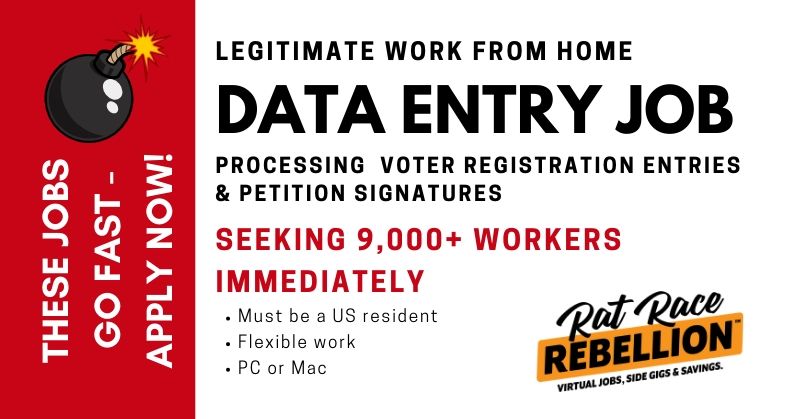 by Chris Durst          Jan. 31, 2020
FEB. 3, 2020  10:54 AM EST: THIS POST HAS BEEN UPDATED WITH NEW, EASIER-TO-QUALIFY SYSTEM REQUIREMENTS. PLEASE READ OUR NEW POST HERE!
Sigtrack just reached out to let us know they have an IMMEDIATE NEED FOR 9,000+ of WORK FROM HOME DATA ENTRY contractors. Set your own schedule.
Apply or share quickly if interested — Legitimate work from home Data Entry opportunities are rare and disappear fast. You must be a US RESIDENT to do this job, but may not reside in California or Massachusetts.
You'd be checking and processing petition signatures and voter registration forms for various campaigns in the US. For pay, according to RRRebel Sheena B., "I did it for quite some time. When there's a lot of jobs available (like now) it actually pays really good." But it takes time to get up to speed and be accurate, so initially you won't make as much.
Per the company, "If the base value of a day's work is $120, you'll earn the following: $108 with 99% accuracy, $96 with 98% accuracy, $84 with 96% accuracy," etc. Pay is weekly.
INSIDE INFORMATION Per our contact in the company, "If your accuracy is consistently 98% or better and keep your productivity high, you automatically qualify for a peer review role with even greater earning potential."
Following are some details from the company:
"Requirements:
By various election laws, you must be a U.S. resident to do this work. (Not currently contracting with residents of CA and MA.)
You must have a PayPal account.
Your computer must be running Windows Pro Edition or higher, or MacOS 10.12 or later.
A dual monitor setup or 4k monitor is HIGHLY recommended. A tablet such as an iPad can be used as a second monitor.
How To Sign Up:
Take a 3-second video of your drivers license or state ID next to your face. Let the camera focus on the text of your ID, because we need to be able to read it if ever audited. Email the video to [us].
System Requirements:
Windows Pro Edition or higher, or Mac OS 10.12+
dual monitors
high speed internet
Click here for full details and to apply. For more information on pay, click here. For more jobs like these, check our Newest Jobs & Gigs page. To be the first to hear about jobs like these, like our Facebook page. Good luck in your next steps toward working from home!
PLEASE SHARE this post – turn your friends into Rat Race Rebels!
[social_warfare]