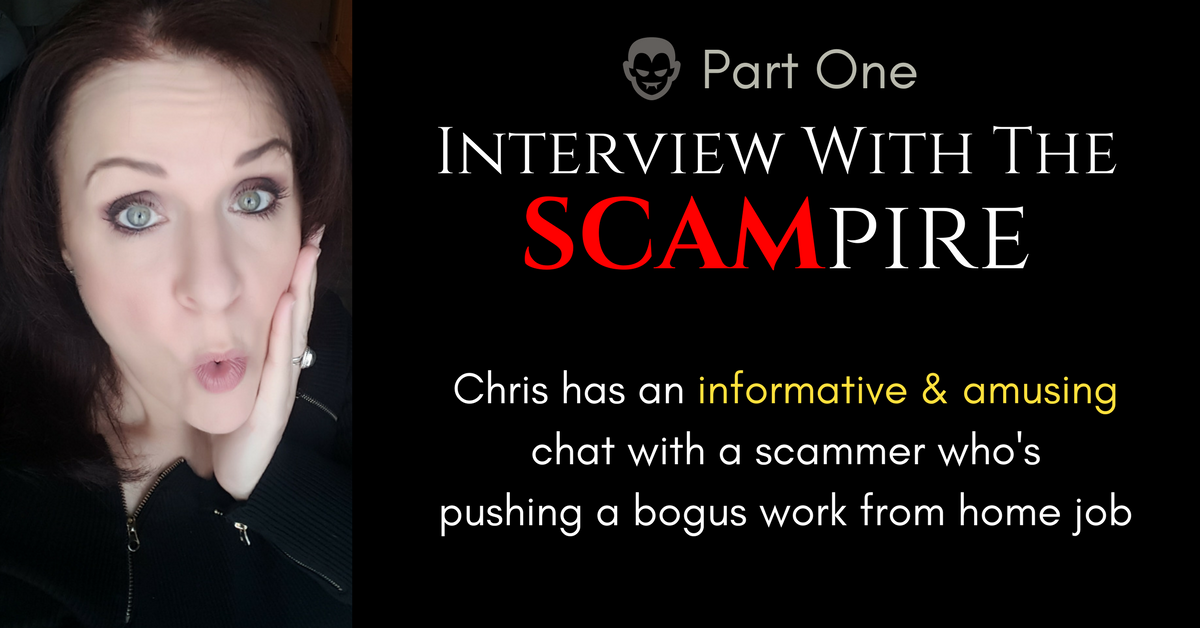 Screened Ad: Video Watchers – Swagbucks: Get cash for watching vids or using Swagbucks' search engine (powered by Yahoo) for your searches. $5 signup bonus. One more legitimate extra-cash option.
by Chris Durst      Aug. 28, 2017
Those of you who have been here for a while know how much I like to toy around with scammers. There's just something enormously satisfying about stringing them along and giving them false hope while they think they're, well… stringing ME along and giving ME false hope.
A couple of days ago, a job seeker forwarded to me an email she received from a scammer. The email read:
From: ALISA MARK [mailto:[email protected]] Sent: Friday, August 25, 2017 10:25 AM

Please start application process (for SANTEN PHARMACEUTICAL CO.LTD) by entering this web address Google.com/hangout and download the google hangout( Chat ) when done downloading the hangout you are required to login into your google hangout(chat) Gmail and contact the hiring manager Mr Ronald Miller via ([email protected]) added to your Google chat (Hangout) and send the hiring manager a message to enable him get your request so that he can proceed with the interview / Job briefing. A fast and timely response will be appreciated…THANKS.
NOW… there are a few things that stand out in this message:
The "From" email address is a Gmail address. Real companies have websites/domains and use email addresses that include that domain – for example, "[email protected]" or "[email protected]";
Santen Pharmaceutical Co is a legitimate company. Unfortunately, scammers commonly use the names of real companies to gain the confidence of their victims;
The writer of this message clearly does not speak English as a first language – "please start [the] application process"; "and download[ing] the [G]oogle [H]angout" (the writer keeps referring to Google Hangout as "the hangout")… anyway, the original email and all of the chat messages that follow are loaded with errors;
Oh, and did you notice it's all one sentence?! Seriously, with the exception of the final few words, it's all one sentence – completely devoid of punctuation;
The final sentence begins the application of pressure – "a fast and timely response" – that's so common in these types of scams.
Screened Ad: Get Paid to Watch Movie Previews – InboxDollars: Work from anywhere.
SO… I decided to reach out to "Mr Ronald Miller" myself to see what would unfold.
Remember, they did NOT contact me and have no record of me, so they are NOT expecting any communications from me.
REAL companies don't just interview anyone who sends them a message. Scammers, on the other hand, will take money from anyone willing to part with it.
FRIDAY AFTERNOON – AUGUST 25th
Here's my initial Google Hangouts (chat) contact with the scammer (Notes in red text are my thoughts on the conversation and were not sent to the scammer.):

[Me] Hello, Mr. Miller. I was told to contact you about the job at SANTEN PHARMACEUTICAL
[Scampire] You are welcome
How are you doing today?
[Me] I am well, thank you. How are you?
[Scampire] Am fine and thanks
Are you ready for a briefing and interview session now? you will get to know about the company and what the responsibilities entails. (This clown hasn't asked me for my name or anything else – he's just ready to launch right in to the "briefing and interview.")
[Me] Yes. Please begin. (I would NEVER say such a thing to a real employer, I just like to do things to scammers that would end a real interview. Push their buttons a bit.

[Scampire] Alright
CORPORATE HEADQUARTERS
Grand Front Osaka Tower A,
4-20 Ofuka-cho, Kita-ku,
Osaka 530-8552, Japan
Here's is the company's website (http:www.santen.com/en/) you are required to use 5 minutes of your time to read more about the company and once you are done let me know for us to proceed further with the interview okay?
[Me] OK.
Interesting company.
So this is an R&D company that specializes in the production and marketing of pharmaceuticals and medical devices – with an emphasis on opthalmology? (Razzle dazzling him with my newly acquired knowledge of the company, and showing interest by asking a question which, as you will see, is completely ignored. Scammers of this type use pre-written comments so they can have "copy & paste" conversations with the MANY victims they are wooing at the same time.
[Scampire] Acknowledged
Before we proceed I would love to know more about you. That would help me to categorize you and how best to interview you. I am Mr Ronald Miller, I am the Interview Manager to (SANTEN PHARMACEUTICAL CO.LTD). I am here to brief and interview you more about the opening position, Please introduce yourself and indicate your age(optional) and location. (Don't get me started on the grammar and punctuation! Yikes!)
Screened Ad: Get Paid to Answer Simple Questions – Ipsos i-Say: Answer simple opinion questions for points redeemable for rewards like PayPal cash or a wide variety of gift cards. Another legitimate extra-income option.
[Me] Yes, I am based in Connecticut and I have decades of experience in administrative support roles.
My name, is Christine Durst.
[Scampire]  Noted
THE POSITIONS AVAILABLE ARE : Accounting Manager, Accounting Payroll,Office Clerk, Administrative Assitant,Book keeping, Customer Service, Data Entry,Typist Clerk.
Which of the above listed positions do you think you will fit in ?
NOTE: You would be trained for any of the position if hired.
[Me] I am qualified to work in any of these areas but, given my choice, I would select either Data Entry or Customer Service.
[Scampire] Noted
(Long wait…)
[Me] You seem distracted. Would you prefer to conduct this interview at another time? (Trying to push his buttons and see what happens.)
[Me] Helloooooooooooooooooooooo!
[Me] Echo… echo… echo…
[Scampire] This is strictly an online and work from home job the working hours are flexible and you can choose to work from anywhere of your choice,the pay is $18 per hour and during full working hours and the training is $8 per hour and will be getting your payment weekly via check or direct deposit working 25 to 30 hours weekly,if you are employed you are going to be working as a full employee and not an independent contractor.
We believe working from home is not an issue for you if hired?
[Me] That is correct.
[Scampire] Noted
Working hours are flexible,all activities and corresponding time are to be recorded in excel spreadsheet. As for your duties, i will assist you with any difficulties by email…understood ?
[Me] Yes, understood. Loud and clear. Over.
[Scampire] JOB RESPONSIBILITIES:
Filing.
Data entry.
Email handling.
[Me] Noted
[Scampire] Can you handle those duties effectively ?
[Me] Indeed I can. You. won't. believe. how. wonderful. I. am. at. all. those. things!. (Making fun of his "period after each word on the list. Let's see if he catches it.)
[Scampire] Alright (Apparently. not. 😉 )

The supervisor, who would be attached to you online, (Wait! Someone's going to be "attached to me"?! I'm not sure how I feel about that!) he/she would assign logs of duty daily and you would be required to work according to instructions, using the microsoft office tools and the accounting software. Now the function of the accounting software is to arrange, formalize and manage the data you have processed, sent to your supervisor via E-mail.
You will undergo a one week training from your training supervisor,he will training you ("he will training you" – I assume "he will monitoring" me and "he will speaking me" too) on how to work with the programs accurate and other data entry works you will need to get done.Your training is going to be done online through your pc and phone.
You'll earn $18 hourly and $8 for training , you will receive your pay via direct deposit or pay check weekly or Bi-weekly if hired okay?
Screened Ad: Get Paid Up to $50 to Download Nielsen's App – Nielsen (The TV/Radio ratings company) – "For each mobile device you register you will receive up to $50 a year," the company says. For consumer trend data, Nielsen will pay you to install an undetectable app on your smartphone, computer or tablet. The app follows your web use. Your name is separated from the data, and devices run as usual. User IDs and passwords are not collected, the company adds.
[Me] Yeah. I hear you, but the training wage is a bit low. Can we make it $9/hour instead? (Couldn't resist.)
[Scampire] Thats the wages at the moment okay?
[Me] Hmmm… it will have to suffice I suppose.
[Scampire] Certainly yes (Read that, "Greedy American! I will enjoy stealing your money!")
[Me] OK
[Scampire] Alright
Before we get started with the interview session i would like to know if you have any question at the moment.
[Me] I do not. Please proceed.
[Scampire] Alright,Am going to ask you some few question now okay?
[Me] Of course.
[Scampire] Alright
[Me] I'm ready. Hit me!
[Scampire]
1•Have you ever had any experience working from home or online before ?
2•Are you currently employed ?
3•Will you be able to devote 5 hours of your time to Our company …,that is if you are given the chance to work with us? (5 hours of time? Per day, per week, per year – my choice?)
4•What do you understand by privacy and code of conduct ?
5•In your current or last position, what were your most significant accomplishments ?
6•How hard working and productive will you be for our company when you start working with us ?
7•How would you like to be Paid ? Weekly Or Bi-Weekly.
8•What means of Payment do you prefer ? check OR Direct Deposit ?
9•What is the name of your Bank you Operate with to see if it tallies with the company's official salary payment account?
[Me] 1. Yes, I do have experience working from home and I have a lovely office where I will be able to handle your work. Probably much nicer than your office in fact! Not that I'm bragging, but it's an absolutely bitchin' office! But don't be jealous – I still respect you.  (Love throwing sarcasm in my responses just to see if he's even reading them.)
2. I am self-employed, but can work whatever hours you need me for.
3. Yes, I am able to devote 5 hours of time to your company.
4. I have a thorough understanding of business ethics, conflict of interest, work from home scams and other privacy matters.
5. I was able to help the company retain a major client who was considering moving to a major competitor by telling him my boss would give him his first-born child. (LOL! Surely he'll notice this.)
6. As my grandfather used to say, I'll work harder than a cat burying sh** on a tin roof. (Yeah, he seriously used to say that and, as I kid, I thought it was one of the funnies things a grown up could say. Perhaps the scammer will be amused.)
7. I prefer to be paid weekly but, as you have already said you pay bi-weekly, I think this is all a bunch of bull and bi-weekly will be fine.
8. I prefer payment via hand delivery by private messenger.
9. I currently have accounts with Bank of America as well as a smaller institution.
[Scampire] All question answered are noted okay?
[Me] OK. You're a fast reader. Well done, man. Well done.
[Scampire] Alright
[Me] OK (He always says "alright" right after I say "OK" so I wanted to see if he'd keep the word volley going!)
[Scampire] Alright
[Me] Alright already. OK?
Screened Ad: Survey Takers – PineCone Research: Earn $3 per survey (15-20 mins., typically). This is one of our top survey site picks. They may also send you free products to test.
[Scampire] You will undergo a one week paid training and the company will provide you with materials to setup a mini office in your house and your W4 form will be coming along with the working materials you need to start work if hired okay?
[Me] OK
[Scampire] (No "alright this time" – perhaps he is catching on.) Well, you have done well so far and you seem like a perfect fit for this position, I need you to hold on online because i need to forward our conversation to the Head Dept to enable them see if you are committed and good for this job. The review process will take 5-10mins…Standby and Make sure your IM is available Okay ?
[Me] OK. Alright. OK. Alright. See, I'm already making your job easier by anticipating your next line. I'm just that good. Hiring me will make you a hero in your company!
[Me] zzzzzzzzzzzzzzzz (He took a long time to answer, so I sarcastically sent these to indicate he was boring me.)
[Scampire] Are we connected? (Sigh. My insult was lost on him. Apparently he didn't recognize the well-known reference to sleeping and assumed we may have been disconnected. Onward and upward!)
[Me] Yeah. Whatever. (At this point I feel like I can say just about anything, since he's clearly doesn't care anyway.)
[Scampire] I have Positive news for you. You scored (82%) on the question's answered and for your consideration stand. (What exactly is a "consideration stand"?) Congratulations the company has decided to give you a chance for you to work for the company and will like to see your diligence,Charisma,Commitment to this job and be a productive employee.
[Me] How wonderful!  I am thrilled that we'll be able to continue this stimulating dialogue! (Whew! I was a little worried that my diligence, charisma and commitment didn't shine through in this interview. He's better than I thought!)
[Scampire] You are hired as an ADMINISTRATIVE ASSISTANT for SANTEN PHARMACEUTICAL CO,LTD okay? (Bear in mind, I was just hired without anyone ever asking about my skills or experience.)
[Me] Yep. OK. Do you advance employees from within? I would really like to be the company's Hiring Manager within a year. Is that possible? (Supposedly this is his role with the company. I figure I can do it better.)
[Scampire] You will Earn $18 per hour and paid $8 per hour for training. and you will receive your payment via Check or direct deposit.. You will recieve your duties online everyday and i will always be online to assist you with any difficulties.
In the mean time i need you provide me with the following requested info for documentation purpose.
Name :
Address : (PO Box not valid)
City :
State :
Zipcode:
Cell # :
E-mail address:
so that my secretary can put you on register, Once done let me know.
[Me] Christine Durst
33 Stockwood Mdws
Stockwood, CT 06281
860-XXX-XXXX   (Not my real address, I'll mention that to him in a later conversation if he wants to send me anything.)
[Me] Ding! Done!
[Scampire] Your information has been enlisted and updated…Congratulations you are welcome to SANTEN PHARMACEUTICAL CO.LTD . You are now given chance to show your commitment, charisma, diligence and be a productive employee. (This guy's obviously bowled over by my charisma! LOL!)
[Me] OK. I am fully committed to the charismatic and diligent completion of all assigned tasks.
[Scampire] During your training and orientation my supervisor's will reach you via e-mail or this Medium for your position offer-documents and your working papers. Also they will put you through our company's guildlines under US human Resources Laws and Regulations and also you will be following the company Policy procedures before you start working fully Ok?
[Me] Thank you, oh thank you. Thank you! I am forever grateful. You are my hero! No, my SUPER HERO!
[Scampire] Alright
[Me] Ok, I'm hungry. Are we almost done here?
[Scampire] We are about to round up with the interview okay?
[Me] OK. Thank goodness. I'm pretty bored now.
[Scampire] Alright
You will need some Data entry/Accounting software and also a time tracker to commence your training and orientation and also you need the software to get started with work…the work of the time tracker is to calculate your hours worked since this is an online work from home.
The company will provide you with all necessary software you will need to start work remotely okay?
[Me] Cool.
[Scampire] Here are the name's of the software you will need to start work remotely : Intuit QuickBooks Accounting Software,Sage Simply Accounting Accounting Software,Peachtree Complete Accounting Software,AccountEdge Accounting Software for Windows,AccountEdge Accounting Software for Mac,Sage 50 Premium Accounting 2013 (formerly Simply Accounting),Business2Go software,Bookkeeper software,QuickBooks Pro 2012 software,The General Ledger,software,9.5,Bottom Line Accounting software,Balance Sheet Basics software.. (THIS IS THE ROOT OF THE SCAM! Pay attention here! Cons like this involve the scammer sending you funds to purchase specific software from their "preferred vendor." The funds will be sent either by check/bank order/money order or, via their preferred method – an emailed check that you are told to deposit electronically via your bank's app directly into your PERSONAL BANK ACCOUNT.
Once you make the deposit, you'll be advised to IMMEDIATELY purchase the software from their vendor. You'll wire the money to the vendor or, in some cases, they'll ask you to deposit it directly into a bank account that "belongs to the vendor."
Bottom line – even though the funds will show up as AVAILABLE when you make the deposit, the bank will very shortly discover that the check or transfer is bogus. That means the money you withdraw to wire to the "vendor" is either your personal money (if you have a balance high enough to cover the amount you sent) or the bank's. Either way, you're up the creek and the scammer has your money.
[Me] That's a LOT of accounting software for a non-accounting position. Are you sure about the job title?
(Long silence…)
[Me] You should consider using commas and spaces when you chat. This message makes you look ridiculous.
(Long silence…)
[Me] Yep. OK. You can send it all to the address provided.
[Scampire] Noted
[Me] I'm tech-savvy so I will have no problem installing all of this.
[Scampire] Before you start work you will receive a payment(CHECK) you will be using this payment to set up your mini office by purchasing accounting software plus the shipping logistics,because we will be sending you some equipment you will be needing to start work ,immediately you get this payment you start work
You will receive a check very soon so i want you to be on look out for it,report online as soon as you have it so i can give you further instructions and i will refer you to the vendor you will be purchasing the materials from,Okay?
[Me] Wow! You have a lot of faith in me. You will send me a check and trust that I'll use it as intended? You're so freaking awesome! The world would be a better place if there were more people like you. And I would be rich!! 😉 (Again, this sarcasm is completely ignored.)
[Scampire] As soon as the check has been issued out to you I will notify you and provide you with the tracking number so you can keep track of it and know when it will be delivered to you okay ?
[Me] OK. I feel as though my humor is lost on you, my new best friend. (Maybe he's just shy. I'll keep trying!)
[Scampire] Once you receive the check you are needed to have it deposited to your bank account via the Bank Teller, ATM or your Bank Mobile App ,Then the funds will be credited and available in your account for cash out the next day morning..You are to deduct $100 as your sign up bonus and use the rest to purchase all your important software's and working materials from the trusted online Vendor whom we have been buying from for years now and the means of payment accepted by the vendor is via Cash Deposit, and Various Money transfer systems which i will provide you with the vendor's information you will be sending payment to.. (And there we have it. As noted above, they are setting up the money transfer.) Understood ?
[Me] Yes. OK
[Scampire] Alright
[Me] OK
[Scampire] Alright
[Me] OK
(long silence…)
[Me] Aye aye, Skipper!
(long silence…)
[Me] Right-o. Gotcha, Dude!
(long silence…)
[Scampire] Can you briefly explained to me what you will be using the Company check for?
Have you ever deposited a Check into your Bank ATM or Online before ?
Have you activated your account ONLINE with Mobile Deposit™ to deposit checks from anywhere.?
Will you have any issues depositing the Company Check via your Bank ATM or Teller ?
Do you have a printer ? And are you familiar with the use of your bank Mobile APP to get check deposited when sent to you via email ?
How do you want your name to appear on the Company's CHECK ?
(All of these questions are designed to determine the best way for them to direct me to get the money deposited and sent back out to them.
[Me] Christine Durst. All that really matters to me is that my name is on that check! 🙂 (I have not answered any of the most important questions he just asked, but that doesn't stop him.)
[Scampire] Once again! welcome to SANTEN PHARMACEUTICAL CO.LTD. Looking forward to working with you and hope you would be a productive source to our team and also you will be receiving your first call from the company when you've purchased your working materials from the company certified vendor……
[Scampire] All we need from you is good work and trust,you will enjoy every moment working with us.
[Me] I am really looking forward to working you over. (Read that carefully. I am looking forward to "working you over." To this he replied…)
[Scampire] You are welcome
I believe that will be all for today, you are to report back online 8AM your time tomorrow morning for updates on the check and how to get started with work…Bye and have a blessed day.
[Me] Excellent. Goodbye.
SATURDAY MORNING – AUGUST 26th
[Scampire] Hello and how are you doing today and how was your night?
[Me] Hi. I am fine. How are you?
[Scampire] Am doing great and thanks for your concern.
[Me] Good
[Scampire] Alright
Alright
We're concerned about our employees off work and we believe that everything is well and fine with you and your family in general
[Me] That's nice. Thank you for your most sincere concern for my well-being and that of my family.
I was surprised to see that a man in your executive role is working on a Saturday.
You must be very dedicated to the company. I hope you find time for your family as well.
[Scampire] Certainly yes, Saturdays are for short briefing okay?
[Me] OK
[Scampire] Alright
[Me] ok
Read our post: STILL HIRING! Make $15+/hr Working from Home for APPLE – Computer Provided
[Scampire] We kindly need you to be connected to your email for your job offer document that will be sent to you before the end of today Okay ?
[Me] ok
[Scampire] Alright
[Me] ok
[Scampire] The startup payment process for the purchase of your working equipment will be starting today as you'll be asked some questions shortly for us to get the process ongoing.okay?
[Me] OK
[Scampire] Alright
[Me] OK
[Scampire] We believe that you have a functioning printer and scanner ?
[Me] Based on our conversation thus far, I don't know why you would believe that but, yes, I do. How did you know that? Are you connected to my computer somehow? I use the printer regularly. I use the scanner occasionally. (I want to be able to claim my scanner doesn't work when I'm yanking them around later.)
[Scampire] Acknowledged , we believe that you have your bank mobile app downloaded on your mobile or smart device ?
[Me] You believe wrong. I do not. I do my banking on-site as the bank is very nearby. I don't trust those apps, there are too many scammers online. I like to stay safe – scammers are everywhere and we all have to be careful! (As if I need to tell them!)
[Scampire] Acknowledged, we kindly want you to confirm your bank daily mobile deposit limit for us. (LOL! I just told him I do NOT have an app for mobile deposit but he just moves forward with his next copy & paste comment.)
[Me] I don't know what that is. Should I call them to ask?
[Scampire] Yes you can, We are on standby connected to you okay?
[Me] OK
[Me] My deposit limit is $15,000 per month. There is not a daily limit. (I totally made this up. Let's see how much the check is for since I gave them a high limit.)
[Scampire] Your deposit limit has been acknowledged
[Me] OK
[Scampire] Have a great day as we'll be in touch with you Monday 8:00 am your time for more updates on how to begin work. Stay blessed and have a great weekend.
[Me] Thank you.
Have a good weekend.
STAY TUNED FOR THE NEXT INSTALLMENT OF THIS CONVERSATION. In the meantime, stay safe and tap into all of your "Spidey Senses" if you are contacted by anyone and have a similar conversation!
To see our screened work from home jobs, check our Newest Jobs & Gigs page. To be the first to hear about jobs like these, like our Facebook page and check your feed for our posts. Good luck!
While you're visiting, be sure to check out our BIG LIST OF WORK FROM HOME JOBS!
PLEASE SHARE this post – turn your friends into Rat Race Rebels!